The forthcoming series – based on Thomas Mallon's 2007 novel of the same name – follows two gay men as they embark on a decades-long romance stretching from the 1950s to the '80s.
It is set to feature a number of intimate on-screen moments between the pair, which producer Robbie Rogers told Entertainment Tonight that he anticipates viewers will be paying much attention to.
The scenes reportedly took a lot of rehearsing and involved intimacy coordinators, with Nyswaner saying one rule about the sequences was set by the poet Oscar Wilde.
"Everything in the world is about sex except sex. Sex is about power," Nyswaner said, quoting Wilde.
"The other rule was that we wouldn't do the same sexual act more than once, or the same combination. I remember when we were writing episode eight, my co-writers and I said, 'What haven't we done?'"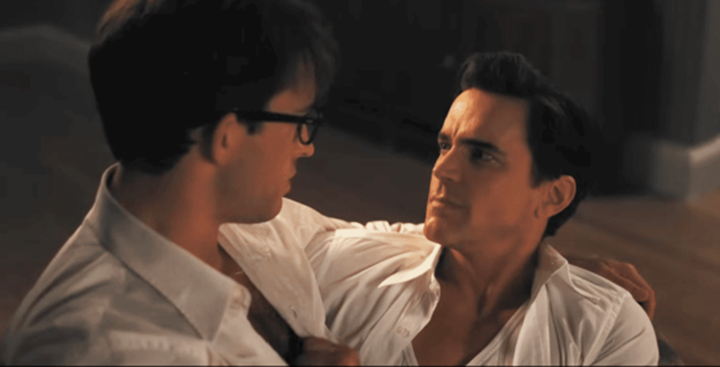 Producer Robbie Rogers added that it was not the goal for the scenes to be "too salacious", adding: "It's quite an emotional and powerful show."
The couple's relationship begins in secret during the anti-LGBTQ+ Lavender Scare of the 1950s, during which thousands of US government employees were fired or forced to resign because of their sexuality, and continues through the HIV/AIDS epidemic of the '80s.
Jonathan Bailey – who plays newly-minted college graduate Tim Laughlin, opposite Matt Bomer's war hero-turned-State Department official, Hawkins Fuller – previously discussed how the scenes would faithfully depict queer intimacy.
"To me, being queer also is about, as two men, how you negotiate your giving of your body to the other person," the actor, best known for his portrayal of Lord Anthony Bridgerton on Netflix's Bridgerton, told Vanity Fair.
"That is something that I've always yearned to see properly done because I know how extraordinary it is to experience it."
Magic Mike actor Matt added: "It was really interesting to find the different types of expression of their love and intimacy over the different time periods.
"It was like opening a Christmas present every time I would see [Bailey] in a new time period and see what he would bring to the table with it in this new chapter of Tim's life."
Fellow Travelers premieres on Showtime in the US on 27 October, landing in the UK on streaming service Paramount+ a day later.