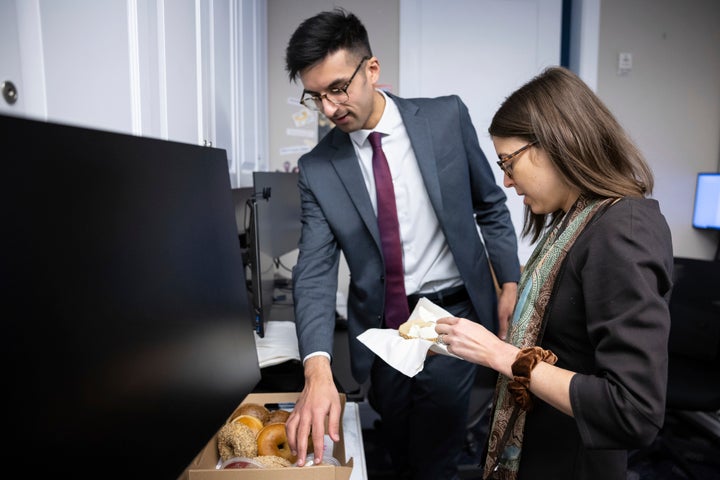 Abdullah Hasan, assistant press secretary and the first openly practicing Muslim to serve as a White House spokesperson, is leaving the Biden administration.
Hasan served as the president's lead spokesperson on issues related to climate, higher education, immigration, and oil and gas including overseeing the communications rollout of the student debt relief plan. He will be starting law school at Georgetown University this fall. His last day will be Friday.
"Being one of the first comes with a lot of responsibility," Hasan said in an interview. "It's also special in many ways."
"I'm very mindful that someone with a name, like Abdullah Hasan carries a stigma, and I'm often reminded of that stigma when I see certain reactions on Twitter or elsewhere with statements or tweets I put out under my name," he added. "But it's also a testament to the president and the first lady that they've valued, they've prioritized, and they've supported diversity, and that they have trusted people like me to speak on their behalf."
Hasan is one of the more than 100 Muslim American appointees currently working in the administration.
There was a so-called Muslim blue wave in 2018, when more than 90 American Muslims ran for office up and down the ballot, emboldened to push back against then-President Donald Trump's hateful rhetoric and policies toward their community. Muslim Americans secured seats in many levels of state and federal government, and Democratic Reps. Rashida Tlaib (Mich.) and Ilhan Omar (Minn.) became the first Muslim women elected to serve in Congress.
But progress is still to be made. For example, no Muslim American has served in a Cabinet-level position.
"Speaking on behalf of the president and speaking on behalf of the White House is important," Hasan said. "Not just important for our community to see themselves represented in government, but also for the folks who may not know our community or may misunderstand it."
Hasan previously served as the deputy communications director at the Office of Management and Budget before joining the White House press staff last June. He also held various communications roles in the Obama administration in 2015.
"Abdullah is a special talent and has been a huge part of both the communications office at OMB and the White House press office," said Shalanda Delores Young, the director of the OMB. "He is sharp, tactful, and an all-around great person. I can't wait to see what incredible things he does in the future."
Related