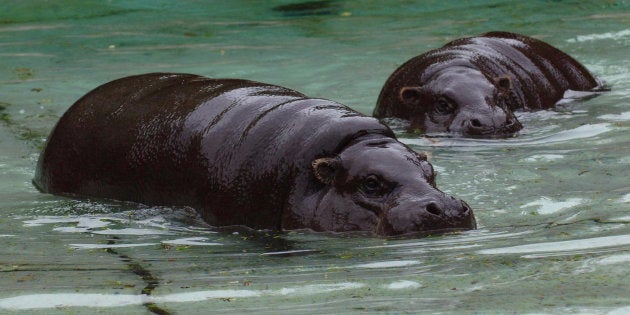 The first Nile hippo born at the Cincinnati Zoo in 75 years, christened Fiona, has been capturing hearts since her picture went viral as part of an engagement photo.
The hippo, born six weeks premature and half the normal size of a calf, has visitors enthralled and entertained with her cute smile and playful antics.
According to Traveller24, Fiona was born prematurely on January 24, 2017, and had to fight to live from day one. Happily, a group effort that included bottle feeding by zoo staff and medical assistance from the vascular team at the Cincinnati Children's Hospital nursed her back to optimum health.
Being a baby hippo, it didn't take her long to come up with a typical party trick –– she recently provoked great amusement by farting in front of guests at the zoo.
As the bubbles erupted on the surface, she looked somewhat abashed, but continued to frolic in the water with her mother.
She delivered more share-worthy flatulence on November 16 –– the clip of her diving to the bottom of the pool, with a delicate chain of bum burps following her, was shared all over social media.
One Instagram user commented: "We have so much in common" –– and though most won't admit it, so do the rest of us!
Other users reckon that the "little lady" won't lose any fans by tooting away –– in fact, her amusing eructations are more likely to heighten her fame.
Related