Florence Welch has opened up about the love/hate relationship she has with Instagram, revealing that every time she posts a picture she "has a small panic attack".
The singer-songwriter has been open about her mental health over the years. She's had low-level anxiety for as long as she can remember and has she struggled with the way she looked from the age of nine. In an interview with the Evening Standard she recalled wanting to be able to "magically change" her appearance when she was younger.
In an age where so much of our lives are spent online, Welch said she has to be particularly careful about how much time she spends on social media sites like Instagram.
Her comments come in the same week that singer Selena Gomez said she had deleted the app from her phone for the sake of her mental health.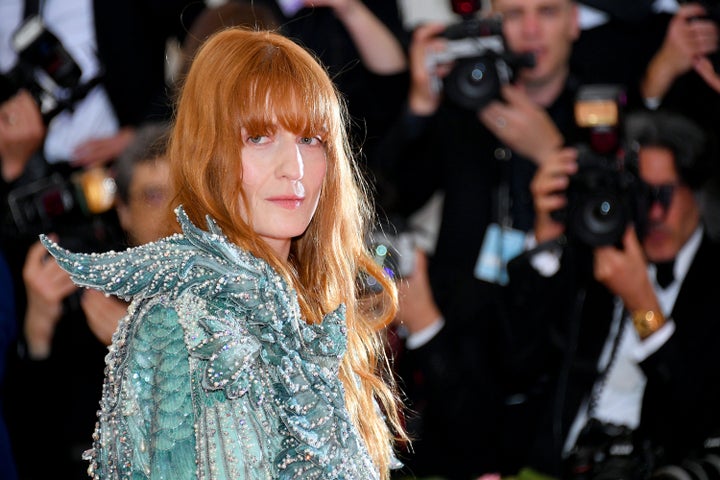 Discussing her use of Instagram, the Florence + The Machine singer told the Evening Standard: "I can't be on it for very long because it will send me totally insane. I have to be really careful, especially when I'm lonely on tour, and you think that it's going to help you feel less lonely.
"The 'compare and despair' thing is really difficult, and also the sense that you have to solidify your identity every day."
Striking the balance was "tricky", said Welch, who values "quiet time" away from the spotlight. "So every time I post a picture I have a small panic attack."
Earlier this week Instagram boss Adam Mosseri said any criticism the site gets is "healthy" as it can help them make the service better. His comments were in response to Selena Gomez's decision to delete the app.
Almost five years sober, Welch said ditching booze and drugs has hugely helped her – although she noted that sometimes it can be lonely when you're on tour and not drinking.
It's not the first time she has opened up about her mental health. The 32-year-old first revealed she struggled with an eating disorder in her song Hunger, having never spoken about it before – even with her family.
In an interview with The Observer she said her eating disorder became a coping mechanism for the terror she sometimes felt growing up. "I learned ways to manage that terror – drink, drugs, controlling food," she said. "It was like a renaissance of childhood, a toddler's self-destruction let loose in a person with grown-up impulses."
The full interview appears in this week's issue of ES Magazine, Thursday 20 June 2019.