The Scottish comic labelled the After Life star "lazy" after he targeted the trans community in his 2018 Netflix special, Humanity. In the show Ricky repeatedly uses Caitlyn Jenner's dead name and likens trans people to himself "self-identifying as a chimpanzee".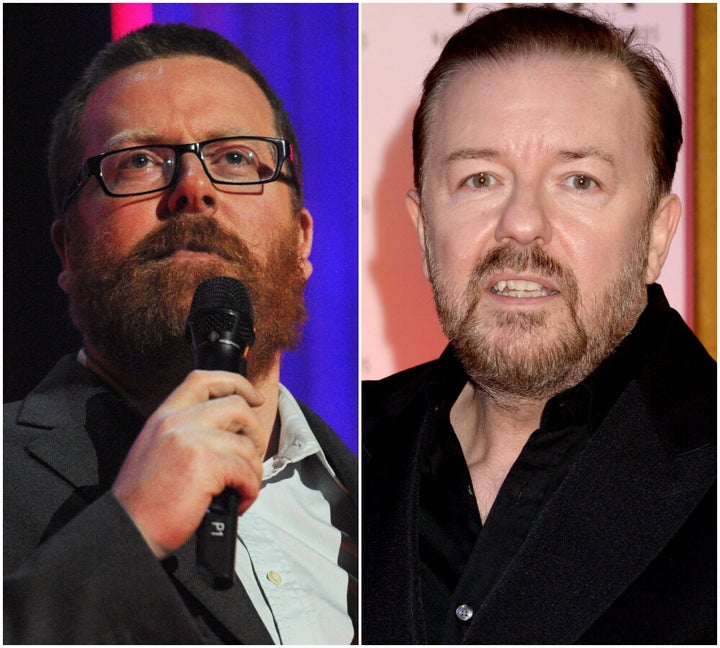 In an interview with Louis Theroux on his Grounded podcast, Frankie is asked about his TV comedy special Excited For You to See and Hate This, in which he takes a swipe at The Office star over his trans jokes.
"If you're a stand-up watching him, you feel like, 'oh, that's someone doing a version of what we do'," Frankie said
"But really, it's that I saw him doing his routine about trans people and I thought it was very lazy.
"I would like him to have the same respect for trans people as he seems to have for animals.
"I don't think that's a lot to ask."
He added: "I mean, look, we know Ricky Gervais, he's a brilliant actor, he's a brilliant writer, he's not a fucking stand-up comedian.
"Just 'cos Ricky Gervais self-identifies as a stand-up comedian, am I supposed to say that he is one? It's fucking political correctness gone mad."
Frankie is no stranger to courting controversy in his own brand of near-the-knuckle comedy.
He came under fire in 2010 for making a joke about Katie Price's disabled son, Harvey.
Among the tweets in question was one joking about a "campaign to get Big Ben to bong when we reach a million dead", and another in which he wrote about Boris Johnson's hospitalisation with the Covid-19.
Useful websites and helplines: