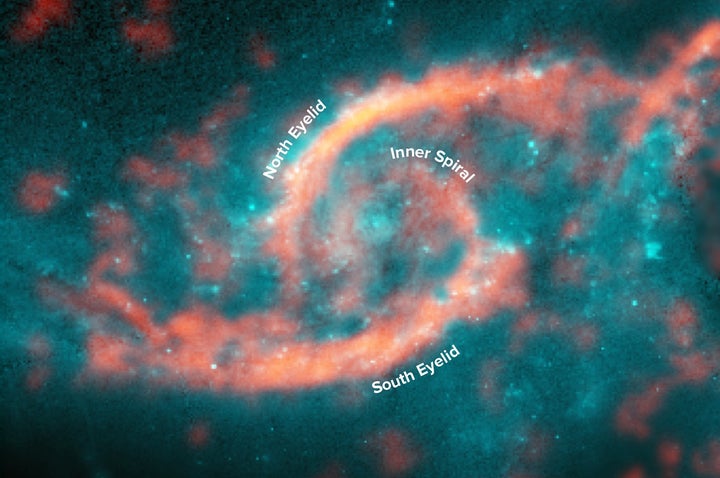 More than 114 million light-years from Earth, a celestial eye is gazing out into the universe.
The unusual, ocular formation, complete with a pupil and eyelids, formed when two galaxies brushed past each other, according to a new study.
Michele Kaufman, lead author, explains: "The encounter drives gas to pile up, spawn new star clusters and form these dazzling eyelid features."
Using the ALMA of radio telescopes in northern Chile, astronomers recorded the movement of gas in the eyelids.
Bruce Elmegreen, co-author, compares the process to a natural phenomenon closer to home:
"What we observe in this galaxy is very much like a massive ocean wave barreling toward shore until it interacts with the shallows, causing it to lose momentum and dump all of its water and sand on the beach."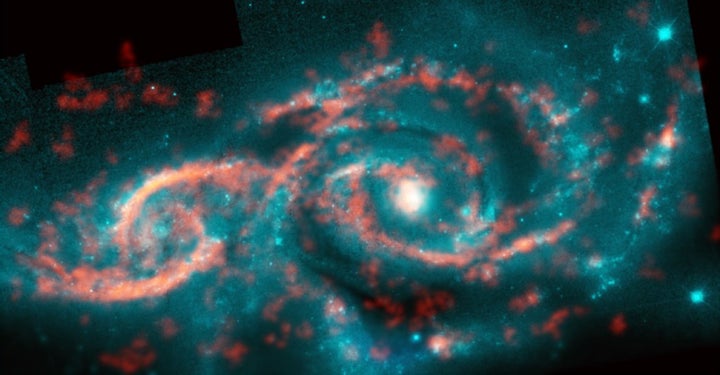 Galaxy collisions are common, but the "galactic eyelids" of IC 2163 are an unusual find.
Typically, the features last for only a few tens of millions of years – just a brief window in a galaxy's lifetime.
The team believes the data backs up computer models which predicted that the features would only form if galaxies interacted in a very specific way.
They are now cross-referencing the molecular cloud data from ALMA with images from the Hubble Space Telescope.
It's hoped the research will shed light on the differences between the eyelids and other parts of the galaxy pair.