"Tyler create nothing, I see why you called yourself a f*ggot," penned Eminem in 2018 track Fall. "Bitch/It's not just 'cause you lack attention/It's 'cause you worship D12's balls, you're sac-rilegious/If you're gonna critique me, you better at least be as good or better."
Rap music has a longstanding history with homophobia. Eminem has defended his music against accusations of homophobia since 2000, when his song Criminal included the lyrics "My words are like a dagger with a jagged edge/That'll stab you in the head, whether you're a fag or les'/Or a homosex, hermaph or a trans-a-vest/ Pants or dress, hate fags? The answer's yes."
The bedrock of structural homophobia in rap dates back to groups like the Sugarhill Gang and The Beastie Boys, the latter of which infamously wanted to call their album Don't Be A F*ggot back in 1986 (thankfully, they didn't, after label execs fought back).
It's fair to say the rap scene has been built on out-of-date stereotypes about masculinity.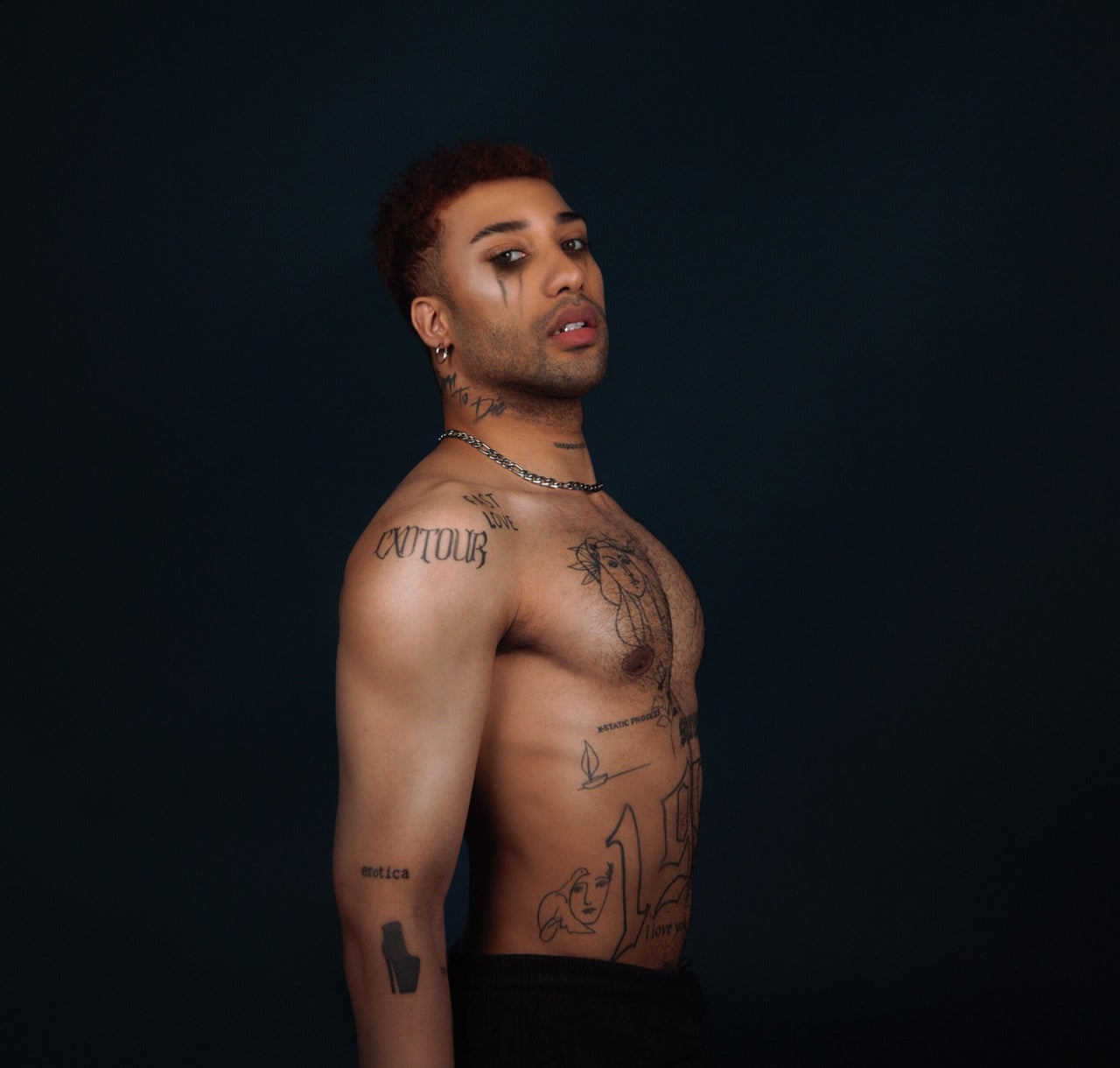 However, in America over the past few years, representation has finally improved. One year ago the rapper Lil Nas X was celebrated for coming out, and Frank Ocean wrote an open letter to fans revealing his bisexuality in 2012.
Despite the consensus that the rap industry still peddles an unhealthily macho image, 2020 has seen the UK rap scene finally birth the first cohort of proudly queer rappers.
In January drill rapper Mista Strange came out during a studio session, and the rise of femme rapper Karnage Kills and androgynous James Indigo signify a new era for queer rap in the UK.
With all three working on new music this year, HuffPost UK spoke with the new breed of LGBTQ rappers to hear their thoughts on the rise of queer rap in the UK right now.
"How can people hate on gay people? We are literally the nicest community going."
Karnage Kills finds the whole idea of homophobia confusing, both within rap and outside of it.
"How can people hate on gay people? We are literally the nicest community going as far as I know," he reflects. "Do you know what I mean? People love to put us down, to not take us seriously, and if we do anything it's always, 'oh, the gay one.'"
Although it may be a sad reality, perhaps the reason there's been so little queer rap is because there have been no role models to inspire new young artists to come forward.
But each of the three new artists experimenting on the scene are distinct from one another in style and musical direction, a natural signifier of the potential for diverse and authentic representation of queer rap in Britain.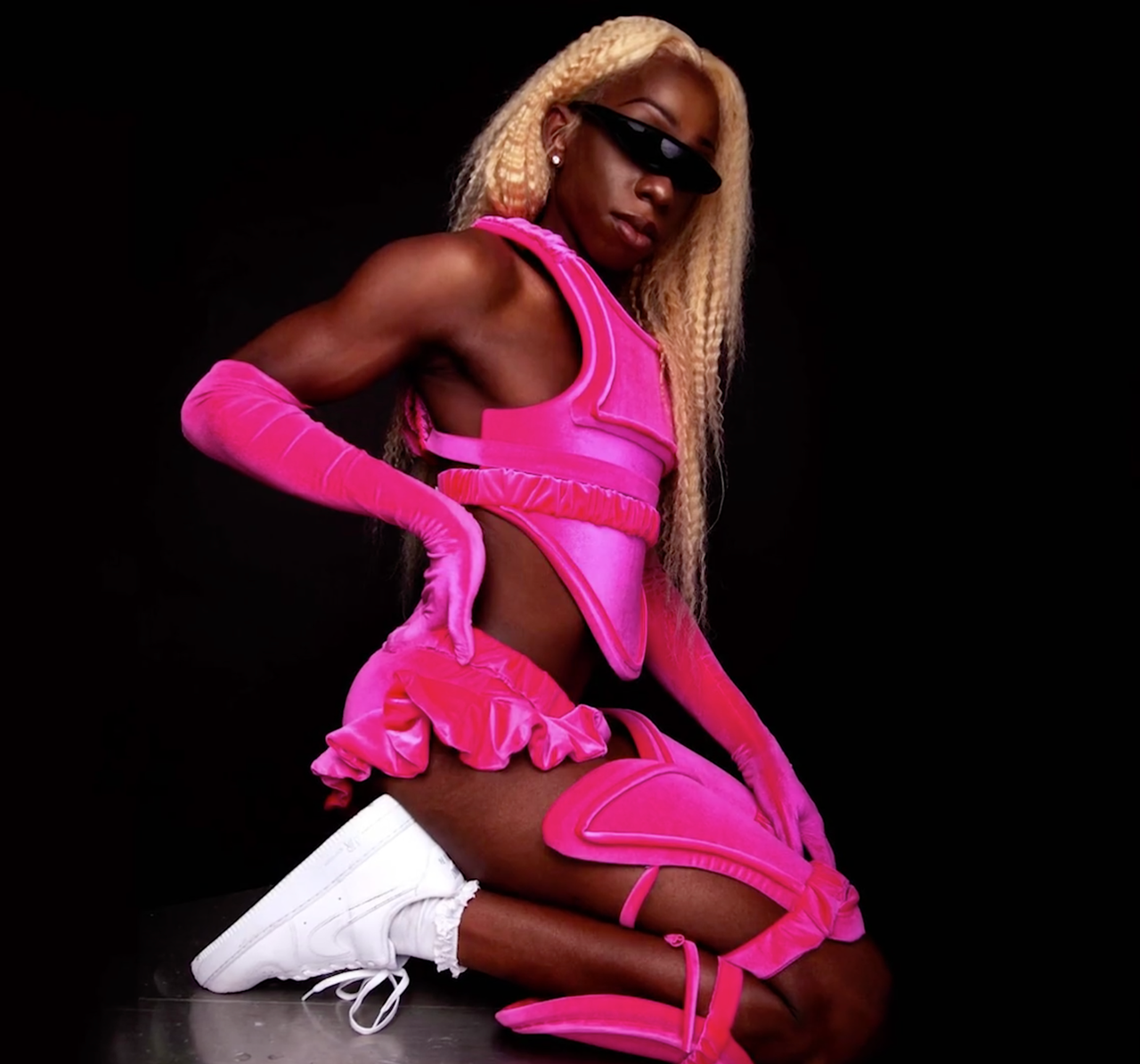 "I love how everyone is doing their own thing and there's space for all of us," says James Indigo, whose new single Van Gogh is released in September. "I feel we all have a different approach to our music and what we represent."
James androgynously plays with ideals of masculinity and femininity and has always felt comfortable experimenting with different gender expressions. "It's clear from my visuals that I am demanding to break down gender stereotypes," he says.
"One day you can be a cowgirl, another day you can be a superhero. I liked playing with barbies as much as I liked playing with my action men. I loved all things that oozed femininity and all things that embodied masculinity and I've stayed the same as I've grown up. I never saw gender as a big deal. If I like something I'll wear it."
All three say they are rappers before they are queer rappers, yet they acknowledge that their sexuality is a key part of their identity, and their music is by default helping to make queer rappers more represented.
"There are so many amazing Black queer rappers all over the world owning their art and expressing who they are. However, more locally in the UK we are a lot less visible," says James.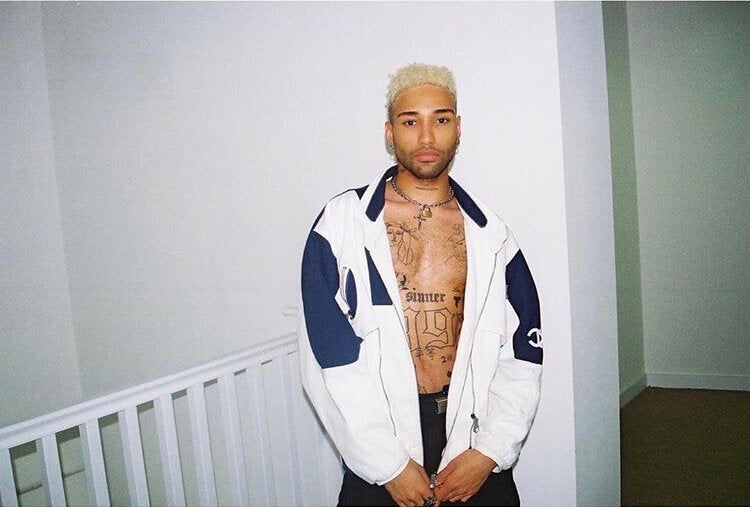 "Gay Times was something I could secretly look at where I could have a glimpse into a world where I fitted in," says James.
"I was never the popular kid at school, I got bullied really bad. I would get kids laughing at me and I would get picked on every day without fail for my appearance, for being different, 'weird', gay and for having feminine qualities. I remember feeling like I didn't belong.
"So when I get messages from people saying I gave them the strength to come out to their family and I inspire them to live their truth, it makes me know I'm doing something right. It makes me feel amazing."
James describes forthcoming single Van Gogh as "a little fuck you to people that try to bring you down and hate on you!"
"I'm basically saying I don't care what people think, I'm going to carry on being myself and I'm a work of art," he says.
"Sticking to your guns, having integrity and discipline in your craft pays off"
Name checking Kylie, Bob Marley and Tom Daley, Van Gogh abounds with the energy of an artist inspired by varying musical cultures. The rap vocals are set against a colourful pop structure, with a build that drops into something more like a dance track with dub inflections. Nicki Minaj feels like another influence. It's an ambitious statement of intent.
"Sticking to your guns, having integrity and discipline in your craft pays off," says James, who self-funded the whole process of the EP from laying down the tracks to recording the music videos. "Sharing your story and using your voice is powerful. It can help others and it helps yourself grow. I really want people to know that."
For Karnage Kills, the mission is to put effeminate male rappers on the map.
"I just give off everything when you see me," says Karnage. "I'm a gay boy from London, a grime Barbie, about to be the drill Barbie, I'll still fuck up your favourite MC..."
Karnage describes needing "strong skin" to overcome the toxic masculinity in grime and "the Black community in general," and believes most homophobia derives from people's fear of change. Yet, he feels it is his responsibility to change perceptions using the power of his lyrics.
"One thing that has continued to push me is my lyricism," he says. "The way that I push my pen is undeniable, do you know what I mean? I feel like that is what's pushed me so far and will continue to. But it is hard, I'm not going to say it's not, it is… Especially when you're femme and you present as femme."
Mista Strange presents as more heteronormative, and is a drill rapper, a sub-genre of rap which often responds to violence, and is perhaps the most machismo of all rap sub-genres.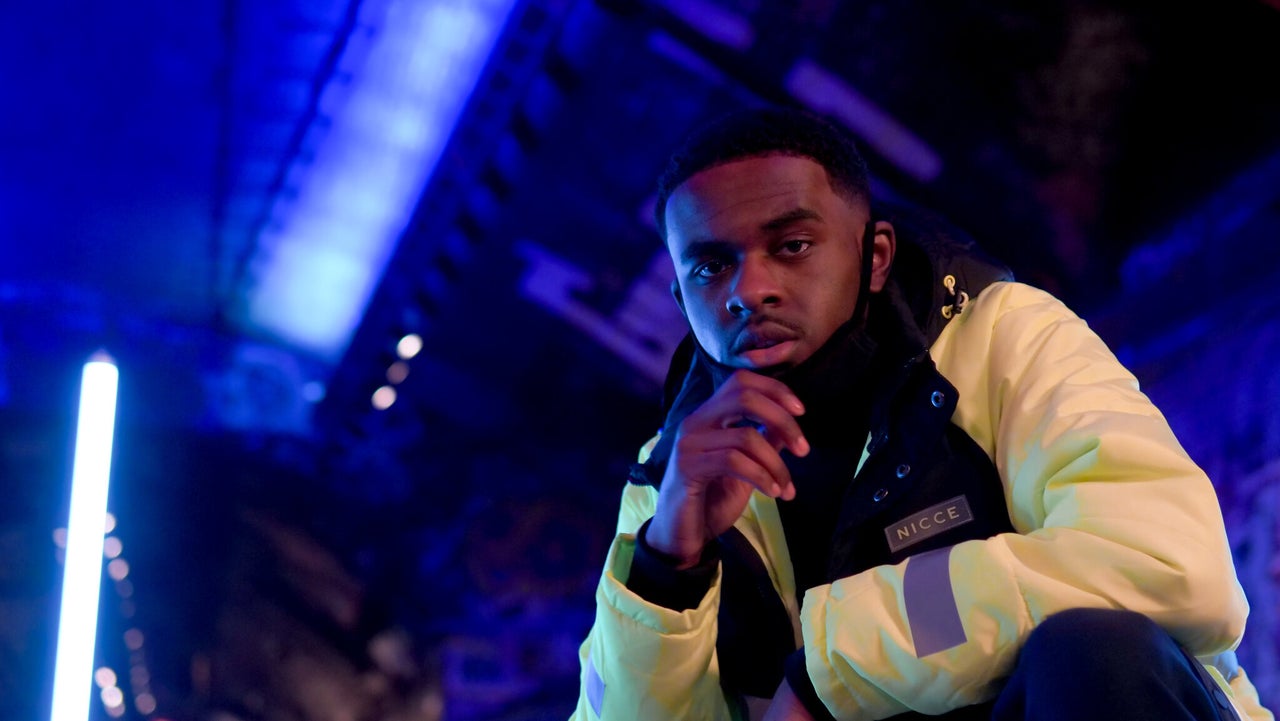 Whereas the music of James Indigo and Karnage is flavoured with pop which is more familiar territory for queer performers, there is something uniquely potent about Mista Strange's confessional delivery in a culture which historically condemns the content of his lyrics.
Strange's coming out performance contains the lyrics: 'I don't care what they say/ I love who I am, I'm trying to open the gates/And show the world that it don't matter if you're gay or straight/'cause love is love, and real is real/I used to hold it back but fuck it this is how I feel.'
"I knew it would be controversial, but I didn't expect it to blow up like it did," the rapper tells HuffPost UK. "In a way I've opened a door, I'm definitely leading the way for a load of gay kids, rappers, that just wanna be able to be themselves. I've shown that it can be done and it's not going to end badly."
"Being a gay Black male," he carries on, "I feel like the torch is hotter. When that torch is passed, I have a bigger responsibility in a way.
Part of the way Strange inspires change is to call out hypocrisy. Another line in the Blackbox track is: 'Don't focus on my preference. How you call me f*ggot - last night you was fucking lesbians.'
"I always find that so crazy," laughs Strange. "You know lesbians are gay as well right? You can't be against the LGBT community and then love lesbians. It's crazy but it's the world we live in - but also the world we're trying to change."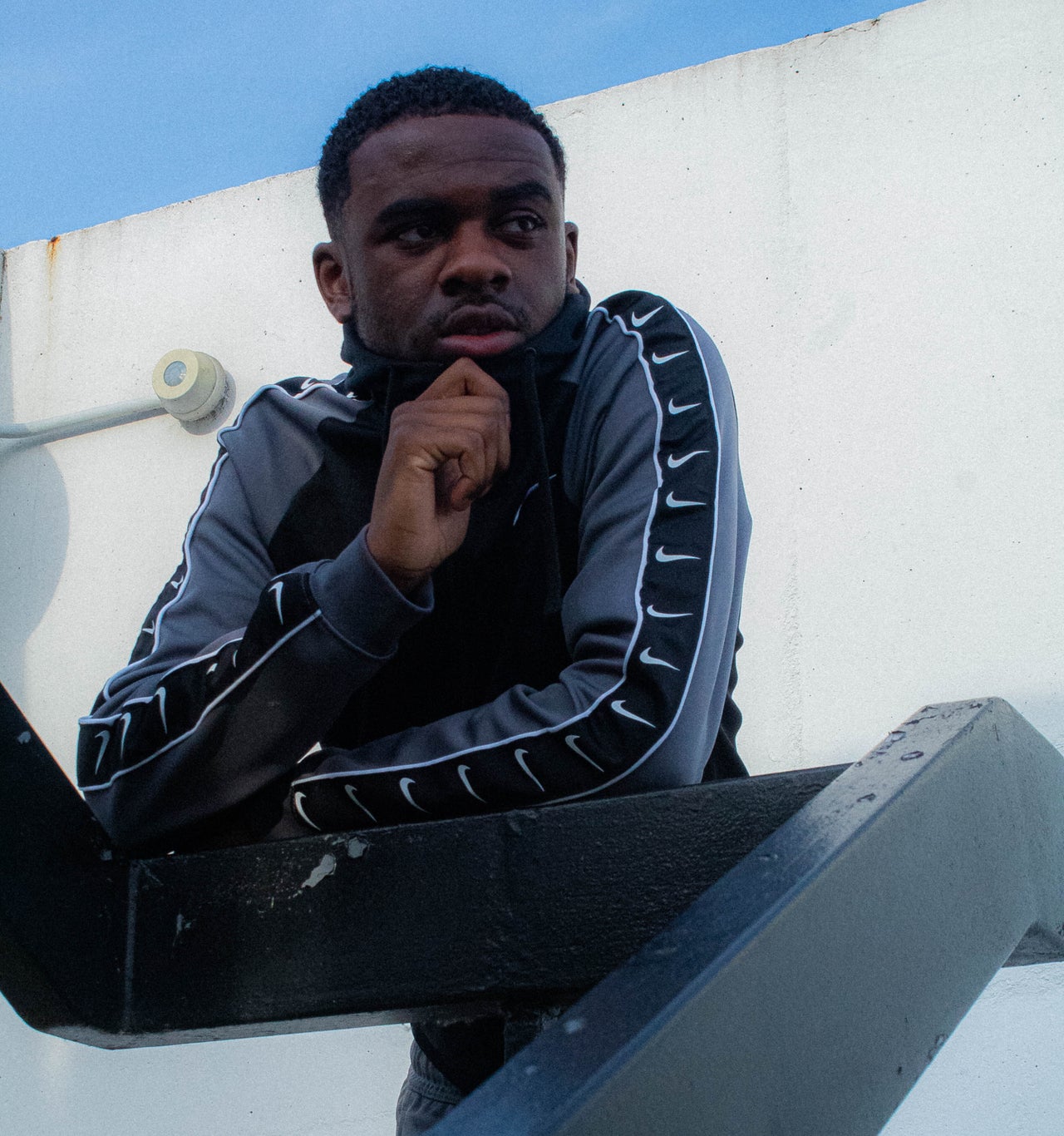 Strange says his own sexuality was "not easy to come to terms with" growing up in Hounslow, London, and losing friends to "crap" like being put in prison - but the 20-year-old hopes that if he can "convince people to come out of their shell a bit earlier, or spend less time in that shell, that's job done."
Fresh off the back of 'meet the UK's first gay rapper' headlines this January, the hype surrounding Mista Strange will hopefully trickle down to burgeoning names like James and Karnage Kills, legitimising queer rap at the same time as building an audience for it.
At the moment the community is small: James Indigo does not know another gay rapper other than these three. Queer rap may still be relatively underground, but that's where all change lays its roots.
"We still live in a very homophobic and queerphobic world," concludes James Indigo. "Things have improved somewhat since I was a kid, but we still have so far to go."