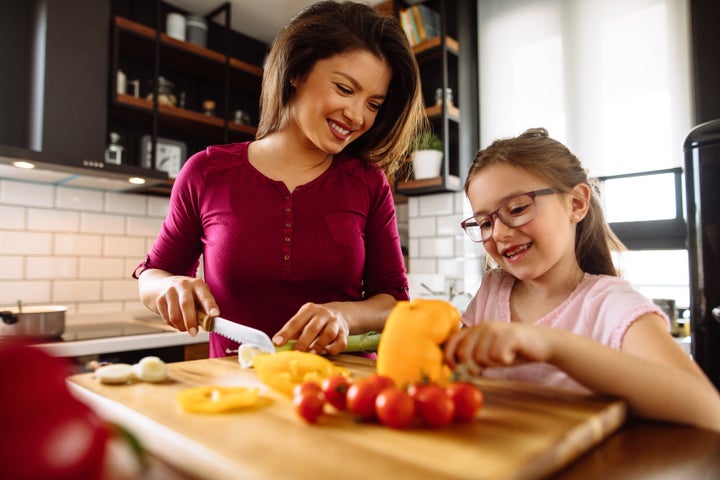 Chances are when you were growing up, your parents probably had a few dog-eared cookery books by somebody like Delia Smith or Keith Floyd; maybe a scrappy folder with a few tried-and-tested recipes scribbled out on a piece of paper, or ripped out from a magazine.
When I cook, half the time I refer to a library of glossy cookbooks that have been birthday or Christmas presents over the years, and the rest of the time, I use online recipes or cooking apps. And it's slightly strange to think that, as I cook with my three year old son, he'll probably never use cookbooks at all as he grows up - he's more likely to beam in hologram of Zoella, showing him how to make an instant vegan ice-cream sundae.
And with younger members of the family becoming au fait with web-based resources for cooking from an early age, these online-focused ways of cooking are bringing together families even more.
It's something which the people behind parenting app Peanut have noticed, as they believe that technology is incredibly useful for uniting people at home. CEO and founder Michelle Kennedy says: "We already know that technology used in the right context is improving the quality of lives for parents. From helpful utility functionality, like being able to track the growth of your baby, through to getting next day delivery, advances in technology are improving our quality of life.
"What's exciting is how this technology will develop, how can we further use technology for social purpose for example. That's what is important for Peanut, the social purpose of creating community. Technology should enhance lifestyle, not replace it, and healthy habits by parents lead to healthy habits for our children."
With that in mind, here's five of the best cooking apps on the market for cooking with the family - all you need is for someone to invent an app that loads the dishwasher now...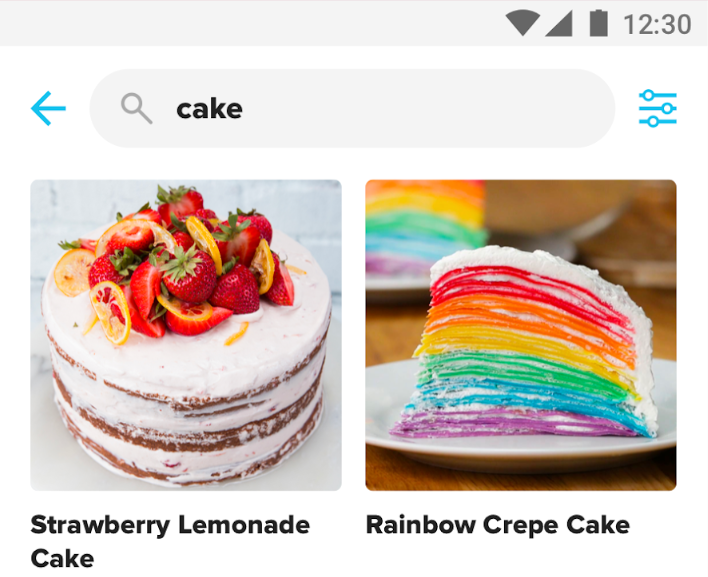 BBC Good Food
BBC Good Food is the one app that I return to again and again, and it's particularly good for when dinner needs to be the result of a fridge forage - essentially, eating up anything available before a big supermarket shop. The app allows you to search by recipe, if you have one in mind, or you can delve into their annals of 10,000 recipes with your potluck list of ingredients. Half a red pepper, a tin of chickpeas and a leftover chorizo from this weekend's BBQ? Bam: it suggests red pepper hummus with chorizo slices, or a warm chickpea, chorizo and pepper salad. Also, there's handy recipe collections for different events, occasions and for certain family members too (the toddler one is handy for when my son refuses another plate of fish fingers with pesto pasta).
Compliments to the chef: The sheer number of recipes means there's always a suggestion for whatever you've got knocking around in the kitchen, and the fact it's from the BBC means they're a long-standing, well-trusted source of food expertise.
Overcooked it: Could do with a little more interactive content, or short video-led recipes, as it can sometimes feel a little bit static and dated.
What's the bill? Free to download
Easy-peasy lemon squeezy? 8/10
Jamie Oliver
Jamie Oliver was an early adapter when it first came to chefs getting involved in the digital revolution of cooking - and it shows, as not only is his app one of the most stylish on offer, but he's got everything else covered within it: from mini video tutorials on how to cook the perfect steak through to cocktail suggestions to make a BBQ go with a bang.
There's 15 new, seasonal recipes uploaded every Monday and from the man who revolutionised the 30-minute meal, he's also got a range of recipes down to just 20 minutes for those who are time-poor in the evenings. The swipe-and-cook-along function is really handy, so essentially, Oliver's telling you what to do in real time. Even my son found it as easy as one of his picture books as we swiped left on each step of his one-cup pancakes for kids recipe.
There's also a practical feature of being able to add whole recipe ingredients to your shopping list with one tap, which then puts it into an email for whoever's turn it is to go to the supermarket next.
Compliments to the chef: The feature of being able to email all the necessary ingredients on a shopping list in one tap is super handy when you're scrolling through recipes late the night before. It's also easy enough for kids to use, too. Perhaps Oliver tested it out on his own brood first?
Overcooked it: It's been said a few times before, but the timings on some of his recipes aren't quite as quick as they make out.
Easy-peasy lemon squeezy? 9/10
What's the bill? Free to download, or upgrade to Jamie Oliver Ultimate for £6.99
Tasty
For anyone who manages to fall into a cooking-video vortex whenever they go onto Instagram explore (that'll be me, then), Tasty (started by Buzzfeed) is one of the main purveyors of these addictive super-swift films, covering everything from cutting-edge trending recipes to quick demonstrations with in-demand chefs, such as Christina Tosi - of Milk bar, as seen on Netflix's Chef's Table.
This app will be particularly popular with teens, hoping to recreate something like Avengers-themed Infinity Stones cupcakes, as all the recipes are highly 'grammable, so will encourage them to get into the kitchen more.
As there's such a large community on the app, there's often quite a few comments on the recipes, making it easier to decide whether to give the bake a go or a miss.
Compliments to the chef: These guys are king of the content and are well ahead on all the newest trends in cooking - succulent cupcakes, anyone?
Overcooked it: Can feel a little too American for a UK audience
Easy-peasy lemon-squeezy? 7/10
What's the bill? Free to download
Kitchen Stories
Kitchen Stories promises "anyone can cook", but have they met my kitchen-adverse boyfriend? The videos are slick and fast-paced, but could do with reminding how much of each ingredient is needed, otherwise it means pausing and going back to the previous page, but this is something that's rectified in the photo led guide that each recipe also has. For wannabe-foodies, there's also some slick ingredient explainers, like the complete guide to Italian cheeses, meaning that your partner will be able to wax lyrical over a cheese board at your next dinner party.
Compliments to the chef: Recipes fit the right side of inspirational/delicious but also practical too - their 5-ingredient recipe section means there's no need to be trekking down an 20-ingredient list on a Wednesday after work.
Overcooked it: The music choices for the video are a little "hold music on the phone to British Gas."
Easy-peasy lemon-squeezy? 7/10
What's the bill? Free to download
The Photo Cookbook
For those who prefer visuals over words and prefer not to be bogged down in content, The Photo Cookbook keeps things seriously simple. A picture of the finished dish, then a photo of the ingredients needed with a little explainer for each one really helps if you're not sure what exactly they are. It's the perfect app to message a recipe to the family member who enquires: "what's for dinner tonight?" - just remember to add a note saying: "you're cooking" and they'll be good to go.
Compliments to the chef: Probably the most fancy-free but practical way to cook. A mini explainer for the ingredients you may not have heard of is also very handy.
Overcooked it: Not many recipes in the free part of the app, and the different sections are a little bit pricey
Easy-peasy lemon-squeezy? 8/10
What's the bill? 60 quick and easy recipes are free to install, then different cuisines/events, liked Asian, Baking, Family recipes are £2.99 to download.