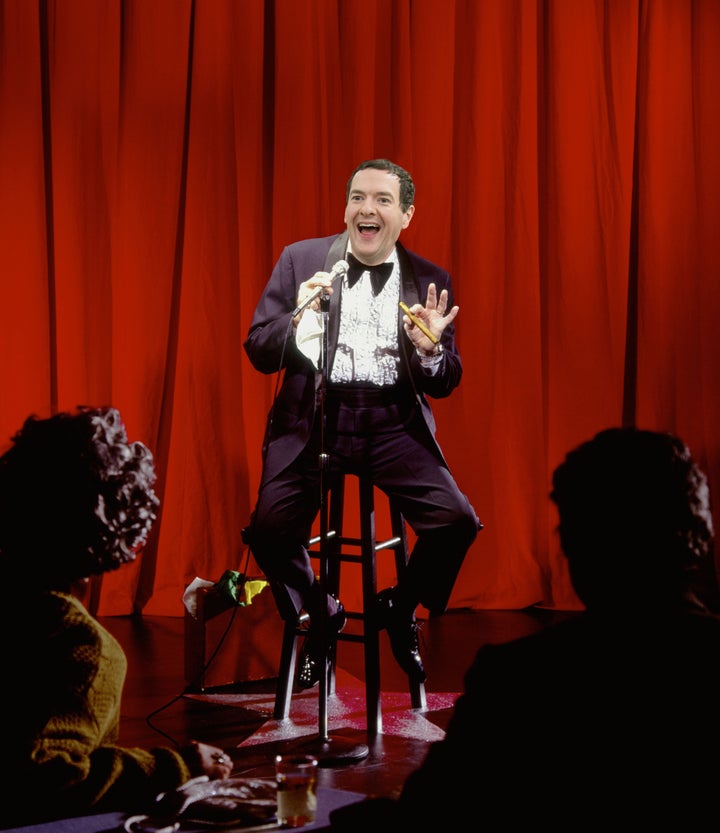 George Osborne spoke to political journalists at the Westminster Correspondents' Dinner last night, and delivered some pretty decent jokes.
Seating plans
"Putting together the seating plan must have been a real nightmare.
"The referendum means we're all arguing amongst ourselves. The Canadian model. The Albanian model. The Ukrainian model.
"And that's just John Whittingdale's table."
The Culture Secretary was revealed to have dated a dominatrix he met online. He laughed.
"Chancellors have always had a difficult relationship with food.
"Nigel Lawson published his own diet book. Gordon Brown binged on Kit Kats. I can reveal tonight I have my own nutrition plan. It's called the 5:2. After 2 out of every 5 Budgets I eat some of my own words.
"And recently I got to sample a dish which neither Matt Hancock nor I even knew existed – humble pie."
Journalists
"I've never seen so many political journalists gathered in one place since you were all crowded around that locked disabled toilet earlier today."
Hacks waited for Ken Livingstone as he took a comfort break.
Journalists
"I doubt there's been a bigger collection of egos in one room since John Bercow dined here alone."
Labour

"We're joined by the various factions of the Labour Party. Stephen Kinnock, the united front. Rachel Reeves, the popular front. Emily Thornberry, the less popular front. And Chris Bryant, the Y-front."
The Labour MP snapped himself wearing just pants for a gay dating website.
Obama
"I know you've all been speculating over whether we fed President Obama his lines for that press conference. Tonight I've got a confession to make - I did tell him exactly what to say. I told I'm over and over again so he couldn't forget it: it's not Jeffrey, Mr President, my name is George."
Obama repeatedly called Osborne 'Jeffrey' after the soul singer.
Boris
"It is with some trepidation that I dip my toe into the shark-infested waters of the Westminster Lobby. Indeed, I was nervous about intervening in your internal debate at all. As a part-Hungarian, I feared you might think I have an ancestral dislike of a free Press."
A reference to Boris's 'part-Kenyan' remark.
Boris
After reading out a long, flattering description of him written by Petronella Wyatt in a Sunday newspaper, who had an affair with Johnson.
"Sadly, it turned out Petsy wasn't interested in serious politicians."
Boris
How when working for then Tory leader William Hague, Osborne arranged an interview with then Telegraph journalist, Boris Johnson. "W" referred to Boris wearing a Che Guevara watch.
"Bush said: 'Boris, we execute people who wear Che Guevara watches.' Unfortunately, he was bluffing."
On his wing-man
"This is not normally the way I do things. Big speech in Parliament, you're all baying for blood. My answer: send in the Financial Secretary. Uncork the Gauke. But not tonight. Tonight it's up periscope."
Financial Secretary David Gauke is often sent out to defend the "submarine" Chancellor.