The man suspected of killing nine people in two shootings outside hookah lounges in the southwestern German city of Hanau has been found dead at his home alongside the body of his 72-year-old mother.
The 43-year-old German man has not been officially identified but is suspected of being a far-right extremist.
German news agency dpa cited unnamed security officials saying that a written claim of responsibility and a video were found, and are being examined by police.
Bild newspaper reported the letter expressed far-right views.
Nine people were killed and five wounded in the shootings in and outside two hookah lounges, also referred to as shisha bars, in the southwestern German city on Wednesday evening.
In shisha bars, customers share flavoured tobacco from a communal hookah, or water pipe.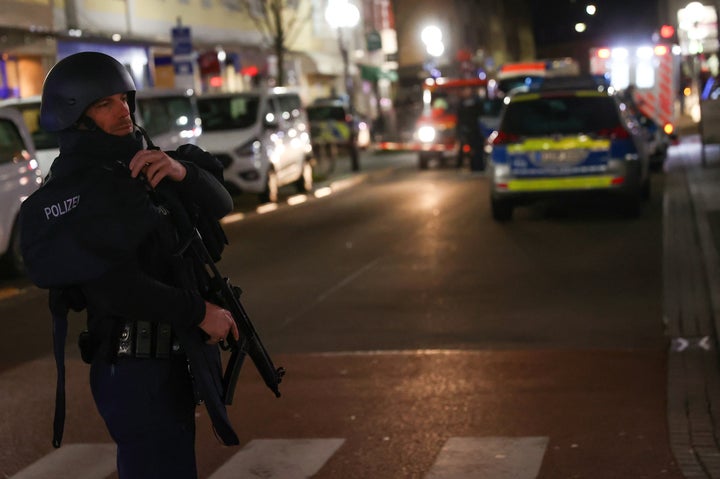 Some of those killed were of Turkish origin, a spokesman for the Turkish presidency said.
"We expect German authorities to show maximum effort to enlighten this case. Racism is a collective cancer," Ibrahim Kalin said on Twitter.
Officers sealed off and searched an apartment in the Kesselstadt district, near the scene of one of the shootings, after following up witness statements on a getaway car.
Police officers swarmed central Hanau, 12 miles east of Frankfurt, cordoning off the area of one of the shootings as a helicopter hovered overhead.
A car covered in thermal foil also could be seen, with shattered glass next to it. Forensic experts in white overalls collected evidence.
Bild newspaper said the man was a German citizen and that ammunition and gun magazines were found in his car. He had a firearms hunting licence, it added.
Hanau Mayor Claus Kaminsky told the Bild newspaper: "This was a terrible evening that will certainly occupy us for a long, long time and we will remember with sadness."
Katja Leikert, a member of Chancellor Angela Merkel's centre-right party who represents Hanau in the German parliament, tweeted that it was "a real horror scenario for us all."