In HuffPost Birth Diaries we hear the extraordinary stories of the everyday miracle of birth. This week, Kelly Gordon, 30, shares her story. If you'd like to share yours, email amy.packham@huffpost.com.
I'd always wanted kids, but didn't pin all my hopes on it happening. I use an electric wheelchair every day and, growing up, I wondered how it would affect me should I ever give birth. I have spinal muscular atrophy Type 3 and one of the symptoms is scoliosis, the curvature of my spine in the shape of an S.
In March 2017, after two and half years trying with my husband, we'd resigned ourselves to the fact that we weren't going to be parents – and that was okay. Then, while planning a new chapter of our lives and discussing new career moves, it happened. I fell pregnant.
Doctors didn't know what to expect, because every individual with my condition is unique. They didn't know how well I'd carry the baby; they didn't know if it would compress any nerves or cause me pain; and they didn't know if I would be able to deliver naturally. It was very much a "wait and see" situation, which was very unnerving to me.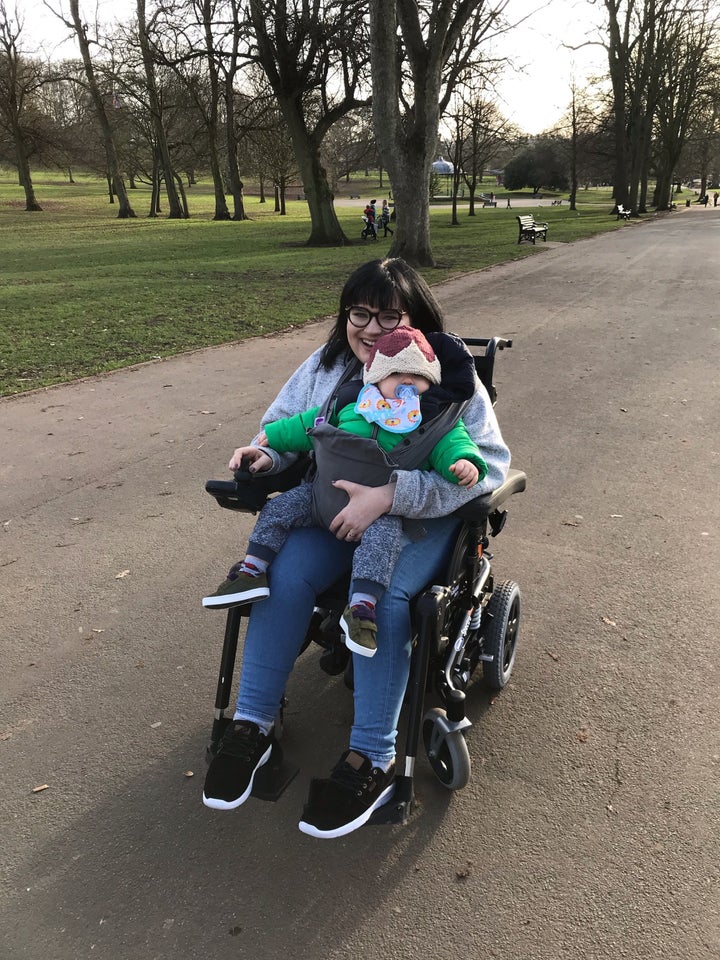 I'm an over-thinker, and I'd read a few horror stories of mothers with scoliosis whose baby lay on the nerves and caused paralysis – so of course I ended up convincing myself this would happen to me. I'd Google things late at night and could feel the anxiety cloud over me every time I did, so I abruptly stopped.
Needing more control over the situation, I joined a group called SMA Mums. It was a huge help to me, we were all different – our bodies, our conditions – in some way, but it was so nice to hear so many positive stories of motherhood.
I continued the rest of my pregnancy focusing on the good and the more I did, the more I enjoyed it. Yeah, I had a bit of hip pain, but I could cope. My skin was amazing and so was my hair so I'd say that, for the most part, I felt better than ever. I was even working and ran a three-day beer festival two weeks before giving birth.
Every few months I was seeing a general pregnancy consultant, just to keep up-to-date as no one really knew what to expect. After some discussions, we decided to plan a caesarean with an epidural for 39 weeks because I was told it was extremely unlikely the baby would make an appearance on its own.
But things never go to plan, do they? At 38 weeks and three days, after being told I wouldn't be able to give birth naturally, my waters broke in bed one Sunday night at 3am. I was terrified – not because of the pain (I think I have quite a high threshold), but because I didn't know if my body could handle it, and I just wanted my son to arrive safely.
"I was told it was extremely unlikely the baby would make an appearance on its own.""
I went to the hospital, but was told to calmly sit it out at home, which I did till 9pm that evening. Contractions were painful, of course, but I felt confident and had it under control. When I got back to the hospital that night, I managed to reach 10cm dilated pushing on my own, only to be told there was scar tissue not allowing the baby out.
That's when the emergency proceedings started: it was straight down to theatre for general anaesthetic. This was my idea of a nightmare birth, not seeing my son being born. If they'd told me before I'd be undergoing general anaesthetic, I would've been gutted. But in that moment, I was stressed and in so much pain that I craved the relief of it being over. I was convinced something bad was going to happen to me, but willing to go ahead for my baby.
And it turned out perfectly. I awoke to see my son Mason being held for the first time by his dad, which was an amazing sight to see. I felt so overwhelmed. I didn't realise how much I was capable of love until I met Mason.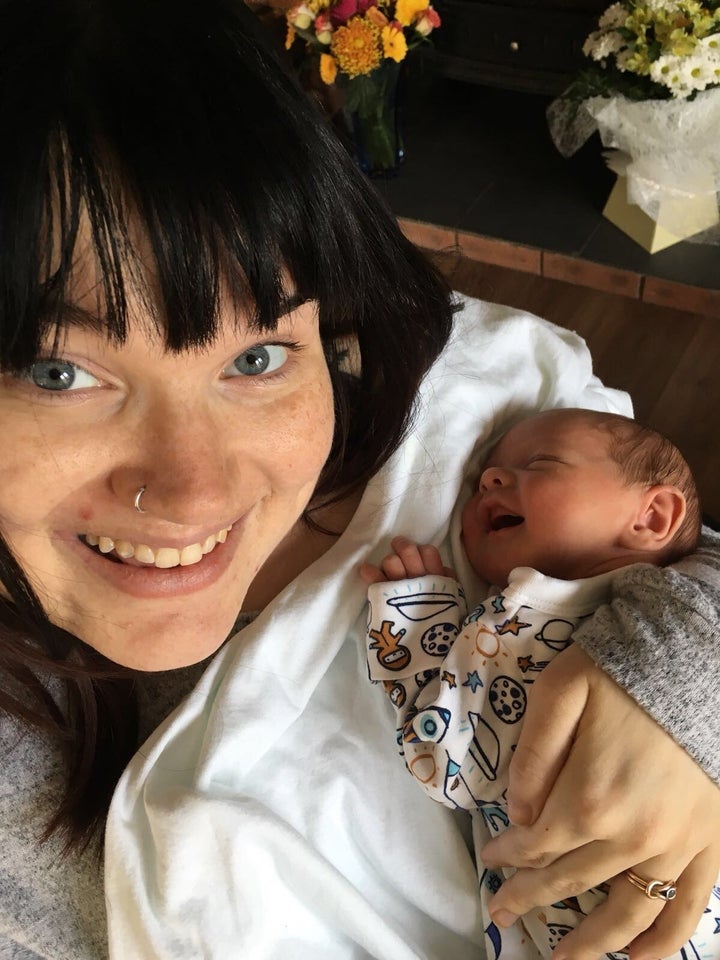 My birth advice?

Don't fixate on the pain. I had an idea how I would perceive the pain and it was completely different – so just try and keep an open mind.