Nothing gives a small business a boost quite like backing from a leader in the field. Just ask single origin spice label Rooted Spices, launched by Rachel Walker and Clara Glass in April 2018, who won American Express' Backed By initiative to receive backing from chef, restaurateur and author Gizzi Erskine.
In the past few weeks, Rooted Spices has received a spate of national media attention, a major spike in sales and moved from a tiny set-up in Rachel's kitchen to a Hackney warehouse with employees.
The duo, along with their mentor, hosted a special evening for foodie industry insiders and small business owners at Mayfair's Magpie restaurant. As well as featuring a Q&A with Rachel, Clara, Gizzi and The Grocer's food trends editor, Emma Weinbren, it also showcased just how different the Rooted Spices are from the typical multiple origin spices in the best way possible: with some gorgeous dishes to sample made by Magpie chefs and Gizzi.
"I feel completely privileged to have been asked to be part of the Backed By campaign. I love seeing small businesses bloom and blossom," Gizzi told the audience.
"Rooted Spices has such a unique view at something so simple. I hadn't ever contemplated that a spice from one place could be so different to a spice from another place. I am so happy to support them and see where they're going."
The evening's menu, which benefited from a sprinkling of Rooted Spices deliciousness, included mulled wine to start and then Gizzi's Keralan fish curry and a root vegetable and bulgur wheat couscous.
The mains were served in two parts: guests first tasted a spoonful of the dish made without single origin spices, before receiving a bowl of Rooted Spices infused dishes. The difference was striking: the versions with Rooted Spices were flavourful and colourful, with a vibrancy that electrified the taste buds.
"Try these spices and suddenly you'll want to tell the world," Gizzi tells HuffPost UK.
"As a cook, you need spices every day. We don't do our grocery shopping and consider the challenges of creating a product, but Rachel and Clara are determined their spices are the best quality, the best flavour, the best authenticity and the best for the environment."
Clara, a former lawyer, and Rachel, a food writer who specialised in food trends, had only been in business with Rooted Spices for a few months when they decided to apply to the American Express Backed By competition. Gizzi was immediately drawn to their clear, precise goals and vision: to transform the spice industry in the way that the tea, coffee and chocolate industries have changed in recent years.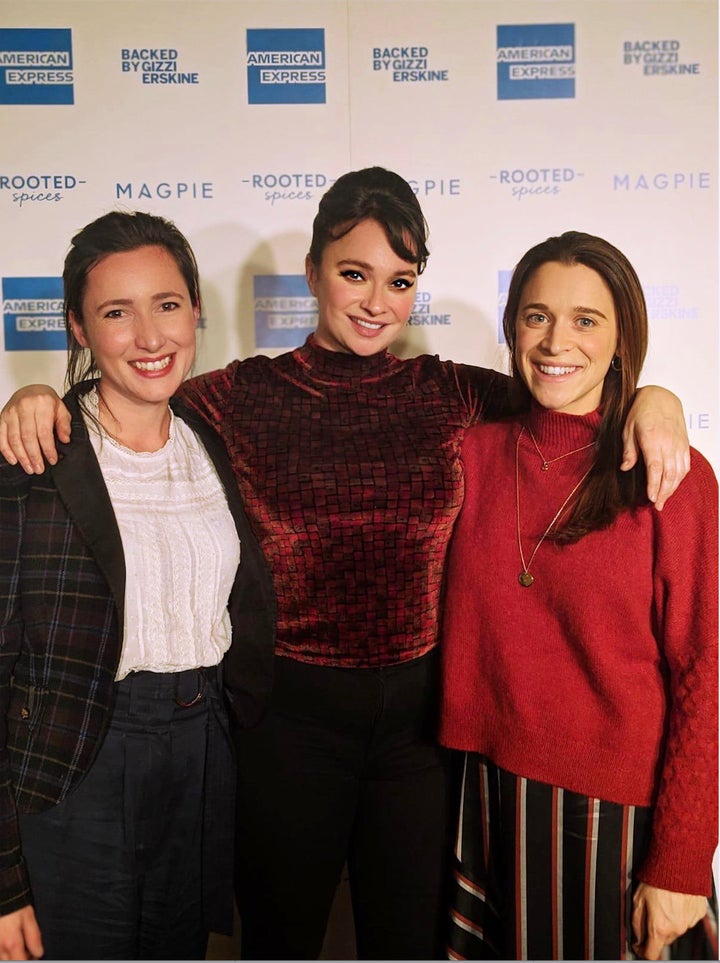 When the duo met Gizzi for the first time, they sat down and started talking through each and every one of their spices. Their encyclopedic knowledge of the product instantly impressed Gizzi, as did their understanding about how spices needed to be stored correctly (did you know glass jars are one of the worst things for spices because they can get bleached by the sun? - nope, us neither).
Gizzi is also impressed with how self-assured the Rooted Spices founders are: they know their ambitions and the pace at which they want to move, something she has a lot of respect for because so many companies struggle even with good backing because they move too fast.
"We're still young and trying to build relationships with suppliers," Rachel explains. "We like seeing the spices when they come in, we want to oversee the quality and to see, smell and taste them."
No matter what level of spice connoisseur you are, Rooted Spices has something to offer, from the House Blend - a Turkish-style mix of pul bibers, sumac and sunflower oil you can throw on everything like you would salt and pepper - to the spicy and versatile Japanese Shichimi Togarashi.
While both Clara and Rachel knew the idea for Rooted Spices was a good one, Gizzi's backing helped them to take things to the next level. The biggest takeaway for them was "learning to stick to our guns and to back ourselves."
Things have changed for the small business owners: they've moved from working in isolation in Rachel's home - which, as Clara jokes, "had turned into a souk," to expanding to a warehouse with a number of staff.
They've had national press coverage, have had customers making loads of repeat purchases, and they're dealing with the chaos of trading during the busy Christmas season. They've also been developing recipe cards to show people how to use these spices - even on the simplest dishes, like fried egg on toast.
In the new year, they will be focusing on getting into more physical stores and they're also experimenting with flavours and making more of their own signature blends.
With a confidence boost from winning the American Express competition, and the reassurance they were on the right track from Gizzi, Rachel and Clara say it's the tangible skills, like Gizzi's experience as a food stylist, that have helped make a huge difference.
"We learned so much from watching how she operates. She is so good with flavours and is known for bold yet simple recipes - it's inspiring." Rachel says.
Talk at Magpie also turned to food trends and independent businesses: American Express is encouraging the nation to head out and support their local independent retailers. Plus, there's an added incentive to do so: American Express Cardmembers who spend £10 or more at any participating retailer between 1st and 16th of December 2018 will get a £5 statement credit.*.
According to The Grocer's food trends editor, Emma Weinbren, many of the top food trends often start with smaller brands and small businesses need to do their best to stand out to get noticed. One way to do that? Be true to yourself.
"You need to know yourself as a business and not be skewed by what your mate, your mum or what the industry says," Gizzi explains. "You need to get out there by being bold."
"I'm obsessed with you girls," Gizzi concluded. "Our journey doesn't stop here."
"American Express understands the importance of powerful backing. That's why the company joined forces with music legend Nile Rodgers and culinary innovator Gizzi Erskine, to launch Backed By, to give one budding musician and one food entrepreneur the chance to take their ideas to the next level. Keep an eye on Backed By for the winner's stories."
Promotor: American Express Services Europe Limited has its registered office at Belgrave House, 76 Buckingham Palace Road, London, SW1W 9AX, United Kingdom. It is registered in England and Wales with Company Number 1833139 and authorised and regulated by the Financial Conduct Authority.
*Offer only available to UK issued American Express Cards with the exclusion of Lloyds Bank, Corporate and Pre-Paid Cards. Enrolment required, available in-store, participating merchants only, once per location. For a list of participating merchants and full Offer Terms and more details about statement credits visit amexshopsmall.co.uk