Forget the killer ghosts – the scariest thing about Google's Halloween doodle game is how addictive it is.
The mini-game follows "freshman feline Momo" on her mission to rescue the Magic Cat Academy from "mischievous spirits".
Gamers help Momo fend off hordes of ghosts by swiping curses in the shape of the symbols above their heads.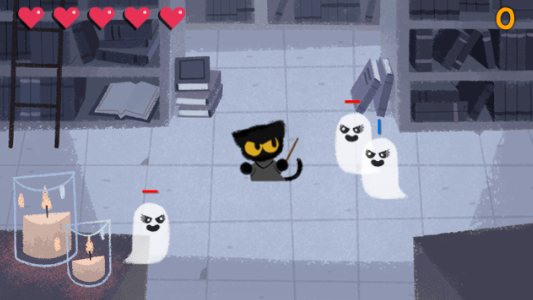 According to a Google blog, Momo was inspired by one of the doodlers' furry friends:
"The inspiration for this year's cat spell-casting game came from a real-life black cat named Momo that belongs to Doodler Juliana Chen. It seemed like a good opportunity for a cat hero, since the winner of last year's Candy Cup Doodle was Yellow Witch and her black cat."
The doodlers originally wanted to create a game about a magic cat which made a soup "that so good, it raised the dead".
But the team said that connecting soup to Halloween "proved too abstract", so they settled upon the idea of a wizard school instead.