'Great British Bake Off' fans were up in arms when it was claimed innuendo was being scrapped from the show amid its move to Channel 4.
Turned out that wasn't true though, and just to prove it, bosses served up a complete filth-fest of an episode that would even have had Mary, Mel and Sue blushing on Tuesday (12 September).
As Bread Week got underway, there was a bit of gentle innuendo to get things going.
Well, teacakes just lend themselves to a classic bun-based pun too easily, right?
But things stepped up a gear during a particularly saucy chat between Prue and Paul.
As they discussed how to bake the perfect cottage loaf, Paul's description of the pitfalls involved in his technical challenge certainly raised some eyebrows:
After Paul admitted he "drives his finger" through to dough to ensure it keeps its shape, Prue had a pressing question:
"Do you flour your finger?"
Our innuendo-meter is officially broken.
But the ridiculous chat continued when the bakers presented their efforts to the judges.
As Prue assessed Kate's cottage loaf, viewers could have been forgiven for thinking she was discussing something else entirely:
If that wasn't enough, Stacey had felt it appropriate to show us her "finger treatment", and it all got rather uncomfortable.
"I just know how Paul does it," Stacey remarked.
We have no words, but this lot did:
Things didn't get any less X-rated as the showstopper round got underway.
After being told they had to serve up a bread sculpture that had three different types of bread with three natural colourings, this was what Julia created:
It was clearly a grower, not a shower: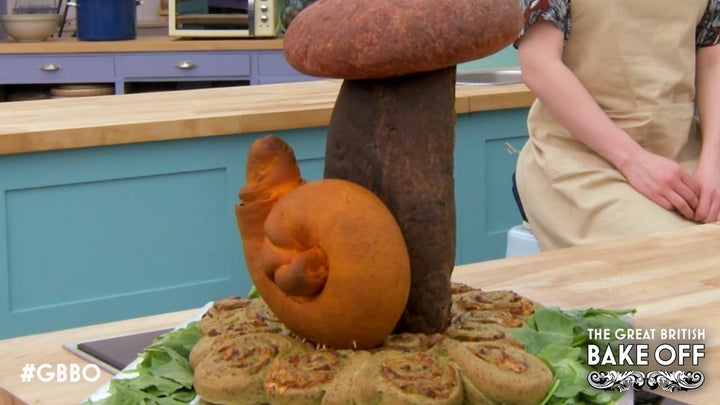 Elsewhere, someone other than Steven was crowned Star Baker.
Breaking his consecutive run of wins was Julia (and her snail penis), after a consistent performance in all three rounds.
Sadly, it was also time for another person to leave the tent.
Flo, we'll miss you dearly.
'The Great British Bake Off' continues next Tuesday at 8pm on Channel 4.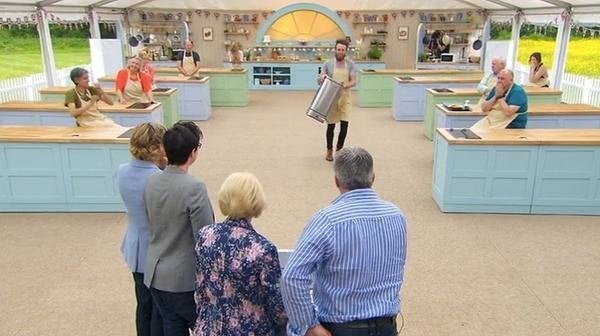 Most Controversial Great British Bake Off Moments