Apple is leading the race to build a green internet, according to Greenpeace analysis.
The iPhone maker was awarded a score of 83 per cent in the environmental organisation's latest tech ranking, which assesses the footprint of large data centre operators. It's the third year in a row the firm has topped the list.
Apple was trailed by Facebook and Google, which, with scores of 67 and 56 per cent respectively, were also awarded A grades.
But the report's authors looked less favourably upon Amazon and Netflix, whose progress was described as "lagging".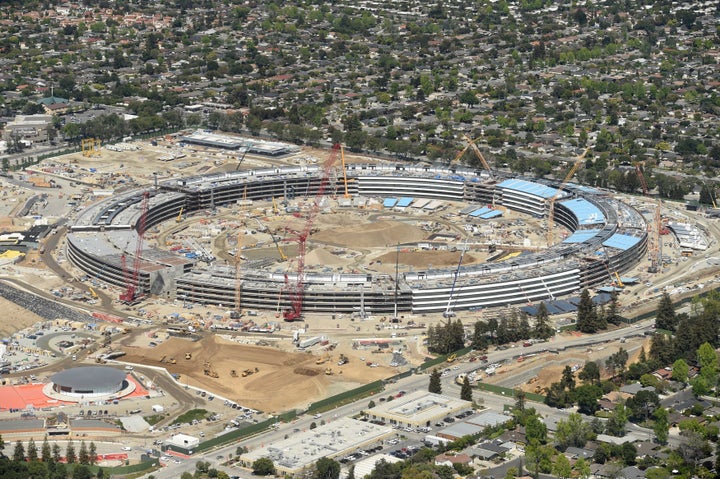 Apple scored As for energy transparency, renewable energy commitment and sitting policy, energy efficiency and mitigation and energy procurement.
It only fell down in one category – advocacy, for which it scored a B.
Apple, Facebook and Google are racing to become the first tech companies to be 100% renewably powered.
Apple hit 93% in 2015, but has not yet set a date for when it will be fully powered by renewables.
Netflix also has plans to fully offset its carbon footprint, but Greenpeace said it is "likely" turning to carbon offsets or unbundled renewable energy credits, which "do little to increase renewable energy investment". The firm accounts for one third of internet traffic in North America.
Meanwhile, Amazon's clean energy index rating fell after the firm grew its data centre capacity in Virginia, where Greenpeace said there are few renewable energy options.
"Given [Amazon Web Service's] continued lack of transparency and its rapid growth in Virginia and other markets largely served by dirty energy, it remains unclear whether the AWS cloud is actually on a path to becoming renewably powered," the report said.
Greenpeace is calling on firms to make a number of pledges, including to hit 100 per cent renewable power, to greater energy transparency and to develop a strategy for increasing the supply of renewable energy.
The report's authors stressed that tech firms have the power to influence others in the industry.
Apple was described as playing a "catalytic role within its IT supply chain, pushing other IT data centers and cloud operators who help deliver pieces of Apple's corner of the internet to follow their lead in powering their operations with renewable energy".
HuffPost UK has approached Netflix and Amazon for comment.
An Amazon spokesperson told HuffPost UK: "In November 2014 AWS made a long-term commitment to achieve 100 percent renewable energy and in just two years we've made strong progress towards that goal. By April 2015 we hit 25 percent renewable, closed 2016 at 45 percent renewable, and have set a goal to reach 50 percent by the end of 2017.
"AWS has to date enabled 10 renewable energy projects in the United States that will deliver a grand total of 2.6 million MWh of energy annually onto the electric grid powering AWS data centers and four of these projects are already online. That said, we are nowhere near done. We will continue to make progress toward our 100 percent goal and have many exciting initiatives planned."