Members of a Florida family who for years touted an industrial bleach mixture as a miracle cure for a variety of health conditions, including COVID-19, were found guilty of federal crimes Wednesday in Miami.
Mark Grenon, 65, and sons Jonathan, 37, Joseph, 35, and Jordan, 29, were convicted of conspiring to defraud the United States and deliver misbranded drugs after their church, the Genesis II Church of Health and Healing, sold $1 million worth of their so-called Miracle Mineral Solution, or MMS, according to court records.
The Grenons, who represented themselves and declined to speak or make opening statements during their two-day trial, were hit with the verdict after a jury deliberated for about 30 minutes, the Miami Herald reported.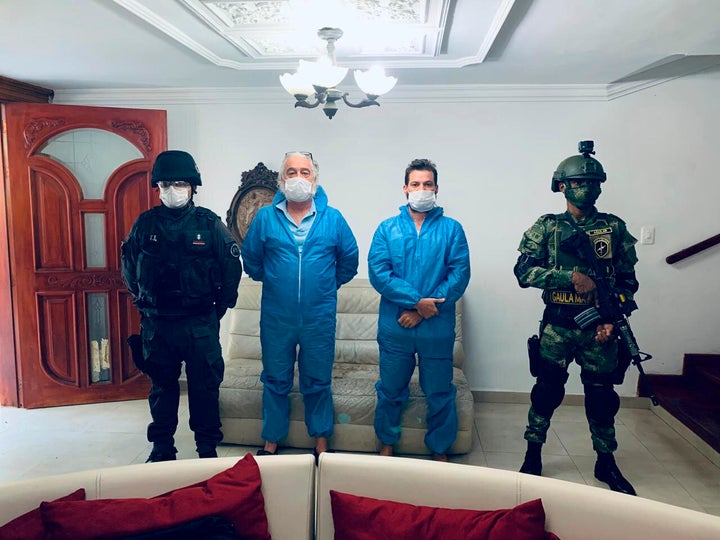 According to court documents, the Grenons operated their organization online, calling it "a non-religious church" focused on health and healing. Their website included news and testimonials that claimed the Miracle Mineral Solution could cure everything from Alzheimer's disease to autism.
The solution is actually chlorine dioxide, a powerful bleach often used in industrial water treatment or for stripping textiles and paper, federal authorities said.
The Grenons had created their church with a man named Jim Humble, who claims on his website that he discovered MMS in 1996 during a gold mining expedition in South America. The site describes it as "a simple health formula that cured malaria."
Humble writes that he'd been interested in health and medicine since managing a Los Angeles health food store, and he also claims to have been a research engineer in the aerospace industry.
"Over the years Jim has maintained his interest in alternative health, and worked with numerous healing modalities including healing his own broken neck in record time using magnets," his website says.
Humble retired from the church in 2017. He did not immediately respond to HuffPost's request for a comment.
In a 2014 interview posted online, Mark Grenon spoke about forming the church with Humble. The self-appointed archbishop detailed how he promoted MMS with pseudoscience and conspiracy theories, claiming that modern diseases were not only human-made but "planned."
"You go back a 150 years ago, they didn't have all these diseases that are, I believe, man-made by industrial toxins, by chemical, by medicine, by processed foods," Grenon said. "I'll go as far to say it was planned to control mankind like this."
In 2019, the Food and Drug Administration issued a warning to the public about the Miracle Mineral Solution.
"The FDA has received reports of consumers who have suffered from severe vomiting, severe diarrhea, life-threatening low blood pressure caused by dehydration, and acute liver failure after drinking these products," the agency said.
In April 2020, federal authorities announced that they were halting the sale of MMS, calling the product "unapproved, unproven, and potentially dangerous."
In a video posted to his YouTube channel on July 4 of that year Jonathan Grenon continued to promote MMS for healing illnesses and infections. Less than a week later, he, his father and his two brothers were charged for violating court orders to stop distributing the product.
After they were charged, federal authorities said they searched Jonathan Grenon's home and found materials to manufacture MMS in his shed.
According to the Justice Department, officers seized a number of blue chemical drums containing nearly 10,000 pounds of sodium chlorite powder, thousands of bottles of MMS, and multiple loaded firearms, including a pump-action shotgun concealed in a custom-made violin case.
At the time, U.S. authorities only took Jonathan and Jordan Grenon into custody since Mark and Joseph Grenon were in Colombia, where they were accused of building a medical misinformation movement that garnered the support of politicians, army officers and celebrities.
Mark and Joseph Grenon were eventually extradited to the U.S. in 2022 following their August 2020 arrest in Colombia, with officials there saying that they sold MMS locally and arranged shipments to Europe and Africa.
The global impact of the Genesis II Church of Health and Healing only increased as the coronavirus pandemic raged. In Bolivia, officials said in 2020 that people could consume chlorine dioxide to treat COVID-19. And in Mexico, celebrity Verónica del Castillo said on Instagram that she used the substance to protect herself from the disease.
The Grenons are scheduled to be sentenced Oct. 6, according to court records.
Despite the Grenons' arrest and trial, followers of their church continue to promote the bleach solution on a site formerly known as MMS Forum but now called The Chlorine Dioxide Forum.