A Twitter user has riled up the masses by taking it upon himself to explain cycling to, wait for it, an Olympic cyclist.
Martin Betancourt gave Dutch cyclist Annemiek van Vleuten a 140 character lesson in cycling after the 33-year-old came off her bike during a sharp turn in the road race.
She was left hospitalised with severe concussion and three small fractures in her lower back.
Following the incident, van Vleuten tweeted fans to say that despite her injuries she would be fine, although she was "disappointed" she didn't get to finish the "best race of her career".
Rather than wishing her well, Betancourt took the opportunity to tweet the Olympian to explain that she should always keep her bike steady regardless of how fast she is going.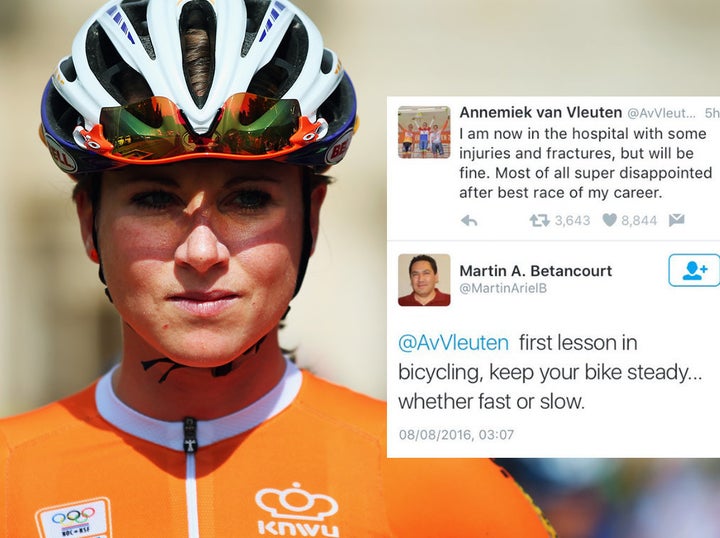 Mansplaining refers to when a man explains something, often to a woman, in a manner that is regarded as condescending or patronising.
Allen's tweet clearly resonated with many, as it was shared almost 14,000 times with 18,000 favourites.
Speaking to The Huffington Post UK, Allen said she didn't expect the tweet to gain as much attention as it had.
"I think people have been pretty fed up of some of the sexism that has surrounded these Olympics so there was definitely some recognition that this is a common experience," she explained.
"I just thought it was really funny that some guy genuinely thought an elite Olympian cyclist would need to hear the first rule of cycling directly after being horribly injured in one of the most competitive sporting events of her life - which she was actually winning before she had her accident."
Sadly, following her tweet, Allen was subjected to abusive messages from a handful of men on Twitter.
"Most people took the joke in good humour," she explained. "However a small but very vocal minority of men did get very angry at the use of the word mansplain and - ironically - seemed very keen to explain to me why it wasn't mansplaining.
"One guy has been persistently calling me sexist for about 18 hours now.
"I laughed most of them off but some were really abusive so I just blocked them. Life is too short to argue with people like that."
Allen added that social media "can really open your eyes to the experiences of others, but it also provides the ideal breeding ground for misogyny and sexism because there are usually no consequences for these people".
"Lots of men tweeted me to tell me that feminism is cancer and that I should get a boyfriend because I smell of toast or something," she said.
"My boyfriend found that pretty funny. He's been really lovely and supportive and helped me to see the funny side."
She concluded: "I just really hope that Annemiek recovers fully - and maybe doesn't look at her Twitter mentions for a while."
It's not the first time sexism has cropped up during the 2016 Olympics.
On Sunday, Twitter users went into meltdown about the length of presenter Helen Skelton's dress, with some saying it "distracted" them from the swimming.