Since its Broadway debut in 2015, 'Hamilton' is the musical that has had everyone talking, and now the UK can finally get in on the action, as it's officially opened in the West End.
On Thursday (21 December), the show opened its doors to theatre critics for its press night, and they've now had their say on what is undeniably the biggest musical theatre offering in years.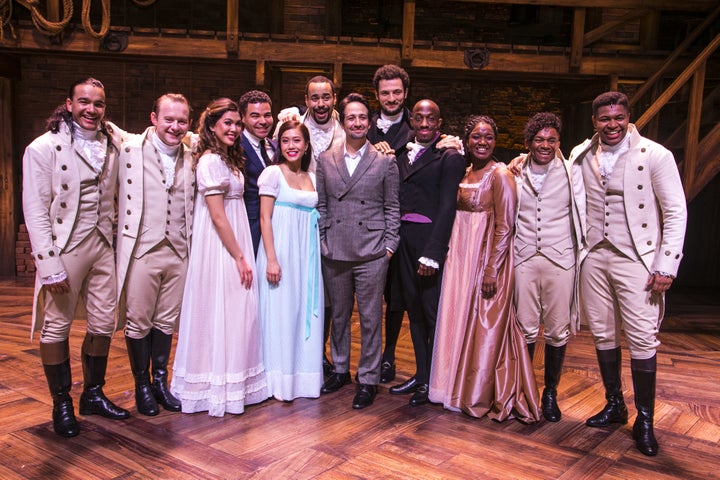 With one notable exception (no points for guessing which publication this is), the reviews are unsurprisingly glowing, with many noting that despite being based in history, its themes are extremely prevalent in 2017.
Here's a selection of what the critics have had to say…
"In the end, the power of 'Hamilton' lies in its ability to make the past seem vividly present... [Lin-Manuel] Miranda has created an invigorating and original musical that, at a time of national crisis, celebrates America's overwhelming debt to the immigrant."
"I have to report that it really is as good as we've been told. Can you quibble that it's a bit too cold, a bit too clever, and a bit too crammed with exposition? Perhaps, but it displays an artistic sophistication that makes most of its British counterparts look like they're mumbling into their shoes in comparison."
"Lin-Manuel Miranda's musical about Alexander Hamilton, the first secretary of the US treasury, is actually better than the hype suggests. That's because lost in some of the more waffly discourse around its diverse casting and sociological import is the fact that 'Hamilton' is, first and foremost, a ferociously enjoyable show."
"'Hamilton' is a touchstone. It's zeitgeist, youthquake, Momentum, it's woke, it's post-musical.
"From masculinity, power struggles and the small things on earth, it metastasises into a crying epic about legacy, principle, nations, all the incredible mongrel people within those nations, and how all those people… can change the world. Even the bastard, orphan, son of a whore, immigrant Alexander Hamilton."
"The musical's U.K. casting carries its own political value. To see such diversity on the West End stage right now is as satisfying as having a working-class British-Pakistani — Donald Trump adversary Sadiq Khan — as London's mayor. The revolution has landed in London, and is unlikely to be leaving any time soon."
"Was all the mad publicity hoopla justified? Not really. Apart from the lyrics, Hamilton is no revolution. But if you wait until the promotional frenzy has abated and if you lower your expectations to those for a normal West End show, you should enjoy it well enough."
″'Hamilton' is a vital, revolutionary work that raises the musical theatre bar in the way ′Show Boat' and ′West Side Story' did in their day. Not least because it boasts a multi-racial cast, which feels especially significant in its London home — Victoria Palace Theatre, where ′The Black and White Minstrel Show' once reigned supreme for 10 years."
"Just as Shakespeare used everyday language to make the lives of kings accessible to the public, author Lin-Manuel Miranda brings the 18th century bang up to date by setting the story of 'Hamilton' in hip-hop, R&B and dancehall... Sell everything you own to get your hands on a ticket. You won't regret it."