There have been extraordinary scenes at a British racecourse after a TV presenter risked her safety by tackling a runaway horse travelling at full clip.
Hayley Moore, on-course journalist for the At The Races channel, came to the horse called Give Em A Clump's aid at Chepstow on Tuesday.
After one furlong of the Bet And Watch At 188bet.co.uk Handicap, the horse threw off its rider, Fran Berry, and began to run free.
As some cleared the path, Moore instead grabbed the errant equine. "Hayley!," one At The Races commentator exclaimed as the incident was broadcast live.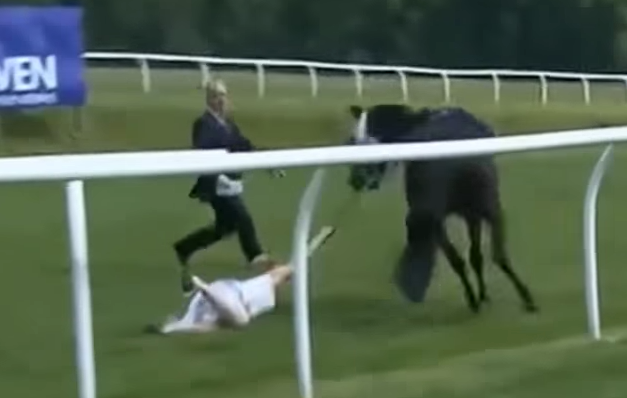 "That deserves some sort of an award, that's unbelievable."
"Gives him a pat and gets the saddle off as well," offered a co-commentator, adding some colour and admiration.
The first commentator returns: "If that's what At The Races presenters have to do to when live reporting ... well, I tell you, I'm not doing that."
Moore brushed off the save afterwards: "They'll have to put the divot back in, but luckily it's on the jumps track so they'll have time to get the truck on the track!"
The surreal episode could have been an outake from the cult TV series The Day Today, and in particular the segments when a young Alan Partridge went to the races.
In classic clips, hapless sports reporter Partridge displays his lack of knowledge of the sport, beginning with a dubious racing bon mot about the 6.30 Queen Henry Stakes, "which is generally regarded as the litmus test for Derby form".
"Jockey folklore says that if you cock up the Queen Henry, you might as well ride the Derby on a cow," Partridge insists, before running through the list of horses that includes 'Diabetic Charlie', 'Massive Bereavement' and 'Two Headed Sex Beast'.
You wonder what Partridge would have made of the Bet And Watch At 188bet.co.uk Handicap.