The Duke and Duchess of Cambridge, alongside Prince Harry, have today launched their new campaign 'Heads Together' which will focus on reducing the stigma surrounding mental health - one punch at a time.
The royals are spreading the important message that physical fitness plays a huge role in boosting mental wellbeing.
As part of the campaign, the Duchess of Cambridge was filmed trying out Boxercise classes, which are offered by mental health charity Mind to those struggling with a mental illness.
Former professional boxer Duke McKenzie, who runs Boxercise sessions at Mind in Croydon, said of the launch: "The fact that the royal family have put their stamp of approval on the subject of mental health signifies the importance of getting the message out and stopping the stigma attached to mental health problems.
"With the royal seal of approval, it can't fail."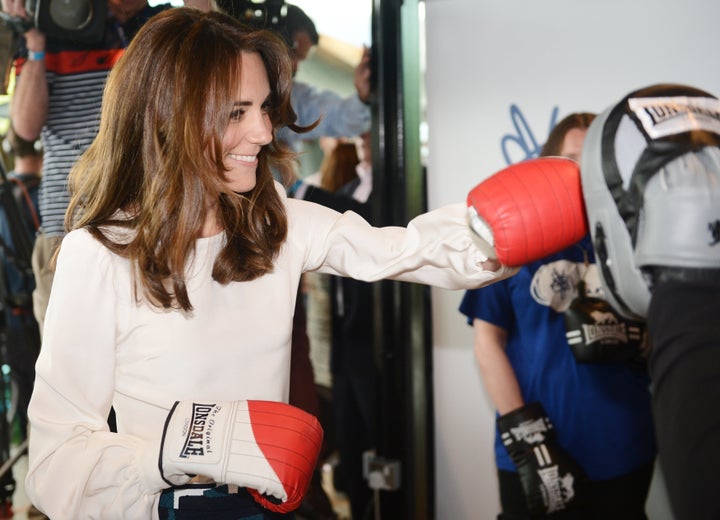 The campaign's official launch was held at the Queen Elizabeth Olympic Park, London on 16 May.
The aim is to encourage people to take positive and simple steps to look after their mental health and wellbeing - and one of these steps is through exercise.
"Exercise such as boxing, running, gardening – anything that gets your heart rate up is proven to boost mood and strengthen mental wellbeing," a spokesperson for Mind told The Huffington Post UK.
"In fact, research shows that outdoor exercise can be as effective as antidepressants in treating mild to moderate depression and anxiety."
'Heads Together' will be the 2017 Virgin Money London Marathon Charity of the Year, with hundreds of runners representing the campaign to raise awareness of mental health and raise vital funds for the mental health charities.
During today's event, singer and Mind ambassador Frankie Bridge joined forces with former professional boxer Duke McKenzie, to offer a demo of the Boxercise sessions that he runs at Mind in Croydon.
Two people who regularly attend his Boxercise classes, Stephanie Ware and Jade Jennings, also got the chance to speak to the Duke and Duchess of Cambridge about how they found the sessions transformative for their mental health.
Speaking about the campaign, Stephanie Ware said: "Talking about mental health is just as important as physical health, in fact probably more so because it's unseen.
"The royals together with Mind and other charities will be a real fighting force.
"The partnership with the London marathon will reach so many people to get their heads together and talk about mental health and reduce the stigma."
Discussing how it felt to meet the Duke and Duchess of Cambridge, Ware said: "I feel slightly overwhelmed. It's been an amazing experience to meet all three of the royals today.
"They are really lovely, humble people and you can see their passion for this issue shining through."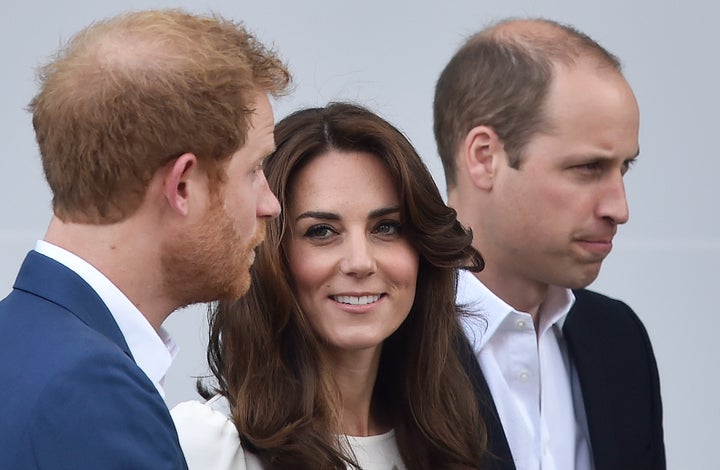 Jade Jennings, who has also attended Boxercise sessions, said: "To have the support of these three very high profile people is marvellous. They are so genuine and caring they will truly make a difference.
"It's so exciting that we're going to be talking about this campaign up to the marathon and hopefully beyond."
Mind offers structured physical activity programmes such as Boxercise, Thai Chi and even laughter yoga to help people in recovery from mental health problems.
Mind's chief executive Paul Farmer said the campaign has the "potential to transform the way that we think and talk about mental health and wellbeing".
"We are delighted that Their Royal Highnesses are joining the growing movement that is fighting to end mental health stigma.
"Our 'Time to Change' campaign, which we run with the charity Rethink Mental Illness, has made great strides to change public attitudes about mental health but we have always said that we can't take on the challenge alone and to have the backing of these global icons is phenomenal.
"We hope that in the run up to the Virgin Money London Marathon in April 2017 we'll be able to inspire people across the UK to have conversations about their mental health and to get active.
"We all have mental health, just like physical health, it is part of everyday life and needs to be looked after."