Parents seem to be taking a more forward-thinking, future-focused approach when it comes to buying things for their newborns and setting nurseries up. More than focusing on what's needed right now, or embracing tradition and trying to recreate their own childhoods, more and more parents are picking stuff up for their new arrivals planning for down the line.
These are the findings of John Lewis's Nursery Trends report, the retail giant's annual look at what parents are buying, placing on wish lists and enquiring about. The folks at John Lewis know what they're talking about, having sold a million prams over the last decade. The chain has identified what it thinks are the three fastest-growing groups of parents.
There's the tech parent (embracing all the high-tech wizardry they can), the sustainable parent (keen to 'buy better' in an environmental sense) and the looking ahead parent (keen to buy items that will be useful for as long as possible). They all have long-term thinking in common – whether just thinking about ones own household or the world in general, today's parents seem to have the future on their minds.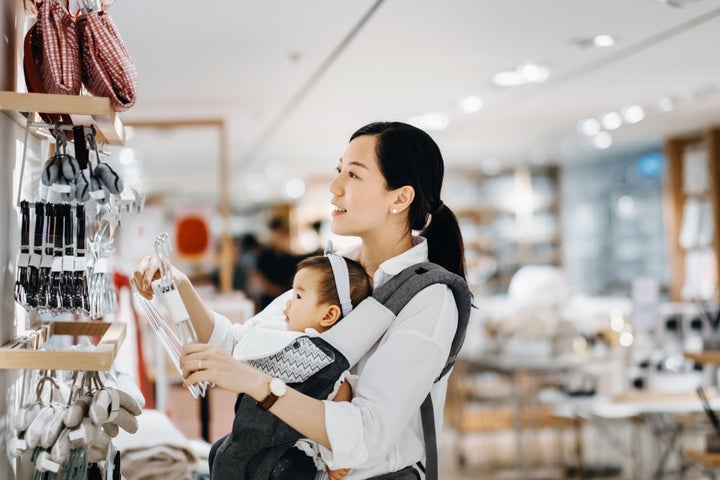 It's easy enough to understand why. We live in uncertain times environmentally, financially and politically, and anything we can do to throw a bone to Future Us has to appeal. Whether that's buying up-to-the-minute technology to get as much use out of it as possible (and potentially raise a tech-savvy kid), looking for sustainably-made products in the hope that the planet might stay habitable long enough for your offspring to get some use out of it, or simply buying stuff that will last, it's all about thinking long-term for your family.
Neutral colours, which the report also notes are very much on the rise, might also tie into this. Do a nursery in neutral colours and you only have to paint it once – gender the hell out of it and you potentially have to do it all over again for kid number two. White is the most searched-for colour in its nursery range, while grey is the most popular colour outright. Baby changing bags in neutral colours, that look more like normal backpacks than what you'd normally think of as a changing bag, are also increasingly popular, which should increase their lifespan beyond the baby years.
Having a kid is always going to be extortionate, whatever you do – John Lewis claim £765 to be the average spend on a nursery appointment – but every little bit we can do helps. Even if it's all come out of a bunch of financial uncertainty and what feels like imminent environmental disaster, surely it's a great thing that new parents are thinking long-term. Doing what we can for Future Us does quite a lot for Future Baby, after all.
Top Ten Things On Parents' Wish Lists At John Lewis
We all work hard to earn our money – so it shouldn't feel like hard work to spend it well. At HuffPost Finds we'll help you find the best stuff that deserves your cash, from the ultimate lipstick to a durable iron to replace the one that broke (RIP). All our choices are completely independent but we may earn a small commission if you click a link and make a purchase.