A couple have upped the stakes for hipsters everywhere with their beautifully "organic" wedding bash.
Kat Kleu, 30, and Michael Malone, 27, tied the knot in a stunning and natural wedding ceremony in Tasmania, Australia.
The couple spent months handcrafting signs and decorations, as well as sourcing recycled tables and chairs in preparation for their big day.
The wedding cake was baked by the bride, who is a pastry chef, and the beverage du jour was homebrew beer by the groom.
Even the confetti was environmentally friendly, as it was made from dried flower petals.
Wedding photographer Mitch Pohl said the couple prepared everything themselves prior to their big day, in order to save money so they can put down a deposit on a house.
"They spent months and months creating pieces that would not only look perfect but meant something to them," he wrote in a blog post. "Such as the arbour, dried rose confetti, tables, signs, kokodema balls, homebrew (which was AMAZING) and their wedding cake and grazing table.
"They just really were about having it as organic as possible, and just leaving the natural beauty of the surrounds to speak for itself."
The couple's ceremony took place in a field, with recycled chairs and hay bales laid out for guests to sit on.
After the ceremony, the couple had photos taken, barefoot, by a river and forest nearby.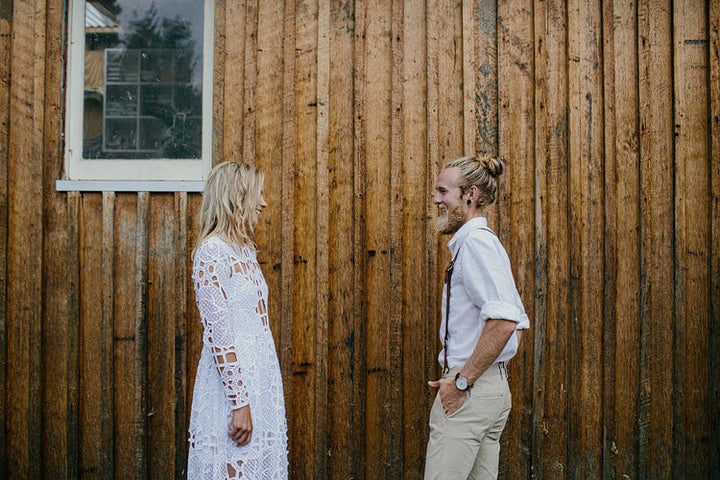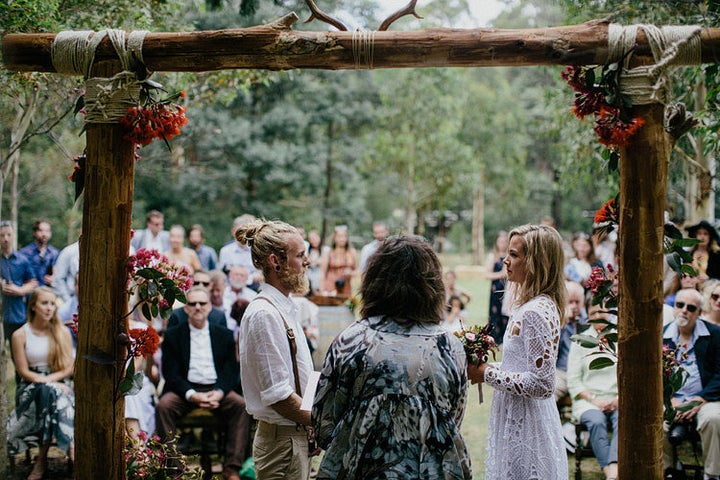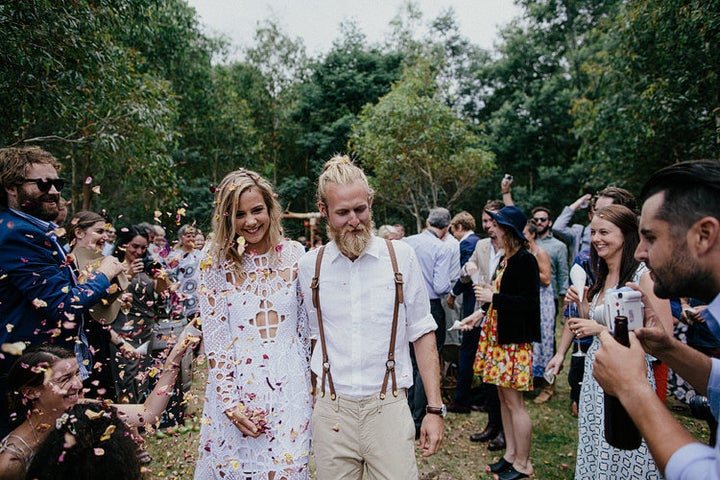 The bride wore a floor-length white dress by Alice McCall with stunning cut-out detailing. Her hair was worn down.
Meanwhile the groom wore a white shirt, beige cropped chinos and tan brown braces. His hair was tied in a bun.
The couple said of their preparations: "We were being thrifty to save unnecessary spending. We used easily accessible recycled materials that happened to fit in with our chosen aesthetic.
"This enabled us to have fun working together while foraging, constructing, baking, brewing, creating and collecting for the months leading up to the celebration."
They continued: "We just did what came naturally to us and did what we wanted to do to put our own personalities into the celebration of our marriage.
"By making it an 'organic process' we simply created and planned in a way that was natural to us without trying to go over board."
The couple's photographs were first published in issue 13 of Hello May magazine.