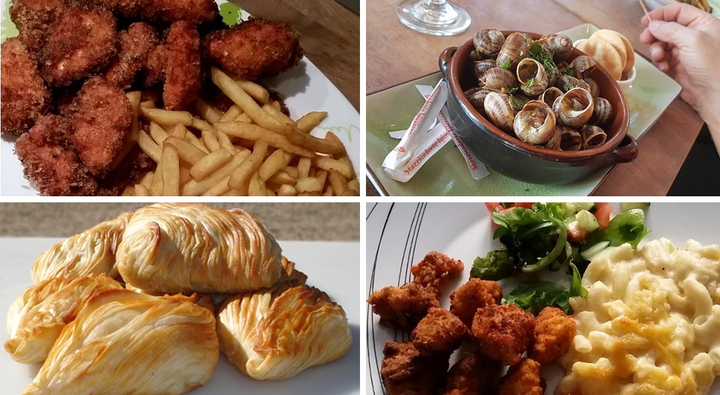 Mealtimes in my household are a spectacular affair – especially on Sundays.
The Sunday dinner is a family dining tradition that, from a young age, I learned to really appreciate. It's an ode to my British/Caribbean upbringing. My parents are Jamaican, but they've long taught my siblings and I both traditional British and Caribbean values, which was reflected in the food we ate growing up.
And I've carried that on. I create a variety of meals throughout the week, but it's the traditional roast that really reflects my cultural heritage. I spend the majority of the day preparing it, cooking up to three meats – roasted, stewed or curried – and a range of starters. I invite friends and extended family around for the feast. And then we eat.
My menu is planned and prepared with military precision. The peas (kidney beans to the untrained eye) that soak overnight are put on to boil. The chicken, seasoned 24 hours previously with herbs and spices, is stuffed and covered in foil. And then it's onto the mutton, which has been curried to within an inch of it life.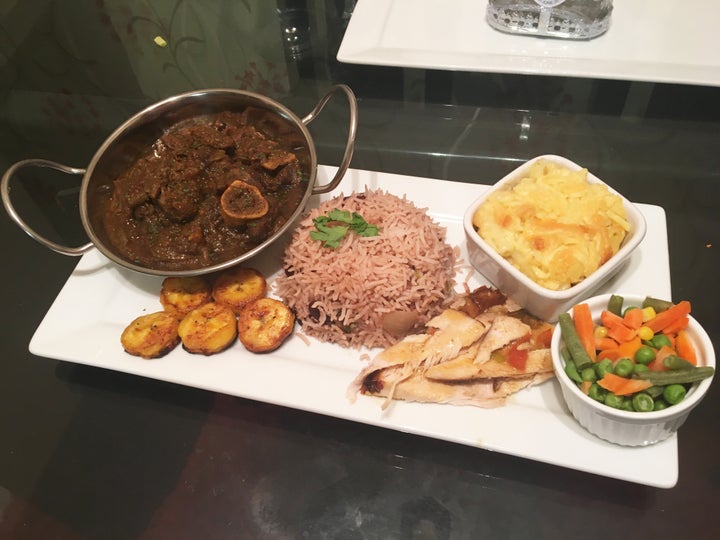 The Dutch pot – a traditional Jamaican cooking pot – goes on the cooker with some oil, awaiting the mutton to simmer and go brown. All the while I make macaroni cheese and start peeling potatoes – listening to a backdrop of 90s R&B music.
When my mum used to do it, the rundown was pretty much the same but the music was different – think reggae icons Jimmy Cliff and Toots. I've tried to stick as closely as I can to her signature Sunday dinner, and I've introduced these traditions to the next generation, too.
For us, meal times are a celebration of the cultural diversity in our household, so I wanted to speak to other British families who embrace their diversity through the food they cook. Here, three families share their stories.
'I'm always using trial and error to mix the two cultures together'
Angela Chinyere, 29, from Sutton, is mum to three-month-old Hezikiah:
I've always loved cooking. When I got married and we had our first child, my husband and I both wanted our son to embrace his British/Ghanaian/Caribbean culture through food. I'm always experimenting in the kitchen, using trial and error to try and mix the two cultures together. It's difficult to add a British element to a Ghanaian meal, but I've found it easier to do the other way round.
My favourite British dish is a full English – you simply cannot go wrong with that. I include plantain to the dish, an edible banana-like staple, because it's reflective of our Ghanaian/Caribbean heritage. It's such a great addition to the breakfast that now I can't eat a full English without it.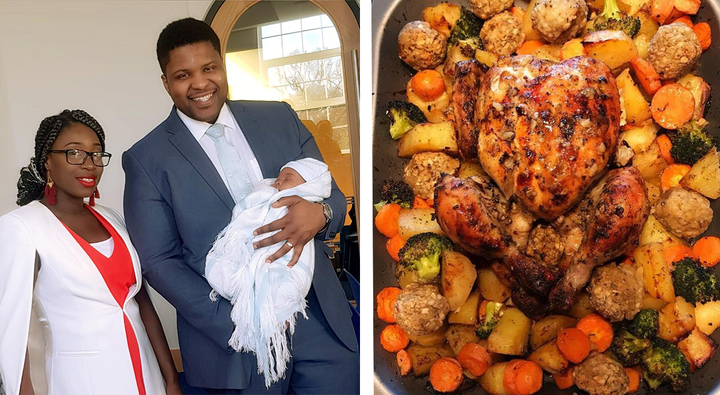 When I make chicken soup, I tend to add yam, dumplings and a Ghanaian seasoning like Maggi cubes. This gives the meal a bit of kick and is a nod to my cultural heritage.
I'm always learning. Last week I cooked a traditional roast dinner for the family, but I wanted to add a little bit more flavour. I experimented by adding Jamaican curry goat seasoning to the potatoes, but kept the roast chicken traditionally British – and it came out really nice!
Other traditions at mealtimes – such as praying before each meal and always sitting down around the table as a family – are strongly rooted in our routines.
What my husband and I both love and celebrate about being black British is that there's such a wide variety of things to cook and mix up when it comes to meal times. Through food, we are going to make sure our son appreciates this when he is older and learn to celebrate his cultural background.
'Our young boys have been introduced to a diverse mix of foods already.'
Lillian Debono, 25, from east London, is mum to Caylen, two, and Rhys, one:
My parents are from Malta and I was raised to appreciate my Maltese heritage. We ate predominately British foods when I was growing up, but my mum would also cook traditional Maltese dishes – my favourite being rabbit stew.
When I became a mum, I wanted my children to have the same experience. I tend to cook British foods for my kids, but my mum makes Maltese dishes for them. I'm so thankful for that. I really want my boys to know and appreciate that culture – and I am going to learn soon (but for now, I'll leave that to my mum!). My boys love pastizz – a pastry filled with ricotta cheese – and Caylen loves the stew my mum makes (with chicken instead of rabbit).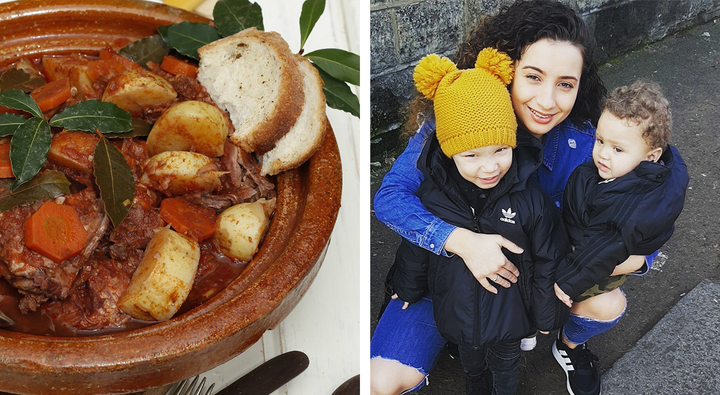 On Sundays, mum and I tend to stick to a traditional British roast – but that changes when my Grandmother is here. She'll add a timpana (pasta with a bolognese-style sauce baked in pastry) as part of the lunch, to give it a twist.
It's not just Maltese foods we want our boys to appreciate. My partner comes from a Caribbean background, so when they visit their other grandmother, they're given Caribbean food – which they're beginning to know and love. Curry goat, rice and peas ("when it's made not too spicy") is a particular favourite.
One of the biggest problems we encounter is trying to get traditional favourites over here, especially from Malta. We'll often wait until we know a family member is coming over to "place an order" to make sure we get it.
We do well to embrace our cultural heritage as a family. To date, our boys have been introduced to a diverse mix of foods. It's something I think is really important for them to know, appreciate and be aware of.
'I'll make tandoori chicken... then send my husband to get a portion of chips to go with it.'
Humera Mosajee, 30, from east London, is mum to Zain, six, and 20-month-old Deen:
I'm a proud British Asian and my heritage is reflected strongly in what we eat in our household. When I make a shepherd's pie, I'll do it exactly how the recipe states – then add Indian spices. I do the same with spaghetti bolognese. I don't use the spices that I use in curries – they can be a bit overpowering in British meals – but I always try to give the meal a bit of a different flavour.
A popular household dish is my Asian take on a traditional roast dinner. But if I don't feel like doing a big spread, I'll make homemade tandoori chicken and send my husband, Zaid, down to the chippie to get a portion of chips to go with it. I'm always experimenting – from tandoori crinkle chips, to a buttered chicken masala I came up with.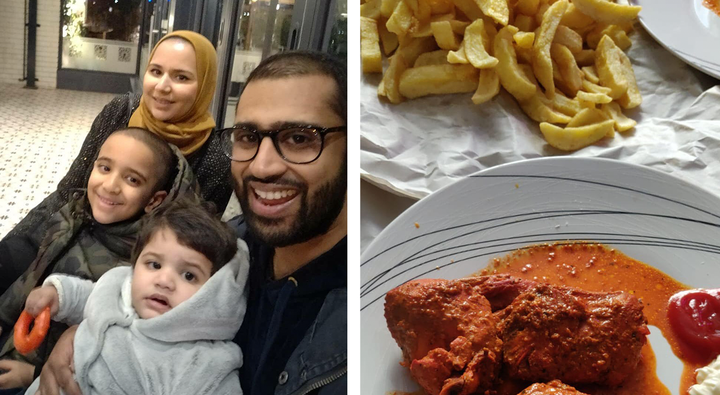 I've also ensured that we incorporate meal time traditions passed down from our parents. We pray before and after each meal, and eat with our hands on the floor – as we did when we were growing up. Obviously, with foods like spaghetti bolognese we have to use cutlery, but sitting on the floor brings brings the family together.
One of most noticeable British traditions we have at meal times – and one I think is quite funny that my husband has adopted – is catching up with the soaps whilst having dinner. When I go to work, Zaid will come in with our oldest boy Zain and catch up on Hollyoaks, Emmerdale, Eastenders and Coronation Street. It's become a ritual for both of them at dinner time!
My boys absolutely love the diversity in our home – they love that we can have a traditional Indian meal one day and a British-Asian meal on another.