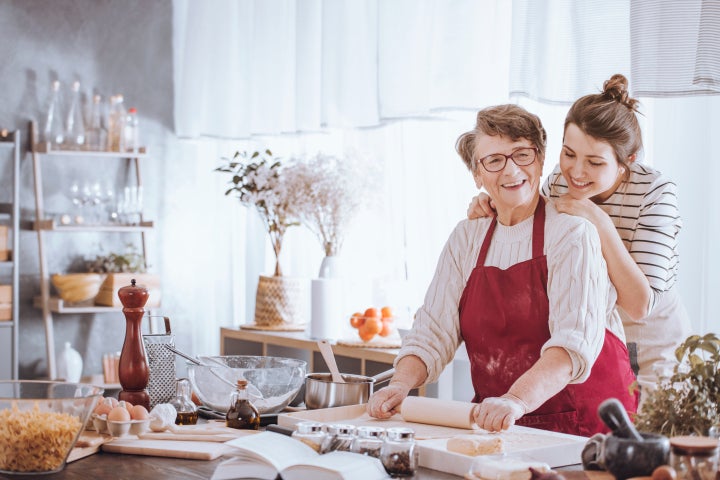 Some of us look at spending time with our grandparents and other elderly relatives as a box-ticking exercise when really, they are repositories of information and skills. With a recent survey revealing that parents are increasingly turning to Google to teach their children traditional life skills such as gardening and cooking the answer could be closer to home: make use of our elders who grew up in an internet-free time.
It's also an incredible way of nurturing and bonding with your relatives, as well as learning a valuable life skill. Here we chat to several people who learned a lot from their grandparents.
Shilpa Bilimoria, 35, Fashion Designer
Interest: Sewing

"Both my grandfathers were instrumental in teaching me the basics of sewing and tailoring. When I got my first toy machine, I proceeded to start sewing with it and got so frustrated. I ran downstairs to Dada (my paternal grandfather), for him to inspect it and say: "Shilpa, there is no bobbin."
"And there I first learnt about the mechanics of the machine. My Bapuji (maternal grandfather) was the one to teach me how to use an industrial flatbed sewing machine. My Dad had one in his shed, and Bapuji helped to get it out, brush it up and get it running. He then gave me my first little lesson in my home sewing studio when we brought the machine over for the first time. "I can still hear him saying: 'Both feet…'"
I set up my clothing label, House of Bilimoria pretty much just after that machine entered my house in 2008. My grandparents were happy people, always delighted to have their grandchildren around them. They were always gentle, supportive and positive. This is what made what they taught so incredibly easy and wonderful to learn about. There is some way that no matter what I did, the achievement in their eyes existed just in the doing. I work in their legacy."
Ed Sonnex, 23, Designer
"My grandad was always ahead of his time. He was an engineer by trade, and nature. He loved strategy and solving problems. His interest in gaming came from his passion with computers and what they could do.
"My first memory was when I was five or six, going to my Grandad's house and sitting down with him and playing the original Sim City game. He talked so passionately about the road system he had put into his city.
"He would show me not only how the game would work, but how cities are built and how all the little parts come together to make things fit. Almost trying to teach me how to put things together and build working projects. Like he would have as an engineer. At the time I was just happy to be playing games rather than sat talking to the adults in the living room.
"Looking back on it, I can see that this was his way of trying to teach me his skills and thinking from engineering. I've now become a designer and strategist in the digital world, and I still love gaming. He started that journey for me, and I'm incredibly grateful for that."
Sarah Bartlett, 27, Works In PR
"My grandma taught me how to make the perfect dippy eggs and it has stuck with me ever since. She always said to put the eggs in the water and when it starts beginning to boil, count to 30 seconds (In hindsight I think this was to keep me busy and stop fidgeting and asking when they were going to be ready!) Then start the timer for five minutes. This should create the perfect consistency for dipping soldiers.
"We should all absolutely spend more time with our grandparents and look up to them for skills – they can offer so much and I think they love the opportunity to teach and mess around a bit."
Yasmin Khatun Dewan, 30, Journalist
Interest: Cross-Stitch And Blanket-Making
"My grandmother lived abroad in Bangladesh, and on my second visit when I was 12, we spent the summer with her. I got a little bored - I didn't want to shop in the malls with my sisters or play outside with my brother.
"So I told her I wanted to make a blanket for my baby niece - a traditional-looking one similar to what I had seen on the beds in her house. She gave me an old cotton sari of hers, all the equipment I needed and set me up. I've not used the skill again but we still have the blanket.
"I am so glad I spent that time with her. My grandma was strong, resilient and super healthy in her old age. I remember her spending much of the day by her pond or speaking to her friends while looking out to it."
"My grandad had an aviary and kept lots of finches, quail and love birds. I was fascinated and he really instilled in me a love for our feathered friends. I used to go with him when he bought new ones for breeding, used to love feeding them and remember holding new chicks. We used to go for walks across the fields whenever we visited (he lived in Derbyshire and my brother and I in London) and he'd always point out the wild birds and tell us what they were.
"My interest was so great that as a present I had a duck adopted in my name and I also joined the Young Ornithologists Club (the youth section of the RSPB). I've passed my interest onto my daughters and we have a pair of budgies and are always spotting birds in the garden and on walks as well as doing things like the Big Garden Bird Watch."
Ceren Sakul, 28, Journalist
"My grandmother in Cyprus makes jam from hawthorn fruit - they're like little berries. She's old and poorly now so recently I've made her teach me. It isn't easy – you have to stop cooking it at a very specific time so it can go like jelly - I've mastered the taste but not the consistency.
"I absolutely adore watching her in the kitchen and learning from her - it's nice time spent together and these are the memories I'll look back on when I'm older. You live your whole life with them around and I think as you get older you appreciate your grandparents so much more because obviously as you get older, so do they, and you know your time left with them is limited."
American Express understands the importance of powerful backing. That's why the company has joined forces with music legend Nile Rodgers and culinary innovator Gizzi Erskine, to launch Backed By, to give one budding musician and one food entrepreneur the chance to take their ideas to the next level. Keep an eye on Backed By for more on Nile and Gizzi's celebration moments.
Promotor: American Express Services Europe Limited has its registered office at Belgrave House, 76 Buckingham Palace Road, London, SW1W 9AX, United Kingdom. It is registered in England and Wales with Company Number 1833139 and authorised and regulated by the Financial Conduct Authority.