Listen to our weekly podcast Am I Making You Uncomfortable? about women's health, bodies and private lives. Available on Spotify, Apple, Audioboom and wherever you listen to your podcasts. The transcript for this week's episode can be found here.
"So, what's everyone drinking then?"
If your friends are anything like mine, this became the go-to opener of every Zoom call during those early weeks of lockdown. We'd gleefully show our glasses of wine, beer or G&T to the camera. After all, we "deserved it".
But as lockdown restrictions ease and pubs reopen, is it time to reassess our relationship with booze?
In a survey of more than 2,000 people conducted by Drinkaware, a quarter (24%) of adults said they were drinking more during lockdown. A lack of usual work structure and job insecurity could be a factor, as this increased to one in three (36%) among furloughed workers.
We all know alcohol can have negative impacts on our physical and mental health if consumed to excess, but a tipple or two is so normalised in British culture, it's easy to get swept up in quarantini culture.
It can be uncomfortable to step back and really look at your own alcohol intake – particularly because nobody really counts units, despite the NHS constantly talking about them. It can also feel a little awkward to be the mate who suggests things have gotten out of hand.
This is why we wanted to chat about our relationship with alcohol in the latest episode of Am I Making You Uncomfortable?, HuffPost's weekly podcast on women's health, bodies and private lives.
Check out the episode on all podcasting platforms now or if you're ready to cut down today, Laura Willoughby, our podcast guest and the co-founder of the mindful drinking movement Club Soda, previously gave us these tips: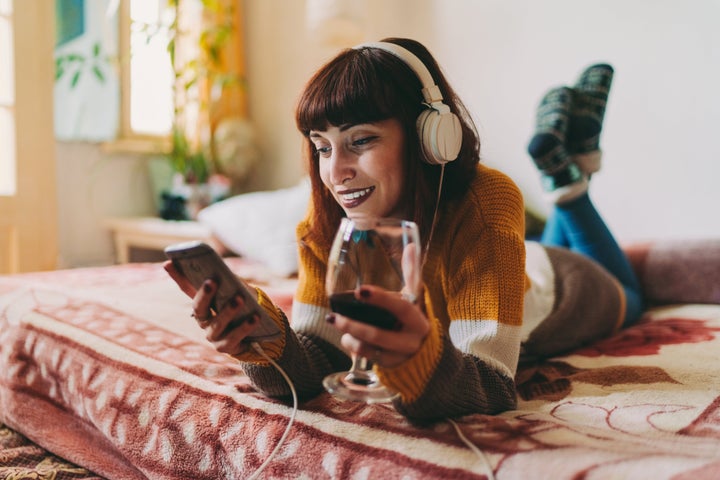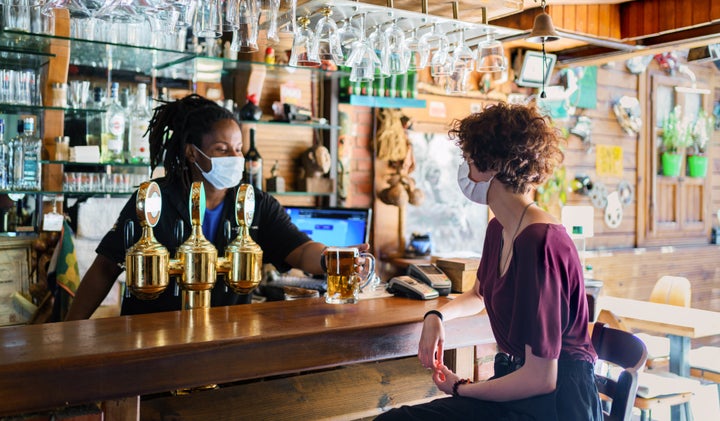 1. Play it forward. Drinking at home may have become the norm in the early weeks of lockdown, but do you want the hangovers, sluggishness or clinking recycling bin to continue longterm?
"Look ahead to who you want to be when this is all over, and focus on the bigger picture," suggests Willoughby. Where do you want your life to be in 12 months? What role does alcohol play in this vision of the future you?"
2. Add some alcohol-free drinks to your shop. You don't have to ditch booze altogether, but save it for occasions such as the weekend to help maintain a routine and keep your consumption in check, says Willoughby. Getting some alcohol-free drinks in to kick back in the evenings will help.
"The range of craft beers, spirits and wines are amazing and you can pick them up directly from the producers or from online stores like Wisebartender, as well as the supermarkets," she says. "Now is a great time to try out what's on offer and find a new favourite tipple to help you moderate for the long-term."
Plenty of pubs and bars now stock low alcohol or alcohol-free options too, so don't be afraid to ask what's available.
3. Set some boundaries. If you've got alcohol in the house, find a new home for it, such as the garage or on top of the wardrobe, so it's less visible and accessible in your daily routine.
"Have some clear rules about when you're allowed to drink – like no drinking when stressed or sad, or only drink with evening meals – and lengthen your drinks, keeping to single serves with lots of tonic or spritzers to dial down the strength," adds Willoughby.
"It's easy to slip into new bad habits so having firm boundaries will keep alcohol in its place."
4. Talk about it. If you feel like you've slipped into bad habits, speak to your partner, friend or family member about it. They might be able to offer advice, or share how they've cut down on drinking now lockdown is easing.
Similarly, if you've got a partner or other family member who is drinking a lot, talk to them about what you're doing to keep your consumption in check, says Willoughby.
You could offer to help a partner or housemate with their health goals, she adds. Make a project of finding new things to do together that don't involve drinking.
5. Get a helping hand. It's important to recognise when our booze habits are teetering on dependancy. Signs it's getting out of hand include finding it hard to stop at two drinks, wanting to drink early in the morning, and physical symptoms of withdrawal such as sweating, shaking and nausea. There are resources to help you do this.
"We would urge anyone who is worried about someone else's drinking to contact Drinkline on 0300 123 1110 or talk to a trained advisor anonymously online via Drinkchat," says Hindal.
"The AA are holding online meetings and the Alcohol Health Alliance has a great roundup of online resources for people in recovery. We Are With You also has advice on accessing services."