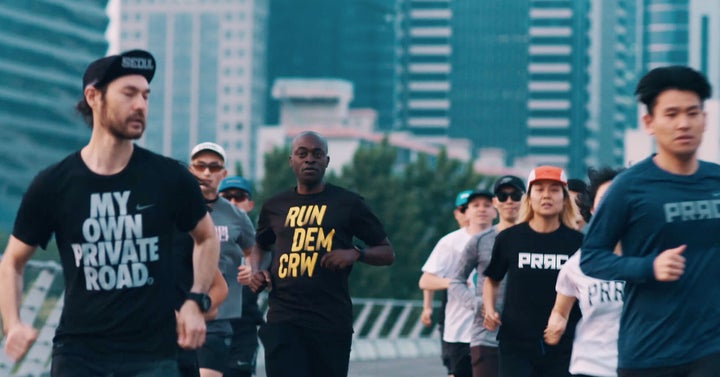 Charlie Dark is always on the move - and he loves it. He loves running through the streets and parks of London, but these days movement has taken on a wider meaning. "Embracing a life of movement has revolutionised and changed my life." he says. "It has taken me all around the world."
He is the founder of Run Dem Crew, a running community that combines the health benefits of running with the social rewards of connecting and sharing experiences and inspiration with others.
As a Global Run Ambassador Charlie travels regularly, helping to create an international network of connected running communities. As the Run Dem Crew tribe spreads across the world, Charlie finds himself spending more time on planes and in hotel rooms, crisscrossing time zones. In between, he has to be focused and alert, ready for business meetings, networking opportunities and runs in unfamiliar cities. However much he loves to travel, it's a schedule that takes its toll.
But for Charlie, that's a challenge to be met. "Over the years I've had to develop some techniques so that when I land in a new country, I'm ready to work as soon as the wheels touch down," he says.
Here are Charlie Dark's top hacks for keeping active, balanced and healthy when you're a long way from home…

Keep moving and stretch

Charlie says: "Sitting in a chair for long periods of time is really bad for you, so I make sure I do some mobility and flexibility routines before I get on the plane, during the flight, and immediately when I get off." An easy routine of moves and stretches can mobilise joints, revitalise organs and increase energy and circulation before and after a flight.
Large international airports can be confusing, overwhelming places. With airport maps from SkyTeam - available for 39 of the world's busiest airports - you'll always have the information you need to hand. "Having the SkyTeam app (iOS / Google Play) that shows me where I need to get to, and where to find water, shops, gates and lounges, really saves the panic of thinking you might miss your flight," says Charlie.
Hitting a new city after a 10-hour flight can be a disorienting and unsettling experience. Using digital maps can help you get your bearings quickly, bringing immediate peace of mind if you have a tight schedule of meetings and events. But as Charlie warns, "data charges on your phone can be astronomical, so having an offline map that you can use gives you a sense of security in a new place." Download the maps you need before you go and toggle between them to keep yourself centred and in control.
Whether you're going to be hitting the gym on your travels or not, Charlie believes athletic-inspired clothing is ideal travelware. It's comfortable for the flight, and the fabrics are designed to repel sweat and odour. "It's not gonna smell, not gonna hold sweat, and doubles up as running kit," says Charlie. In other words, you can pack everything in together and your business suits will remain fresh and fragrant.
Stay hydrated to stay alert
"Dehydration is hard to deal with at the best of times," says Charlie, "particularly on a flight." Being dehydrated makes jet lag symptoms worse, but complete hydration is not just about drinking water. Charlie recommends foods like watermelon, strawberries and spinach to replace essential electrolytes, important nutrients that help maintain the body's fluid balance.
Travelling can mean hours sat in the same spot. Long journeys and unfamiliar places can undermine anyone's best intentions to exercise. "Wearing an activity tracker reminds me to stand up, do some drills, go and move my body," says Charlie. Recent research even suggests that exercise may counter the effects of jet lag.
Plan your trip like a pro
SkyTeam's plan and book function is the easiest way to organise your next flight from wherever you. The app lets you take your pick from 19 global carriers, and rewards include priority check-in. Charlie describes plan and book as "business class benefits, without having to actually fly business class."
Find out about the benefits of signing up for SkyTeam frequent flyer programmes to start earning and redeeming miles with all SkyTeam member airlines. No need to register for several programmes, the alliance-wide offer has you covered. Find out more…