Halloween is one of your kids' most eagerly awaited annual events, so to ramp up the excitement why not get set with some spooky craft creations?
It's fun welcoming trick or treaters to your door with flickering carved out pumpkins, spiders' webs festooned over the doorway and spooky music or witches' cackles echoing from your home.
To keep to the spooky theme, we have step by step instructions in this video on how to make a Halloween cauldron you can then fill with Cadbury treats for little visitors (and, let's face it, your own kids' having a rummage too).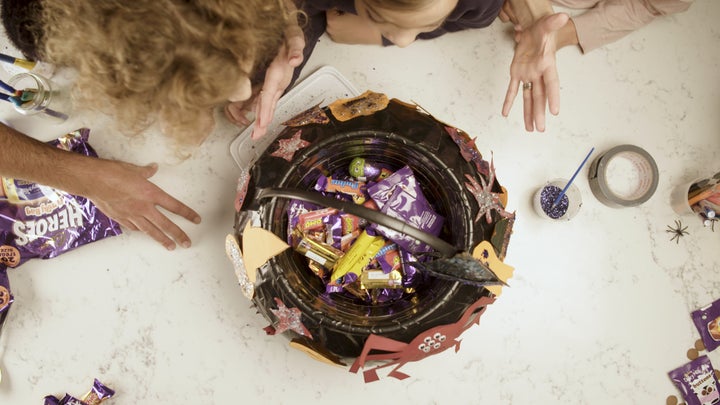 Homemade Halloween Cauldron
Black duct tape
A bucket with a handle
Scissors
Thick cardboard
Cadbury Treatsize range: Heroes, Dairy Milk Buttons, Fudge and Crunchie
Coloured paper, pens and glitter for decorations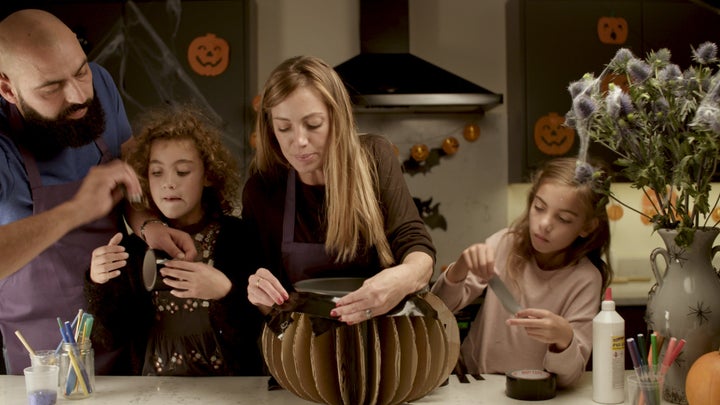 How to make your cauldron:
Cut out lots of semi circular shapes. You'll need at least 20, depending on the size of your bucket.

Tape the cardboard shapes all round the outside of the bucket. Each straight side is taped to the bucket side, leaving the curved end sticking out.

That's the slightly fiddly bit. Now the fun bit: cover all the cardboard with strips of black duct tape. Remember not to tape across the bucket mouth or handle!

Once you have your shiny black cauldron, go wild sticking on each child's individual decorations. You could make spiders with pipe cleaners and googly eyes or draw your own ghoulish faces and spooky ghosts and grinning pumpkin shapes. Don't forget the glitter (every mum's favourite!).

And finally, fill with all your Cadbury treats and wait for your trick or treaters to come calling.
(If your kids are more keen on trick-or-treating than staying in, you can also make individual cauldrons from smaller beach buckets in exactly the same way. Then they'll be all set to collect their own sweet treats down the street and pop them in their mini cauldrons.)
We hope your cauldron takes centre stage in all your fangtastic Halloween fun.
Note: Adult supervision is required at all times.