Coachella marks the start of festival season and with it come the eye-catching outfits and abundance of glitter, from eyeshadows and body sprays and paint.
Feeding into the fast fashion cycle, festival fashion has long been a space to wear outrageous costumes, douse yourself in sparkles, then never wear any of it again, either because it's already fallen apart or because, let's be honest, that sequin jumpsuit will never be appropriate anywhere other than a field – even if it does survive the mud.
But times are changing and festival goers are rapidly taking a more sustainable approach to dressing the part, ditching plastic-heavy glitter for biodegradable alternatives, wet wipes that won't clog up the toilets (and landfill) and the multi-purpose fashion finds that have a place in your wardrobe all year round.
To help you get started, we've created a guide to the fashion swaps to make ahead of UK festivals like Glastonbury, Bestival, Latitude and Creamfields.
Biodegradable Glitter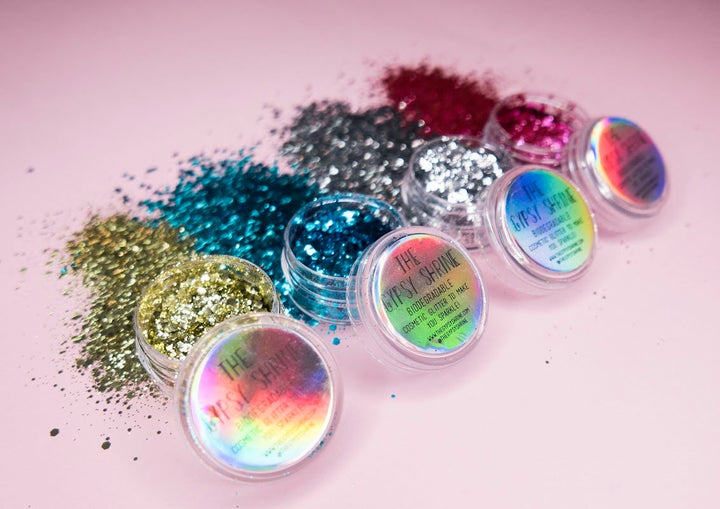 Festivals are one of the few, if only places, where a more-is-more style is favoured. Whether you wear it on your face, body or hair, pick up a pot of biodegradable sparkly stuff instead. Brands like Eco Glitter Fun and The Gypsy Shrine offer plastic-free versions from as little as £4 so you can sparkle with abandon – and complete peace of mind.
Rather than the tiny plastic pieces you'll be used to seeing, The Gypsy Shrine produces its glitter using a biodegradable film derived from sustainable and environmentally-sourced raw materials such as cellulose, which comes from eucalyptus trees. Eco Glitter Fun also ensure plastic free packaging with every purchase so you can reduce your single use plastic consumption.
Another top tip from a glitter aficionado here: ditch the glitter glue. A pot of vaseline is all you need. Tap it onto skin to keep your glitter in place all day while making it easily removable once you make it back to the tent. Keep it on hand at all times too, because no one wants chapped lips ruining a good time.
Biodegradable Wet Wipes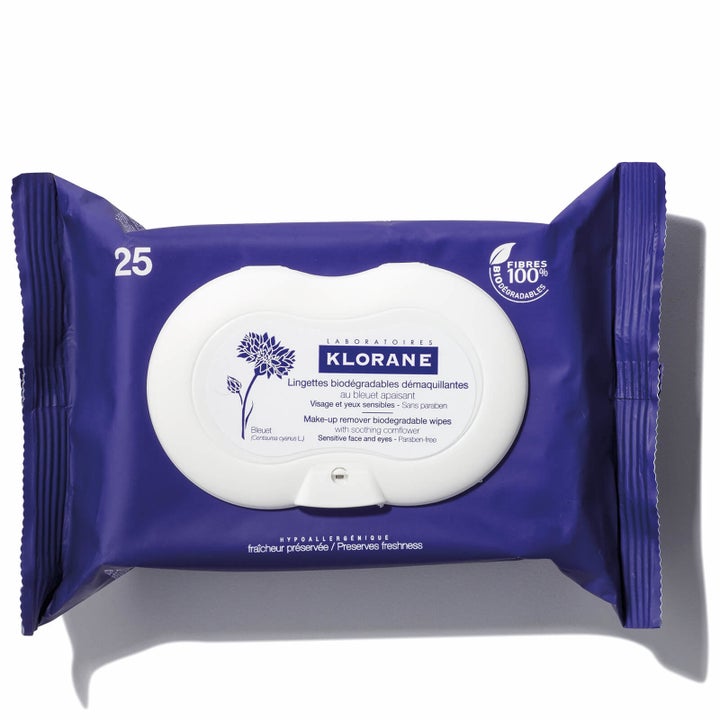 When running water isn't readily available, wet wipes must suffice. But research shows that they account for around 93% of materials that cause sewage blockages. So come summertime, pick up a pack of biodegradable ones to remove your makeup and freshen up when a shower is miles away and involves a 100-people deep queue.
There's plenty to choose from, our favourite is Klorane's Make-Up Removal Wipes with Cornflower. The cotton cloths are soaked in a gentle makeup remover that can even be used on contact-lens wearers. Just be sure to re-seal the pack after use to stop them from drying out.
Sporty Sandals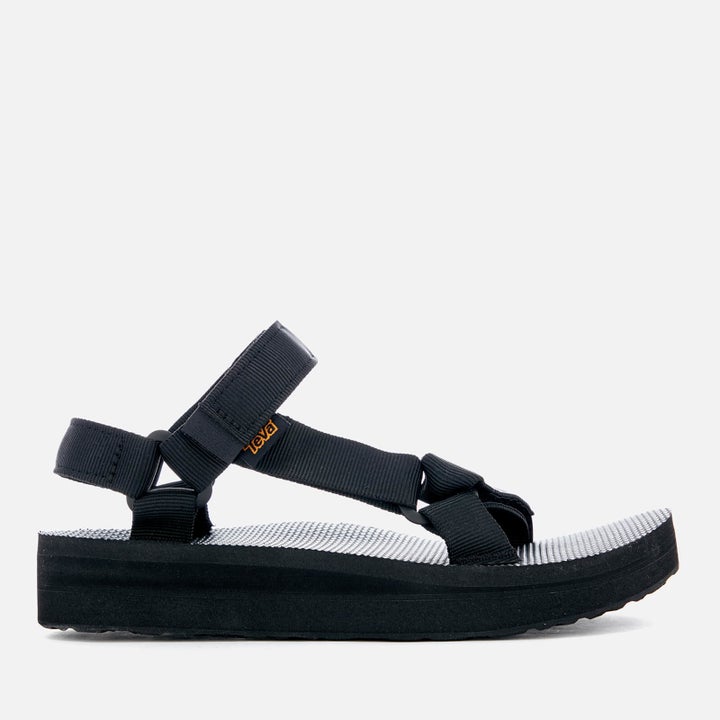 You can still put your best fashion foot forward without having to compromise on style when you're living your best life watching The Cure rock out on the Pyramid stage. Sporty sandals are the new dad trainers that are all the rage, and can be worn to the beach equally as easily as in the fields of Pilton, Somerset.
According to Lyst's Festival Fashion 2019 Trend Report, chunky sporty sandals are set to be popular this festival season with searches for "rubber sandals" having increased 34% since the beginning of March. But if you can't afford Prada's £420 Velcro Sandals – which FYI Lyst has seen a search for every seven minutes – this £50 pair from Teva is the next best thing. They'll keep long after the festival.
Shop Vintage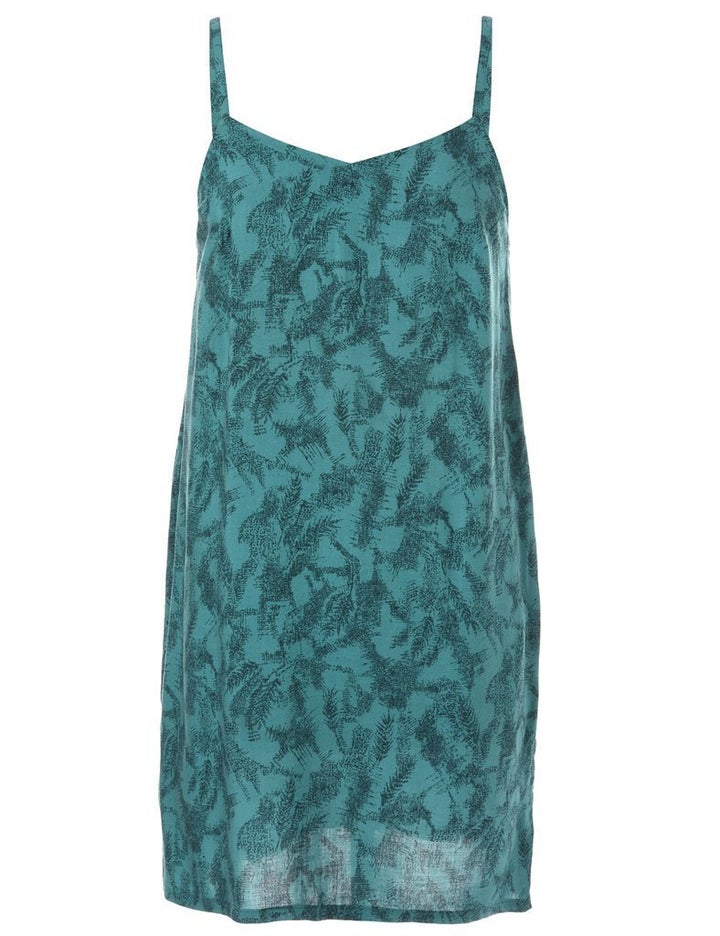 Shop second hand for your outfit this year and hit the vintage stores – on or off the festival site. There's plenty to choose from and many are online so you don't even have to go outside to get your eco-friendly fashion fix.
We love this mini slip dress for £27.45 from Beyond Retro, it's simple, lightweight and can easily be accessorised with a belt and pair of sunglasses. Not to mention if it's hot, you'll pick up a great tan. Tie your jacket round your waist until it cools down later on.
We all work hard to earn our money – so it shouldn't feel like hard work to spend it well. At HuffPost Finds we'll help you find the best stuff that deserves your cash, from the ultimate lipstick to a durable iron to replace the one that broke (RIP). All our choices are completely independent but we may earn a small commission if you click a link and make a purchase.