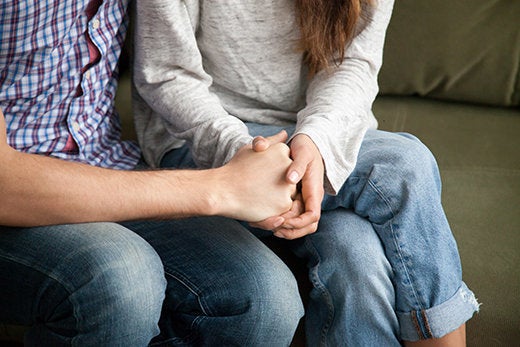 When you experience issues in your sex life, it can be one of the trickier conversations to have, whether in a relationship or otherwise. After all, there may be both physical and emotional effects with which to contend.
Happily, there are plenty of things you can do - and help you can get - to allay your worries. If you are experiencing Erectile Dysfunction (ED), for example, the good news is you can talk to your pharmacist, and there is now an over-the-counter medicine available that may help treat your symptoms.
We talked to Sarah-Jane Swanley*, a sexual health counsellor, about what you can do to navigate some of the most common emotional effects of ED.
It's understandable to feel embarrassed talking about erectile dysfunction. "After all, your penis is a private part of your body usually only accessed by you and your partner, and the prospect of discussing problems with it with someone else can seem difficult and embarrassing', says Sarah-Jane, 'Even within a relationship, talking about ED can be embarrassing, although the sooner you get it out into the open, the sooner your sex life can get back on track."
ED is far more common than you may think: 4.3 million men in the UK experience symptoms*
* Men reporting occasional and frequent difficulty getting or maintaining an erection [ref. Kantar TNS Omnibus Survey Dec 2010 – in a survey of 1,033 men]
When it comes to medical advice, there's no need to be embarrassed. Your pharmacist will be familiar with ED and over 90% of UK pharmacies have a private room or consultation area where you can have a discreet chat without being overheard. And, of course, doctors will have encountered everything before anyway, so there's no need for red faces.
ED can have a whole host of emotional effects on the relationship with your partner. After all, they're also a sexual being, missing intimacy, and may also be worried about your health, your lifestyle, or whether they're part of the problem. You may be worrying about them or about hurting their feelings.
The key is communication. Talk to your partner openly about your erection problem and be reassuring that it's not them. Chances are, they'll be relieved that ED problems are out in the open and you can work together as a team to get help and resolve them. Sex is not just all about intercourse – there are plenty of other affectionate, sensual activities you can do to keep your sexual relationship alive. "Couples need to take the emphasis off penetrative sex and focus instead on giving and receiving pleasure imaginatively. It's also important for a man to understand that sexually he is more than just his penis." says Sarah-Jane.
Erectile dysfunction can be related to a number of medical conditions and a variety of different causes, none of which reflect on your 'manliness'. ED has nothing to do with your masculinity, and it's unlikely that it has anything to do with low testosterone.
"It's a male thing to ignore periods of low mood, even depression and anxiety, and these may manifest themselves in physical symptoms such as erectile dysfunction, making ED a possible sign of a deeper mental health issue," says Sarah-Jane. The onset of ED itself may make underlying depressive feelings worse. A good thing you can do is mention any low mood to your pharmacist who can advise you to see your GP: most depression can be successfully managed with your doctor.
When you have the symptoms of ED, it's easy to start worrying there's something wrong with you, and it is a problem that cannot be fixed. Relax. "Stress and anxiety from work or home, relationship problems, 'performance' anxiety, sexual boredom and alcohol can result in your penis not rising to the occasion as you'd like," says Sarah-Jane.
There are plenty of things you can do to help yourself initially, such as seeing your local pharmacist for advice.
Pharmacists are highly-trained medical professionals who can have a discreet consultation with you, take your medical history and, if they decide it's suitable, supply VIAGRA Connect® to treat your symptoms of ED. The pharmacist will have no hesitation in advising that you see your GP if they feel VIAGRA Connect is not right for you, or you have health issues that need further examination. Be reassured that in many cases, with suitable, tailored medical advice and treatments, erectile dysfunction is treatable.
VIAGRA Connect® is the first medicine available without a prescription in the UK to help men with erectile dysfunction. VIAGRA Connect® is available to buy from the pharmacy and registered online pharmacies.
VIAGRA Connect® 50mg film coated tablets. Contains Sildenafil. For erectile dysfunction in adult men. Always read the leaflet.
* Please note, Sarah-Jane Swanley does not endorse Viagra Connect or any other medicinal brand.