When flu season arrives, it'll be harder than usual to determine whether or not you're sick with flu or Covid-19, because the symptoms are very similar.
But there's a particular order Covid-19 symptoms tend to appear in, say researchers, which could help people tell the virus apart from other illnesses.
Scientists at the University of Southern Carolina (USC) Michelson Centre analysed more than 55,000 confirmed coronavirus cases in China (collected between 16-24 February 2020) and a further dataset of nearly 1,100 cases collected from mid-December 2019 through to January this year.
They compared the order of symptoms from this data set with the order of influenza symptoms, using data from 2,470 flu cases in North America, Europe and the Southern Hemisphere, reported to health authorities from 1994 to 1998.
The likely order Covid-19 symptoms first appear, they found, are: fever, then cough and muscle pain, followed by nausea, and/or vomiting, and diarrhoea.
Gastrointestinal issues, in particular, may set the coronavirus apart from other illnesses like influenza, helping doctors to diagnose it, researchers said. While vomiting and diarrhoea can also be signs of flu, this is more common in children than in adults. The main symptoms of flu in adults are a sudden fever, cough, sore throat, aching body (including headache) and fatigue.
Knowing the order of Covid-19's symptoms may help patients seek care promptly or decide sooner than later to self isolate, said scientists at USC. The information could also help doctors rule out other illnesses, or help them plan how to treat patients and perhaps even intervene earlier in the disease.
The study, which appears in the journal Frontiers in Public Health, was led by doctoral candidate Joseph Larsen and scientists Dr Peter Kuhn and Dr James Hicks at USC Michelson Centre's Convergent Science Institute in Cancer.
"This order is especially important to know when we have overlapping cycles of illnesses like the flu that coincide with infections of Covid-19," said Dr Kuhn, a USC professor of medicine.
Fever and cough are frequently associated with a variety of respiratory illnesses, including influenza, Middle East Respiratory Syndrome (MERS) and Severe Acute Respiratory Syndrome (SARS). But the timing and symptoms in the upper and lower gastrointestinal tract set Covid-19 apart, said researchers, as the upper GI tract (eg. nausea/vomiting) seems to be affected before the lower GI tract (eg. diarrhoea) in Covid-19, which is the opposite from MERS and SARS.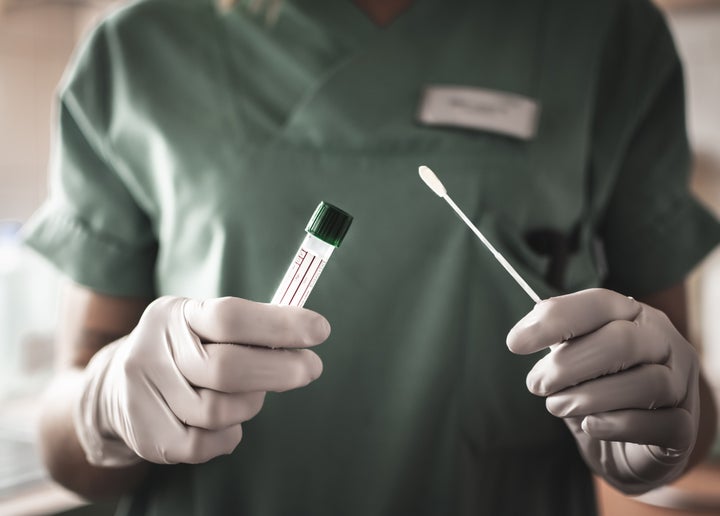 A previous study involving nearly 25,000 cases of Covid-19 identified a persistent cough, fever, fatigue, losing the ability to smell and difficulty breathing as the most common symptoms of the virus. Gastrointestinal symptoms were not mentioned.
Professor Andrew Goddard, president of the Royal College of Physicians, previously told HuffPost UK patients with Covid-19 can have nausea and diarrhoea. Estimates have ranged from 4% of people experiencing it to 57% in different studies.
In milder cases, digestive problems may be a more noticeable feature, but people are rarely hospitalised because of these symptoms in the UK – most admissions are due to the respiratory problems the virus causes, he said.
Of 206 patients with "mild" symptoms at the Union Hospital, Tongji Medical College, in Wuhan, around a third of them had diarrhoea, one study found. One in five of these people experienced diarrhoea as the first symptom of their illness. In total, 48 presented with a digestive symptom alone, 69 had both digestive and respiratory symptoms, and 89 had respiratory symptoms alone.
"The bottom line is that washing hands remains the best defence we all have against the virus," said Prof Goddard. "Washing hands not only stops it spreading from the respiratory route but also the potential faeco-oral route."