I'm going on holiday in T minus one week – and I'm petrified.
I'm not worried about the fact that I'm headed somewhere I've never been before, or that I can't speak the language. It's not the fact that it might be devastatingly hot, or even the warnings I've had from friends that holidays with young children are effectively a case of, "same shit, different place".
I'm not even really worried about my toddler turning three while we're away, which means that as well as packing clothes, normal nappies, swimming nappies and a menagerie of soft toys, I also have to remember birthday presents.
No, what I am over-the-top worried about is travelling, alone, with my children – even though I know loads of parents do this everyday, with no drama whatsoever.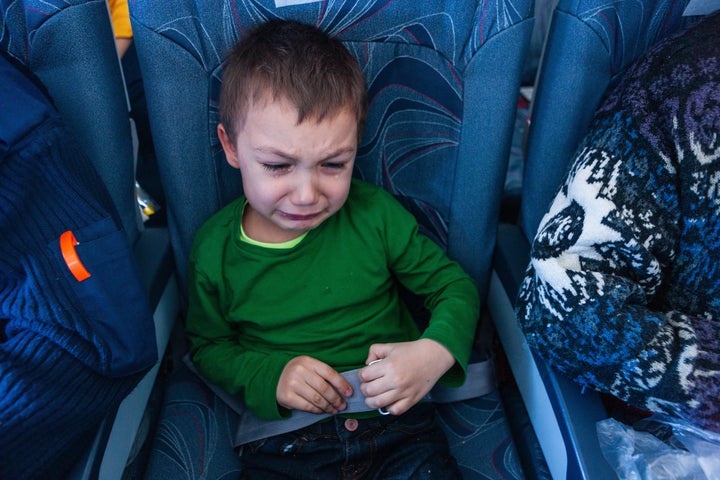 When there is an airport involved, there are normally two adults to supervise our two children, aged seven and (almost) three. This time I mucked up our holiday dates – meaning my primary school-teacher husband is still in charge of a class of 30 children on the day that our plane leaves, and it would cost an extra £400 to change all of our flights. So, it is what it is: I'm flying solo.
It's not like I'm not used to looking after the kids on my own. I do all the morning school and nursery drops, and most of the pick-ups too, so I'm aware how difficult it can be just getting them ready to leave the house; that it takes at least 15 shouts of "have you got your shoes on?" for them to actually do it.
But that's precisely why I'm so scared.
I've got to manhandle my kids not just into the car, but into an airport terminal, through security, onto a plane, off the other end in a country I've never been to before, into a taxi, and into an unfamiliar apartment, by myself. Starting at 4am.
Lone parents do this by themselves all the time, of course, and without any fuss – but I'm still worried about the everyday practicalities – how to take one of them to the toilet and still keep an eye on the other, and what on earth I'll do when I have to give the buggy up at the gate. My toddler son is as heavy as my seven-year-old daughter, but much less keen on walking (unless it's in the middle of a crowd, when he's suddenly a big fan).
The key, according to other parents, is distractions. Lots of distractions. These can take the form of snacks (I'll be preparing a lunchbox each of very small things that take a long time to eat, such as tiny boxes of raisins); technology (I'm making a mental note to charge up the ancient family iPad in advance, load it with their favourite TV shows, and definitely remember their headphones); books (including colouring books, 'magic painting' books and crosswords); and toys (cuddly, with wheels and ones that can be dressed and undressed, multiple times).
I've also been given tips about asking for assistance at the airport. Some airlines will deploy someone to help you get through security and on board the plane, if you message them in advance – plus paying for additional extras such as priority boarding and extra hand luggage. Because of course, I'll end up carrying not just my bag, but theirs as well.
One friend recommended the Fly LegsUp hammock/pillow which creates an "in flight bed and platform for babies and small children to sleep and play", which would be particularly useful on a long-haul flight. But the most unusual – and cheap, and easy – tip I got from a fellow parent was to make a trip to the Pound Shop before I fly. There, she said, I should, quote: "buy a bag of crap, wrap it all up and surprise them with it at regular intervals throughout the flight".
I am definitely going to do that. It ticks the birthday present box and the travel box, all at once. The rest? I'll let you know when I come back. If I survive.