Vegans are more likely to suffer a fracture than those who include meat and fish in their diet, according to new research.
The study, based on data from nearly 55,000 people – of which nearly 2,000 were vegans – found those not eating meat or fish were 43% more likely to suffer any type of broken bone.
Data from the participants in the EPIC-Oxford study – who were followed for 18 years on average – showed 3,941 fractures occurred in total, and the biggest difference was found in hip fractures, where the risk in vegans was 2.3 times higher than in people who ate meat.
But don't panic, the research doesn't mean you necessarily need to ditch your vegan lifestyle if you're a proud eco-warrior or animal rights advocate.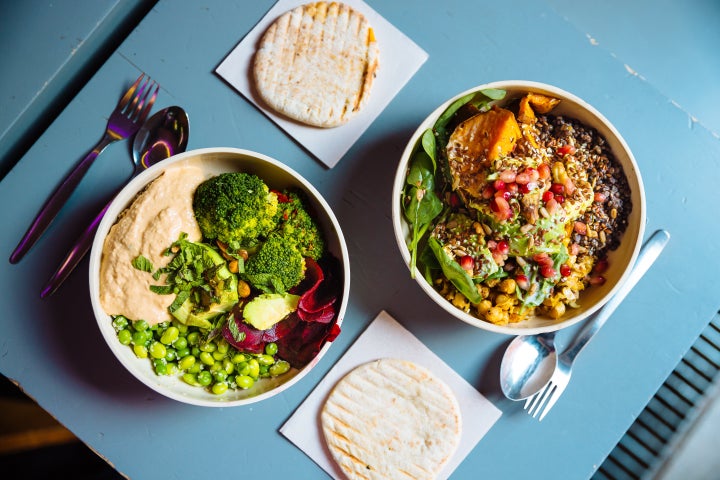 You do need to make a conscious effort to protect your bones though, says dietician Bahee Van de Bor. Ensuring you get enough calcium (which helps maintain healthy bones and teeth), is vital.
"When planning a vegan diet it's important to know exactly how much calcium your body needs," she tells HuffPost UK. "Both adult men and women need 700mg calcium per day with increased requirements during breastfeeding (1250mg/day)."
We tend to associate calcium with dairy, but there are plenty of vegan-friendly sources. Van de Bor recommends the following plant-based options:
Calcium, iodine and vitamin D fortified plant-drinks (for this reason avoid organic varieties which are not fortified with calcium); 200ml provides 240mg

Calcium-fortified soy, oat and coconut yoghurts, 125g provides 150mg

Calcium-enriched orange juice, 150 ml provides 180mg

Calcium-fortified cereals and instant hot oat cereal, 130-200mg per serving

Vegetables such as broccoli provide calcium (two spears, 34mg)

Calcium-fortified bread; variable with type providing 50-100mg per two slices

One orange, 75mg
In the latest study, lower BMI was also associated with greater risk of fractures, therefore it's essential to make sure that you are also getting enough protein and calories, adds Van de Bor.
Vitamin D will also boost bone health and you should be aiming of 10mcg vitamin D daily, which you may want to consider a supplement for.
"A vegan-friendly type of vitamin D can be purchased for a plant-based diet," she says. "It's generally referred to as vitamin D2 but some brands source D3 derived from algae."
If you're unsure if your health if suffering as a result of a vegan diet, Van de Bor recommends working with a registered dietician for advice.
You can also read this guide on what to eat each day as part of a heathy vegan diet, or visit the BDA's website for further dietician-approved tips.