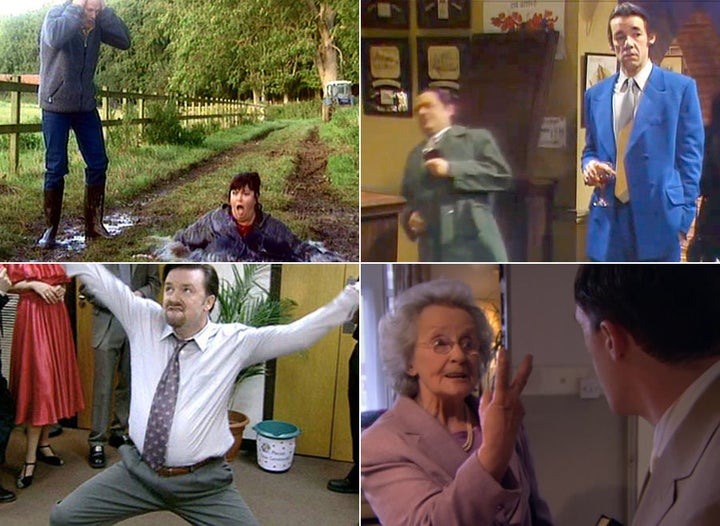 If there's one we need on TV these days, it's some more sitcoms.
While we still have the likes of Derry Girls, Friday Night Dinner and Mrs Brown's Boys, the current televisual landscape is a far cry from when the schedules used to be flooded with situation comedies that kept us all in stitches.
So in the absence of LOLs currently on the box, we've rounded up 15 classic moments from our favourite British sitcoms that are guaranteed to still make you howl, or your money back*.
1. Geraldine jumps in the puddle – The Vicar Of Dibley
A romantic walk in the countryside took a surprise turn for Geraldine Grainger, thanks to a rather deep puddle.
2. Doris' salad – Gavin And Stacey
Doris was always greatly underused in Gavin And Stacey in our humble opinion, but she is still responsible for our favourite ever scene.
3. Mambo No. 5 – The Royle Family
Mambo No 5. is still an absolute bop, to be fair.
4. "Abort!" – Absolutely Fabulous
This scrap between Patsy and Saffy was the perfect mix of camp and catty, just like the series itself.
5. Del Boy falls through the bar – Only Fools And Horses
While the Chandelier and Batman and Robin scenes will always remain some of the best Only Fools moments, this just pips them.
6. The David Brent Dance – The Office
If you tell trying us you haven't ever drunkenly reenacted this then we don't believe you.
7. Will (almost) loses his virginity – The Inbetweeners
As cringeworthy as it is hilarious, this scene of Will attempting to get down to business with his long-term crush still has us watching behind our hands.
8. Miranda falls in a grave – Miranda
Laughing at someone falling over isn't big and certainly isn't clever, but it is always funny.
9. Margo in the mud – The Good Life
Likewise with this clip of Margo demonstrating why she wasn't cut out for the outdoor life.
10. Mammy's whisk – Mrs Brown's Boys
Nothing to see here, just an old lady whipping some cream with a vibrator.
11. Frank Spencer rollerskating – Some Mothers Do Have Em
This scene was recreated during a Sport Relief special of the 1970s sitcom a few years back.
12. The cat in the freezer – One Foot In The Grave
Victor Meldrew couldn't quite belieeeeeeeve it after making a rather dark discovery in the bottom of his freezer.
13. Over the top – Blackadder Goes Forth
It's not very often sitcoms throw up poignant moments, but the scene that saw Blackadder and his men go over the top of the trenches, provided a surprisingly moving ending to the series.
14. Jeremy wets himself – Peep Show
Jeremy's failure to control his bladder was just one of the highlights of the farce that was Mark and Sophie's wedding.
15. Hyacinth's nautical buffet suffers a setback – Keeping Up Appearances
Hyacinth was so looking forward to hosting some nautically-themed tea and light refreshments, but things took somewhat of a turn in this disastrous clip.
Related