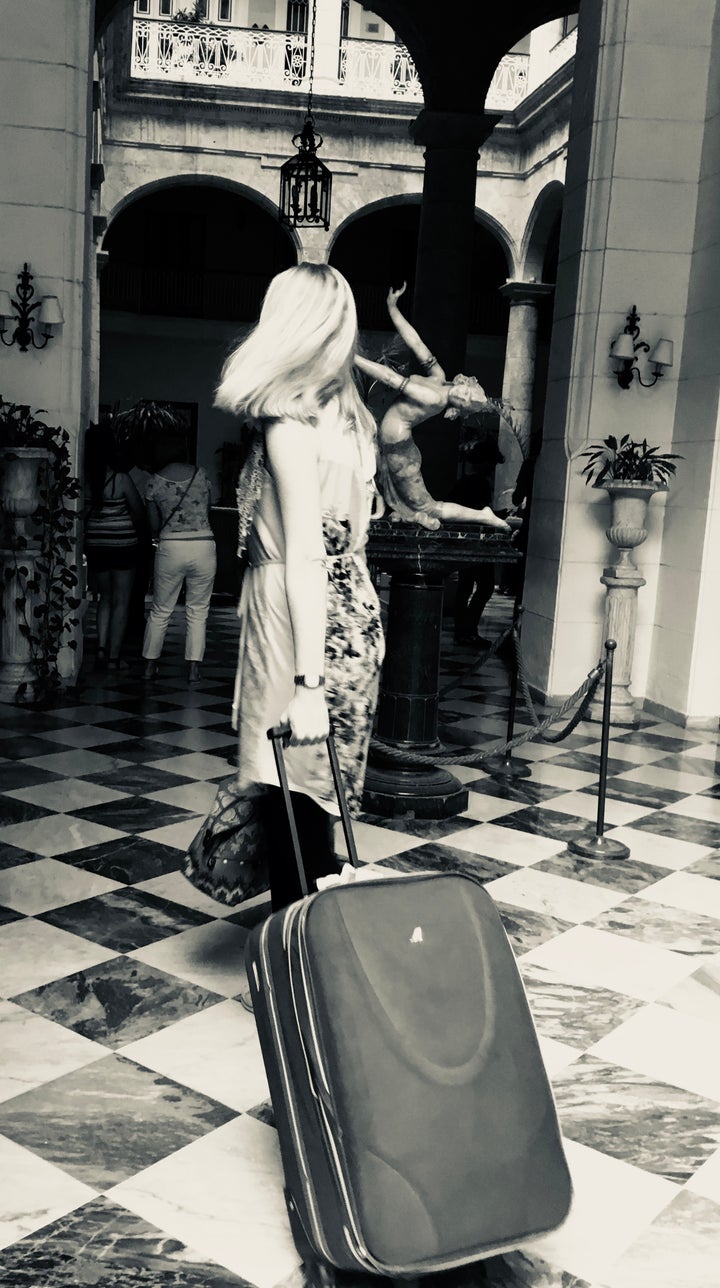 I love to travel. Sometimes I even love to travel alone. I've backpacked solo around Thailand, no problem. I'm a grown-ass woman after all: big enough, savvy enough...yep, and ugly enough to take care of myself. Sure, there were moments of loneliness; occasions where I'd watch a particularly breathtaking sunset and wish there was another human sitting alongside me, chugging on a Chang and gazing wistfully out to sea. But by and large I found travelling alone to be liberating and utterly exhilarating.
But there's one particular journey I've undertaken that was excruciatingly lonely and soul-crushingly isolating: my IVF journey.
Although it was more a trip than a journey really. A bad one. The drugs you're given during an IVF cycle are almost as mind-bending as LSD, for a start. Then there's the waiting. So. Much. Waiting. Waiting for a year for the GP referral to the clinic in the first place, then another year (if you're lucky!) on the clinic's waiting list; waiting for tests... and then the results; waiting for the cycle to begin, the egg retrieval; waiting for news of fertilisation... then the two-week wait to find out if it's worked. Waiting, waiting, waiting.
Even the longest flight I've ever taken - to Australia, which seems never-ending - is like seconds compared to the clock-watching agony of waiting for news during each nail-gnawing stage of the IVF process.
And all through that process there's this sense of solitude that makes you feel as though you're the sole survivor of a shipwreck, bewildered and blinking in the sunlight; washed-up and alone on a desert island, wondering what the future holds; wondering if you'll ever be rescued from the grip of infertility that somehow makes time stand still.
Only I wasn't alone - well, not physically, at least. I'd step out of St Barts Hospital, rivulets of mascara-streaked tears coursing down my cheeks after another failed round of treatment, and be swallowed up by the sea of strangers surging onto the tube at Bank station. It's funny how you can be surrounded by people, nose-to-nose in a crazily-overcrowded city like London - yet still feel completely alone.
Occasionally I'd spot a 'Baby on board' badge being proudly sported by a glowing expectant mum, coat straining over burgeoning bump, and think: "Will I ever get to wear one of those?" (The answer, which came much later, was no). Ironically, the IVF drugs make your stomach bloat, so I'm sure some people mistakenly thought I was already 'in the club'.
I considered making my own badge, adding a big red 'NO' in front of the words 'baby on board,' and a tongue-in-cheek '...but can I have your seat anyway?' after them, followed by a smaller 'infertility awareness.' But then I thought better of it. It would've had to have been a pretty big badge for a start, to fit all that on clearly. Saucer-sized, at least. Hardly subtle.
I guess my badge idea was kind of a cry for help, a hope that other women in similar circumstances would see it and strike up a conversation with me; actual, real-life women, instead of just the virtual friends (helpful as they were) that I made online on sites such as Fertility Friends as we consoled and supported one other late at night through our computer screens.
So when I came across the pineapple pin, the simple but genius brainchild of the ladies over at online fertility magazine IVF Babble, I mentally high-fived them and their stylish, subtle approach (as opposed to my bullish one) and instantly headed to Amazon to get my own. As this year marks the 40th anniversary of IVF success, IVF Babble launched their #StrongerTogether campaign during last month's National Fertility Awareness Week. The pineapple, long since a universal symbol of friendship, warmth and welcome, has become the globally-recognised symbol of good luck in the TTC (trying to conceive) community.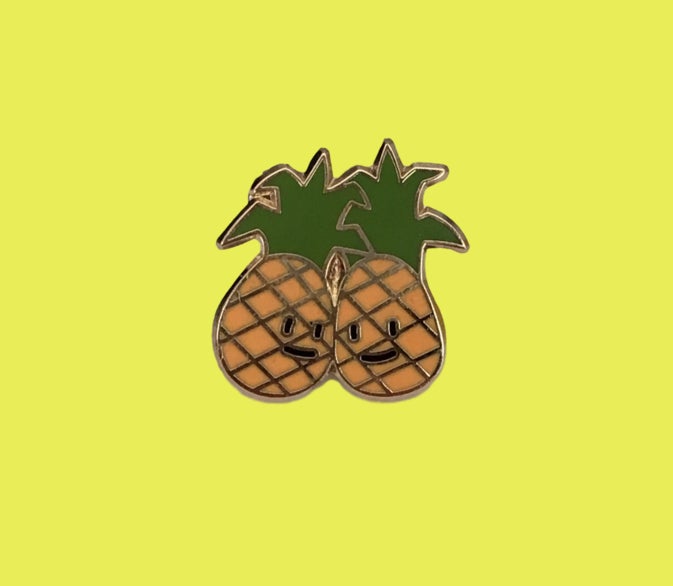 Both Sara Marshall-Page and Tracey Bambrough from IVF Babble are proud mothers of twin girls following their own fertility treatments, so are fully aware of the rollercoaster of emotions that are inevitable during such a personal and life-changing journey. Although I am no longer part of the TTC community myself, having stepped off the fertility treatment carousel some years ago now, I am a vocal supporter of those who are going through treatment and beyond. I am far enough along in my journey to be able to help others: on my blog Life: A Bird's Eye View, in newspaper and magazine articles, and my Facebook group for childless (or childfree, depending on your outlook) women called The Non-Mum Network.
The pineapple pin is for anyone wanting to offer support to those with fertility issues, as well as the one in six couples experiencing difficulties themselves, with all profits going to Fertility Network UK. Famous supporters include Fearne Cotton, Kate Thornton, and Izzy Judd, wife of McFly drummer Harry, and now a mother of two following her own fertility struggles.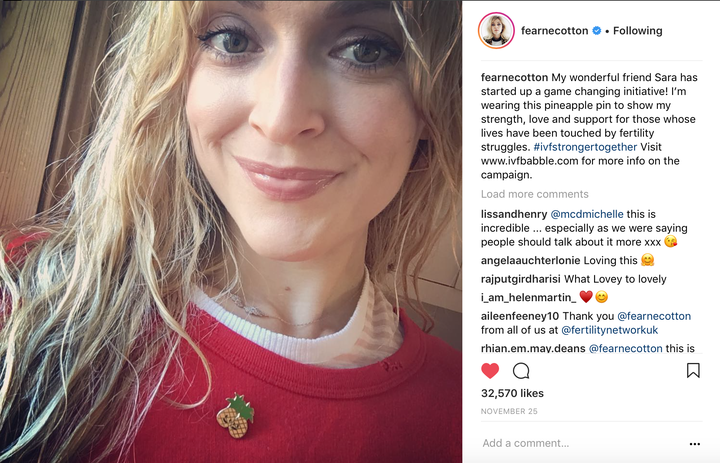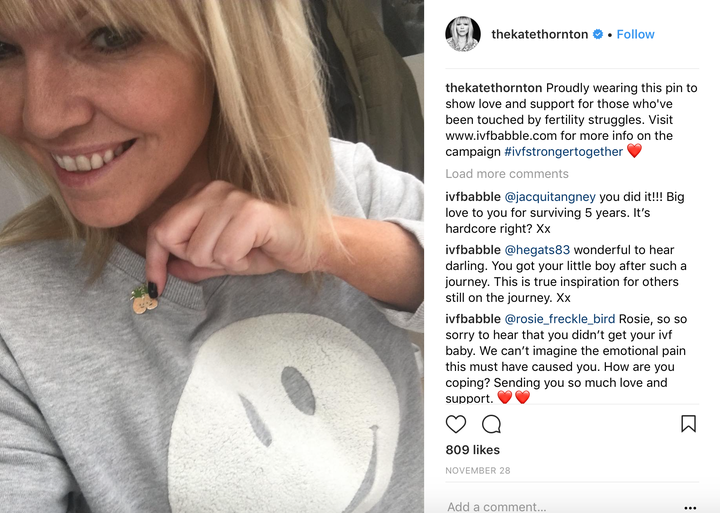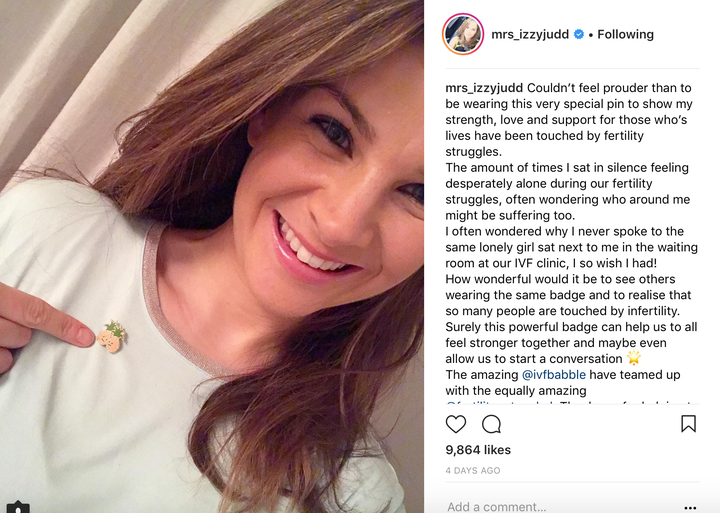 Having gone through my own meandering IVF journey, taking the scenic route to happiness, albeit without the fairytale visit from the stork at the end, I can say that anything that offers support to those people - both men and women - going through fertility treatment has to be a good thing. UK IVF success rates currently stand at around one in three per cycle for women under 35, with well over 250,000 babies born in the UK though IVF in the past 25 years.
So if you're sitting at the bus stop or on the tube and you see someone wearing the pin, give them a smile. You may both be on the same journey - in more ways than one.
Would you like to show your support for this campaign? Pre-order your pineapple pin now from Amazon here.
Fancy reading my back-story before you go any further? You can find my other blogs at: