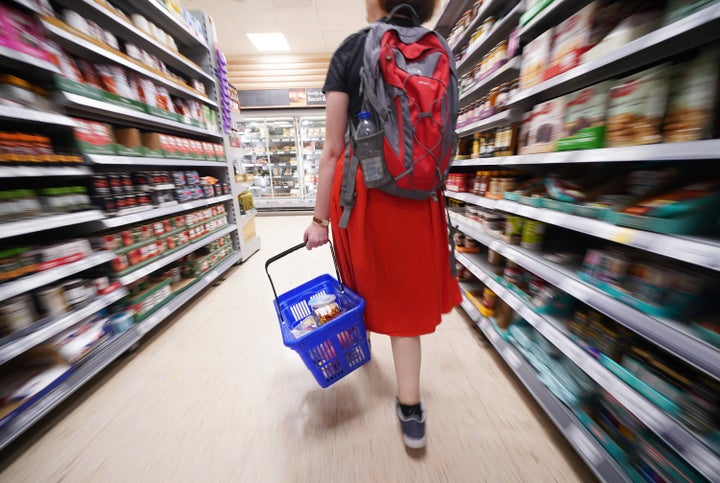 Inflation is falling again, albeit very (very) slowly. But what does that actually mean?
Here's what you need to know.
What is inflation?
Inflation is the rate at which prices of goods and services rise compared to previous year.
The rate for the previous month comes out every four weeks – so the latest stats show what the rate was during January.
That's down 0.4% from December's figures, when inflation was at 10.5%.
However, that's still close to a 40-year high.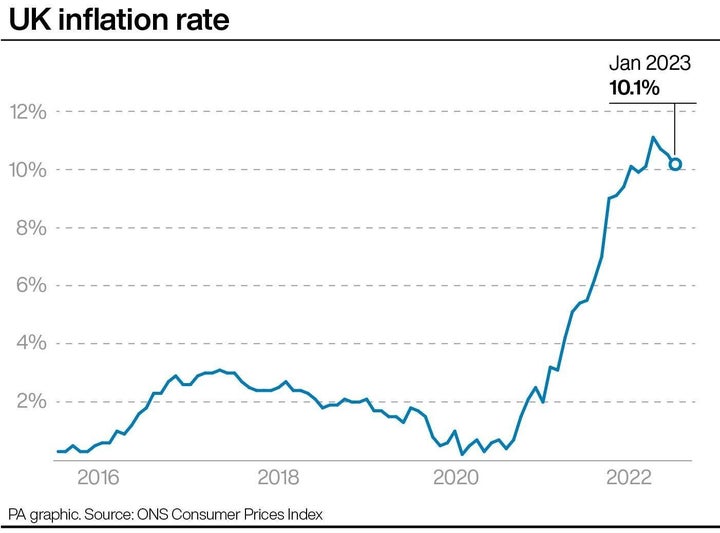 What does this mean for you?
A fall in the inflation rate does not mean items will become cheaper. It simply means prices are still going up, just not quite as quickly they were in October during peak inflation.
What's more, wages are still a long way off matching the rate at which prices are rising.
Figures from the ONS revealed that pay increased by 6.7% on average between October and December last year.
This is the strongest growth rate seen outside of the pandemic, but still significantly lower than the current inflation rate.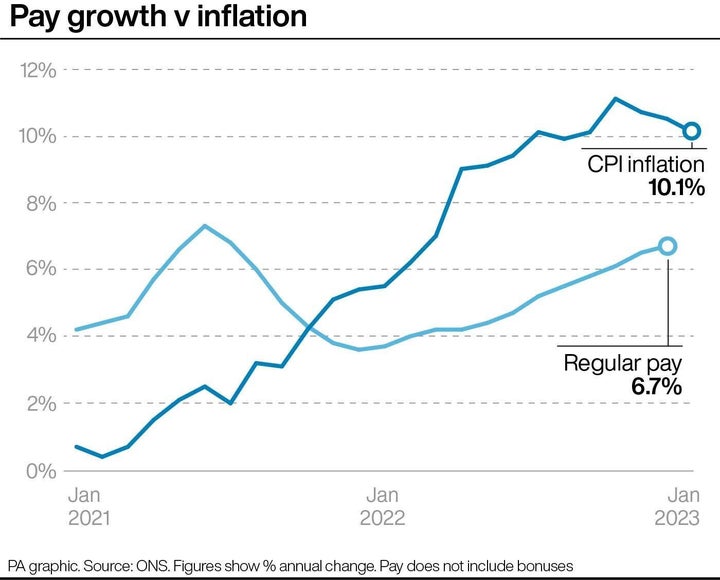 Why has inflation rate changed?
Pre-pandemic, inflation rates were closer to the the target rate of 2%.
It dropped below that level during Covid lockdowns, but soared last year to double-digits when war broke out in Ukraine.
It is likely to be going down due to the Bank of England's increase in interest rates. This is meant to increase the price of borrowing, and prevent people from spending as much, subsequently bringing prices down.
What products are driving inflation?
Groceries are still expected to remain high in price, along with energy bills.
Food prices stayed at 16.7% inflation in the year to January (having been at 16.8% in December).
Olive oil prices soared by 44.6% compared to last year, and low-fat milk was up by 45.2%.
Managing director of Co-op Food, Matt Hood, told BBC Radio 4′s Today programme: "Inflation is the thing that keeps us up at night.
"Believe it or not we as retailers are trying our hardest not to flow it all through to our customers."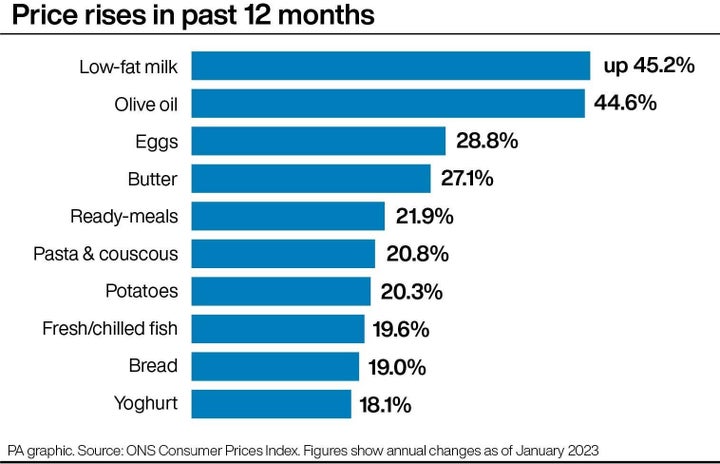 What does this tell us about the UK economy?
Inflation reduces consumers' spending power, meaning the economy struggles to grow.
A recession is when the economy sees two consecutive quarters (six straight months) of negative growth.
But, for the last quarter of 2022 the UK economy just flatlined. It didn't shrink or grow – meaning the country just misses out officially falling into the recession bracket.
So, falling inflation should be a good thing – right?
Well, the UK's rate is still higher than others.
Andrew Megson, CEO of My Pension Expert, explained: "The light at the end of the tunnel might be getting a little brighter, but it would be a mistake to consider this easing as a genuine comfort to struggling Britons."
He continued: "Those nearing retirement are among the hardest hit, with many feeling forced to abandon their plans to exit the workforce - 44% of over-55s in work now believe the cost-of-living crisis has rendered retirement impossible, My Pension Expert's latest research revealed."
Mohsin Rashid, CEO of ZIPZERO, a receipt scanning app meant to help pay the bills, said: "Let's not get distracted by the small dip in the rate of inflation.
"By any standards other than those we have become rudely accustomed to in the second half of 2022, prices are still rising at a painful level.
"Similarly, yesterday's news that wages in the UK have increased more than expected was positive, but salary growth is still overshadowed by inflation. We cannot be blasé or settle for such minor and inconsequential movements. Something has to change.
"With soaring prices in energy and food, UK consumers are more than paying their fair share. After months of high inflation, personal finances are close to breaking point, household budgets have little room left for manoeuvre, and essential items are having to be sacrificed."
What should you do with your finances?
Andy Mielczarek, Founder and CEO of SmartSave Bank suggested consumers "put savings into a secure, fixed-term savings account".
"Further, they ought to do thorough research to find the best savings products out there, which means looking beyond the high street banks and their existing financial services providers."
Megson also warned: "Inflation is likely to pose challenges people's finances for the foreseeable future. However, the those aged 55 and over needn't assume that remaining in or returning to work is the only solution.
"Those concerned about their plans ought to seek help from an independent financial adviser.
"Such support will provide a much-needed boost of confidence that retirement is within reach, despite a turbulent economic climate."
Meanwhile, Rashid urged businesses to be savvy. He said: "Businesses, especially energy companies and retailers, must search for new ways to support consumers or expect louder cries for windfall and price-capping measures."
This would make the cost of borrowing more expensive, so that the public save more and spend less, which should bring inflation down.
Chancellor Jeremy Hunt has vowed to halve inflation next year.
Economists believe that price rises will continue to slow over the coming months and throughout 2023.
Petrol prices have come down as oil prices have fallen due to demand concerns amid a global economic slowdown, with other commodity prices also on the descent.