A very limited number of iPhones will be available to buy in Apple stores in the UK today, but the iPhone 7 Plus and Jet Black version of the iPhone 7 have already sold out.
If you do manage to pick one up in store today, you'll need to find a sim only deal. For everyone else, we've highlighted some of the best options below.
Apple's interest-free program and Three's Sim Only Deal
The all-round cheapest option is normally buying the handset outright and then investing in a sim-only deal. But Apple is for the first time helping people to spread the cost of the handset with a 20 month, interest-free programme.
Analysts at MoneySavingExpert.com have crunched the numbers and found that the scheme can work out significantly cheaper over two years in comparison with normal contracts.
Comparing 32GB handset contracts, the researchers revealed that the cheapest option is either to buy the handset outright and use Three's sim-only 4GB option for £9 a month, or to invest in Apple's programme and Three's deal.
Apple's programme requires a £49 upfront cost and £27 a month for 20 months. Over 24 months, both options work out at £815, which is £403 cheaper than Vodafone's deal below. You also get unlimited minutes and texts and the contract lasts just 12 months.
The only downside is Three could hike their prices after the contract expires, but it would have to be a huge leap to end up costing more than the others.
For those who're set on staying with their network or don't want to use Three, we've included a round up of deals below. We're focusing primarily on the 32GB models with 3GB data plans, the standard 24 month contract and unlimited texts (unless stated otherwise).
It's enough data to stop you from really obsessing over app usage and it's available through more UK network providers than any other allowance, providing a handy point of comparison.
With 02 you can either opt to pay more upfront or more per month. The first option comes with an upfront charge of £179.99 and £41.50 monthly payments. Alternatively, you can pay £59.99 upfront and then £46.50 a month. Both work out at £1,175.99.
If you're looking to upgrade to the larger iPhone, 02 also offers two options. You can spend £189.99 upfront and £46.50 a month or £69.99 upfront and £51.50 a month. Both add up to £1,305.99.
Vodafone offers customers the ability to trial their network for 30 days before fully committing.
The network charges a £90 upfront with monthly bills of £47. Over 24 months, a 3GB iPhone Vodafone contract will cost you £1,218.
The network also charges £90 upfront for the larger model and £52 per month. It works out at £1,338.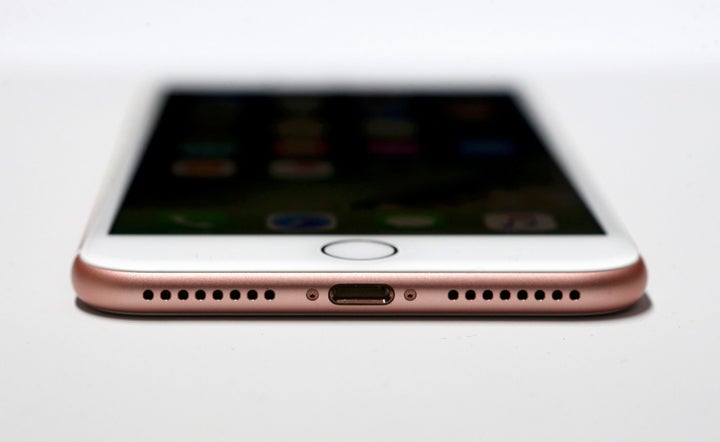 EE claims to be the only UK network to provide data at a rate fast enough to enable users to benefit from the new handsets' CAT 9 functionality.
It doesn't provide a 3GB option, but if you're happy to settle for 2GB, the network is offering the iPhone 7 from £99.99 upfront with a monthly bill of £45.99. Over 24 months that adds up to £1,203.75.
The iPhone 7 Plus is available with 2GB of data for an upfront cost of £129.99 and monthly payments of £50.99. That works out as a total of £1,353.75.
Tesco offers four different options for buying an iPhone 7. You could pay £44.75 a month and nothing upfront, which adds up to £1,074.
Or can pay £42.25 each month and £60 upfront, which is also £1,074. The third package for £1,074 is: £120 upfront and £39.75 a month.
Finally, you could pay £180 upfront and £37.75 a month, but that would set you back £1,086. The downside to all four packages is that you only get 5,000 texts a month,
Tesco's price plan for the Plus follows a similar logic. You can pay nothing upfront and £50 a month, £60 upfront and £47.50 a month, £120 upfront and £45 a month, or £180 upfront and £42.50 a month, all of which cost a total of £1,200. The downside is you only get 5,000 texts a month.
The retailer offers a 3GB 02 iPhone 7 plan for £39.50 a month with an upfront cost of £129.99, which adds up to £1,077.99, rather than the total of £1,175.99 if you go to 02 directly.
It also offers a Vodafone 3GB deal for iPhone 7 £1,087.99, compared to £1,168 if you go straight to Vodafone.
Cashback Deals
Websites like TopCashback offer some great deals too. If you're prepared to spend around £45 a month on a contract, you can get as much as £115.50 off a Vodafone deal through the site.
Related