The iPhone 7 doesn't have a headphone jack. This is a fact, and no matter how much you might disagree with Apple's decision, nothing you can do is going to change that fact.
Unless of course you're one of the people who believed a prank video that claimed the headphone jack was just 'hidden' inside the iPhone 7.
YouTube user 'TechRax' made a prank video which suggested that if you drill in exactly the right place and with the right drill then you would end up unearthing the hidden headphone jack.
The only small problem with that is that it's complete nonsense. All you're going to do is destroy a beautiful new black iPhone 7.
Of course the internet will try just about anything, which has led to some actually trying the trick out. They've taken to TechRax's YouTube channel to vent their frustrations:
Artur: "TECHRAX YOU PIECE OF SHIT I DID THIS AND THE SOUND DOESN NOT WORK AT ALL😡😡😡"
John Smith: "F**K YOU, THIS BROKE MY BRAND NEW IPHONE 7, I HOPE YOU F***ING BURN IN HELL YOU PIECE OF SHIT!!!!!!!!!!"
HollaWolla HabHiat: "Umm, it didn't work? You f***ing owe me a new one you f***ing d***head."
Oshawott Osha: "I did this, but now my phone won't work? What do I do? I tried charging it but it just does not work. Help!"
While some of them you do really feel sorry for there are others whose reaction probably doesn't lend themselves to getting much sympathy from the general public.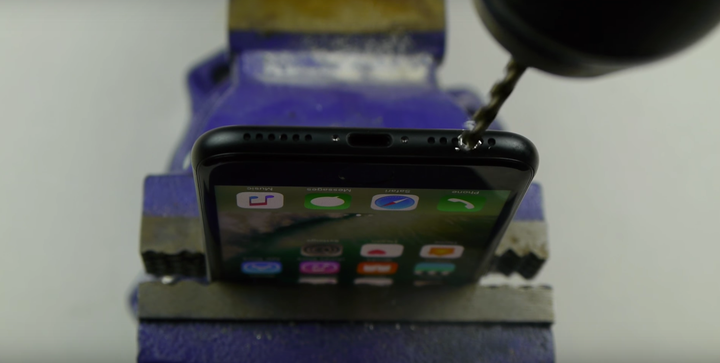 This user for example really wasn't very happy: "F**K YOU F**K YOU YOU SHOULD DIE I DID IT .. I THOUGH THIS WASNT A JOKE DIE DIE DIE DIE MY MOM WORKED SO HARD TO BUY ME THIS ALL SHE DID WASTED... THANK YOU ILL SUE YOU PIECE OF SHIT"
Oh and of course because this is the internet, support has ranged from adding fuel to the fire...
John Miller: "Everyone making comments about this being a joke don't get it. This is 100% real. It's not as easy as the video shows. If you drill to deep, you can in fact destroy the phone. All you have to do is drill through the casing. If you want, pm me. I'll give you a PO box you can ship it to and I'll do it for free. You just pay the shipping. I'll need your username and password to make sure everything is working."
...to actively trying to stop people from drilling into their brand-new £900 iPhone 7.
Ronald Chan: "This is so stupid. Of course it's not going to work. In the video, you can still hear the "music" coming out of the speakers. Normally, the speakers go silent when you plug in the headphone jack. All you are doing if you are stupid enough to actually drill a hole into your iPhone is drill a hole in your speaker and/or battery or some other component. Drilling a hole into your iPhone will, of course, void the warranty. And, as expected, the earphones won't work when you stick the plug into the hole."
Listen to Ronald everyone, he is a man of sense who will lead you down the right path.