The emotional moment a first-time triathlete crossed the finishing line while holding a sign asking his girlfriend to marry him, has been captured on film.
Sam Davis took part in the Ironman triathlon in Wales, on Sunday 18 September, to raise money for the Velindre Cancer Centre in Cardiff, in memory of his grandfather who died of cancer.
The 25-year-old decided there would be no better time to pop the question to his love of eight years, Georgie Anderson.
As he crossed the finishing line, after a gruelling 11 hours and 40 minutes of competing, he held up a sign reading: "Marry me George."
Needless to say, she said 'yes'.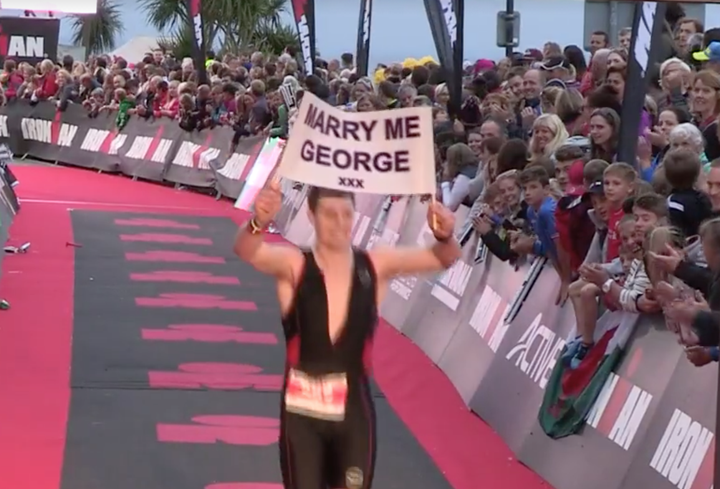 Speaking to The Huffington Post UK, Anderson said of the proposal: "It couldn't have been more perfectly done.
"As I'm sure you can see by my face in the video I had absolutely no idea what they had been planning."
Davis signed up to take part in the triathlon after his grandfather died in 2015.
On a quest to raise money in his grandfather's memory, Davis decided over a Big Mac with his friend that he'd sign up for the Ironman challenge.
Davis bought a book online and taught himself how to train for the gruelling event.
He built up to training for up to 15 hours a week, which he had to fit around his 9-to-5 job as a poultry wholesaler.
But on week 19 of his 30-week training programme, disaster struck when Davis crashed his bike into a wall travelling at 30mph.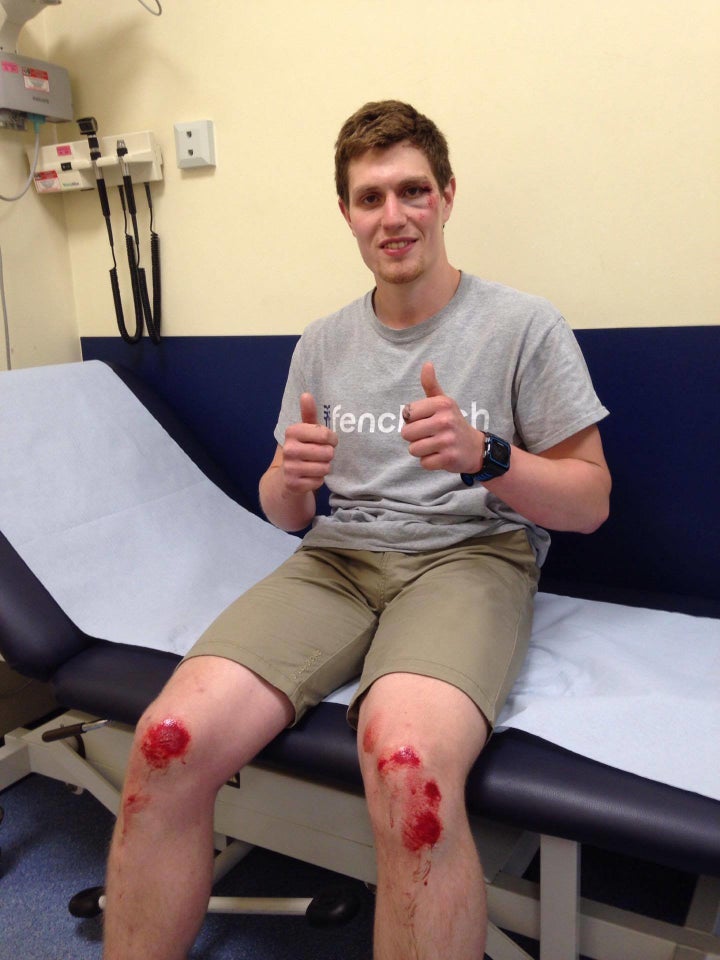 Davis' girlfriend Anderson was in Las Vegas for a friend's 30th birthday at the time.
"I felt terrible that I couldn't be there to look after him," she said.
Davis seized the setback as an opportunity to buy a ring for his girlfriend, which he picked out with the help of his mum.
Despite his painful injuries - including two bloody knees and a black eye - he knew he couldn't turn his back on weeks of training and worked harder than ever to get himself up to speed for the Ironman event.
On the day, Davis knew his mum would be somewhere in the crowd with the sign asking Anderson to marry him - but even up until the last leg, he didn't know where that sign (or his mum, for that matter) was.
"It was perfect timing that his mum managed to get it to him at the start of the red carpet," said Anderson, who works as an intensive care nurse.
"It couldn't have been more perfectly done," she said. "Both our parents and all of our closest friends were there to celebrate with us.
"I'm still feeling completely overwhelmed by everything that has happened over the last few days.
"I couldn't be prouder of Sam and how well he did."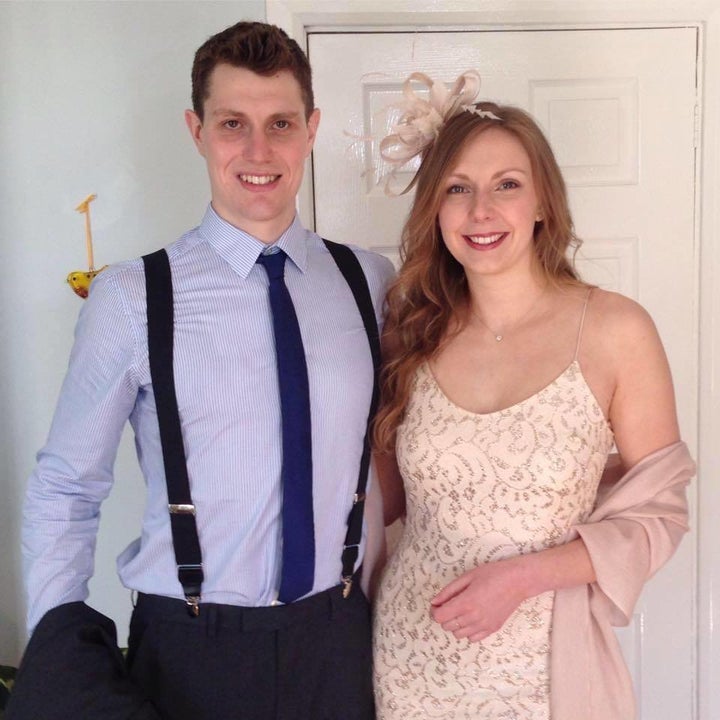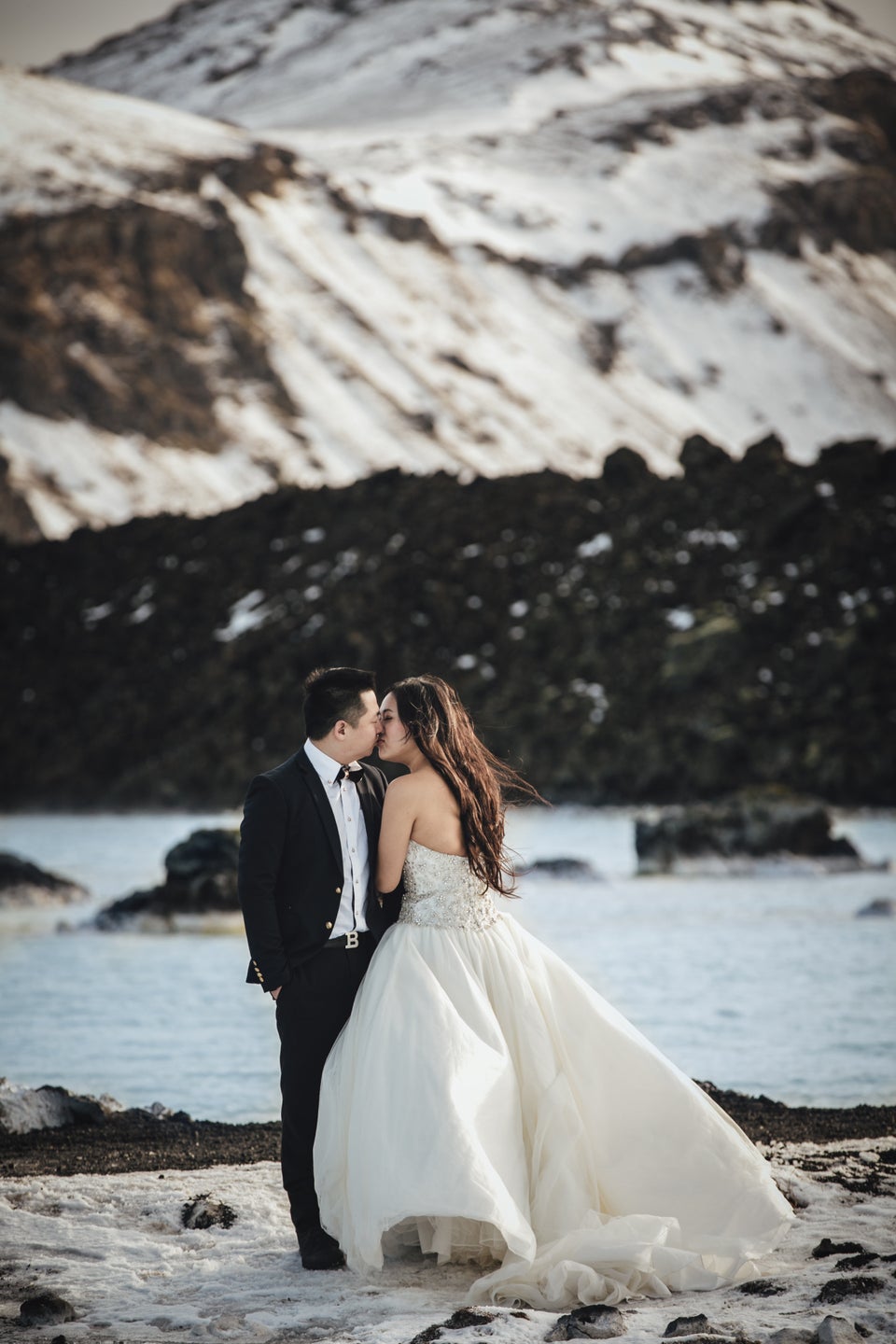 Icelandic Engagement Photoshoot Is The Stuff Of Dreams