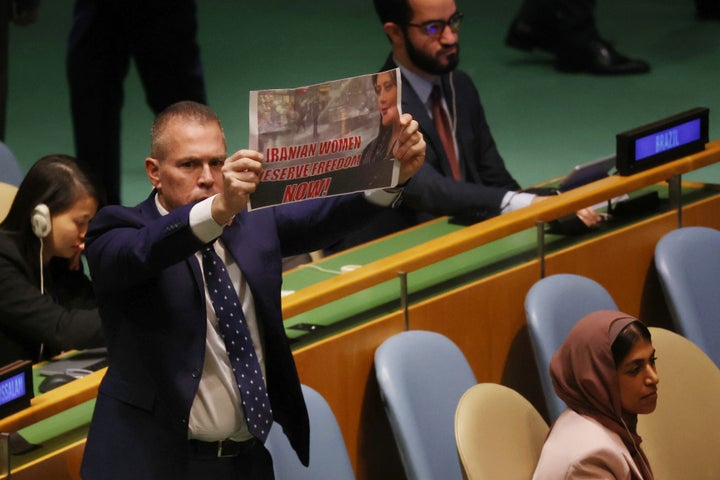 The Israel ambassador to the UN was detained after protesting the Iranian president's speech at the organisation's general assembly on Tuesday.
When president Ebrahim Raisi started to talk at the major summit, Gilad Erdan silently brandished a photo of Mahsa Amini, with a tagline written in red, which reads: "Iranian women deserve freedom now."
Amini was the Kurdish woman whose death in police custody sparked nationwide protests against the suppression of Irainian women last year. The movement's rallying cry, "Woman, Life, Freedom," is now known around the world.
Erdan also posted a video on social media prior to his protest condemning the UN for offering a platform to "butcher of Tehran".
After his brief protest, he walked out as Raisi's long speech began.
Clips posted on social media (and reposted on X, formerly Twitter, by Erdan himself), show the ambassador being temporarily detained by UN security after his intervention.
This was not the only way Raisi's speech caused controversy, as the president started to accuse the US of encouraging violence in Ukraine.
But, the Iranian president tried distanced his country from Russia too, claiming that any Iranian-made drones hitting Ukrainian cities must have been sold before Moscow invaded back in February 2022.
Tehran did also host a Russian defence delegation led by Moscow's defence minister Sergei Shoigu on the same day of Raisi's speech, though.
Demonstrations outside the UN's New York City headquarters also criticised the international organisation for even inviting Iran and giving it a platform to speak.
The West is still concerned over Iran's nuclear ambitions, so the UK, France and Germany are refusing to lift sanctions on the country originally agreed to in the 2015 nuclear deal.