A hard-hitting art installation to raise awareness of male suicide prevention has been unveiled on top of ITV's London headquarters.
The roof of the 'This Morning' studios and the broadcaster's main tower has been fitted with 84 sculptures designed to make the government take action and improve suicide prevention and bereavement support.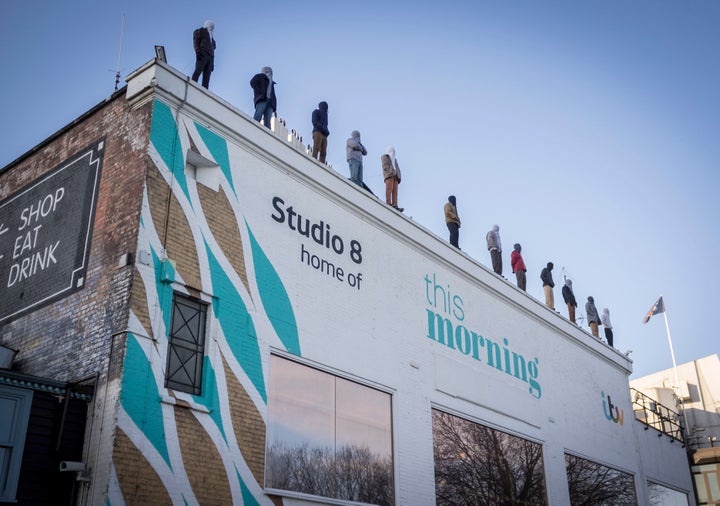 The campaign, called Project 84, is the mastermind of male suicide prevention charity CALM, and represents the fact 84 men take their own lives every week in the UK.
Suicide continues to be the single biggest killer of men under 45, with 75 percent of all suicides being male.
The sculptures, which were designed by US street artist Mark Jenkins, were unveiled live on Monday's (26 March) edition of 'This Morning'
Phillip said: "Here at This Morning we never shy away from stories that can be difficult to talk about - and without doubt, one of the most heart breaking is losing a loved one to suicide."
Holly said: "That is why today we are unveiling 84 life-sized sculptures – each representing a real man who has taken his own life, in the hope that it will stop people in their tracks, make them pay attention and get them talking."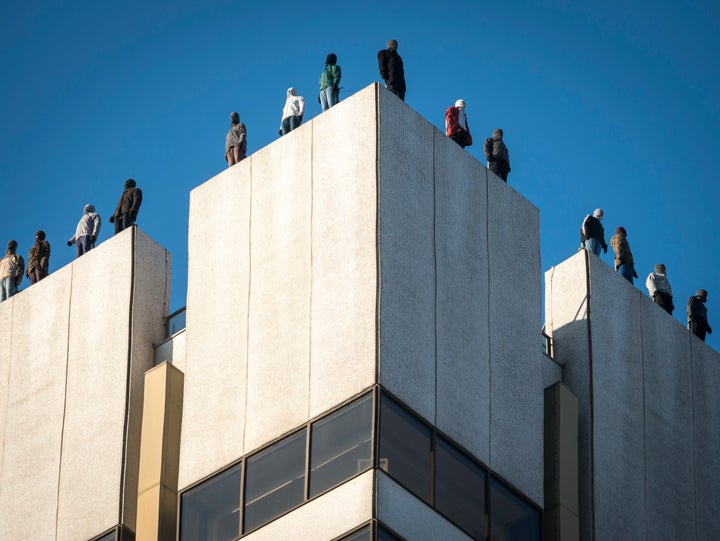 CALM's CEO, Simon Gunning, added: "Achieving our goal of male suicide prevention requires everybody to take a stand, and we're thrilled that This Morning is taking a stand with us. CALM has been campaigning and providing support services for 11 years but, try as we might, it isn't enough to tackle the enormous problem of male suicide.
″Project 84 is all about making the scale of the situation very clear to everyone who sees the sculptures, and we hope that by working with the families and friends of real men who have taken their lives, we can face the enormous issue of suicide together and strive for change."
Reaction to the sculptures has so far been mixed, with some questioning whether it could be "triggering" to those feeling vulnerable.
However, author Matt Haig, who has written extensively on the topic of mental health, praised it for being "a brilliant way to make the invisible, visible".
"It is getting people talking about something we don't like to talk about," he tweeted. "Yes, the image of 'suicide' statues on top of a building is unsettling. But so too is suicide. And anything that visualises that discomfort is good. Because it gets us talking. And not talking is what costs 84 lives a week in the UK."
Michael Finnegan, who was previously detained under the mental health act and prosecuted after contemplating suicide, also praised the installation.
He told HuffPost UK: "I think it's a great idea that will get people talking and taking their mental health seriously.
"I'm hopeful the sculptures will get people talking and that this campaign will go a long way to normalising suicide. Which is often treated as a dirty word. When we should be talking more and more about it. Especially when it's the biggest killer of men under the age of 45 in the UK and Ireland."
You can find out more about Project 84 and sign the petition here.
Useful websites and helplines:
Mind, open Monday to Friday, 9am-6pm on 0300 123 3393
Samaritans offers a listening service which is open 24 hours a day, on 116 123 (UK and ROI - this number is FREE to call and will not appear on your phone bill.)
Get Connected is a free advice service for people under 25. Call 0808 808 4994 or email: help@getconnected.org.uk