Jada Pinkett Smith continues to shock the public with revelations from her memoir Worthy ― but the actor said her family knew exactly what to expect from the book.
"What I did was tell them what's in the book, what stories I was going to tell about them specifically, and [ask] if they were okay with that," the "Girls Trip" star told InStyle in an interview published on Tuesday.
"Willow has read [it], she's an avid reader, and she's the next author in the family," the author said, adding that her daughter, 22, has a book of her own coming out in 2024.
"She read a huge part of my book before it was even edited, so she loved it," Pinkett Smith explained. "She couldn't wait, she's like, 'Mom, I'm taking this copy. I got to finish my read.' She was super excited about it."
However, it was different for "the boys," Pinkett Smith said. She and Will Smith share a son, 25-year-old Jaden. The Bad Boys actor also has a 30-year-old son, Trey, with his ex-wife, Sheree Zampino.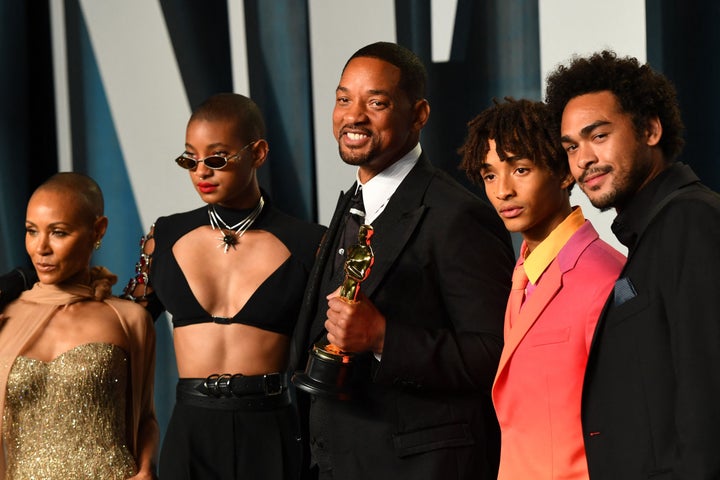 "I just told them what was in it. They'll read it eventually," Pinkett Smith told InStyle.
Over the past few days, the Red Table Talk host has dropped revelation after revelation about her private life.
"By the time we got to 2016, we were just exhausted with trying," she said. "I think we were both kind of just still stuck in our fantasy of what we thought the other person should be."
Despite their separation, Pinkett Smith said she and Smith are intent on sticking it out ― and that they're working on reconciliation.
"There's no finding another great love, and I think that's the point," Pinkett Smith said on "Today" on Monday, echoing previous comments she'd made that divorce was off the table. "It's like we are in a place now that we are in a deep, healing space. And we are really concentrating on healing the relationship between us."
"That's still my man," Pinkett Smith told Colbert. "That's still my man."