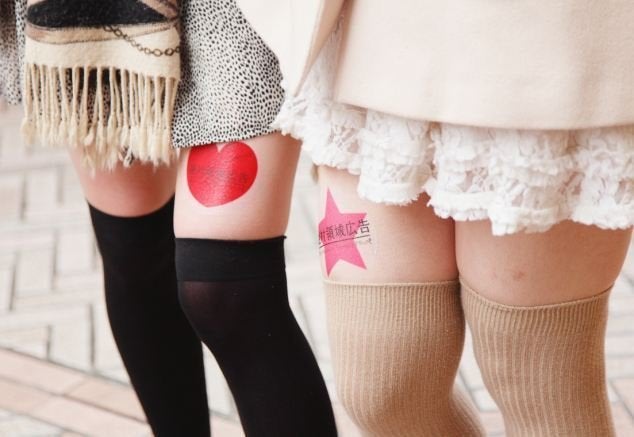 A Japanese PR firm has taken "creative advertising" to a whole new level -- using young women's thighs as moving billboards.
The name of the firm is "Absolute Territory," which is the English translation of "zettai ryouiki" -- a Japanese term referring to the bare skin showing between the hem of a girl's short skirt and the top of her knee-high or thigh-high socks. "Zettai ryouiki" is a common theme in Japanese anime cartoons and manga comics, so much so that popular anime forum Project Haruhi refers to the phenomenon as "Japan's most popular fetish." Project Haruhi also offers the ideal above-the-knee skirt:thigh:sock ratio (4:1:2.5, for those interested) as well as a chart where users can vote for their favorite "zettai ryouiki" look.

Capitalizing on this obsession, Absolute Territory has started paying women for the use of their thighs as advertising space. The firm stipulates that participants must be over 18 and connected to at least 20 people on social networking sites, Yahoo! News reported. In order to get paid, young women must wear an advertisement -- in the form of a temporary sticker -- for at least eight hours, and post images of themselves doing so on social networking sites. According to Yahoo!, "women can expect to earn between $13 and $128 for one day's work."
Absolute Territory hasn't had much trouble finding women to participate in their campaign. More than 1300 young women had registered their thighs as ad space as of November 2012, reported the Daily Mail.
What do you think of Absolute Territory's strategy? Comment below or tweet us @HuffPostWomen.