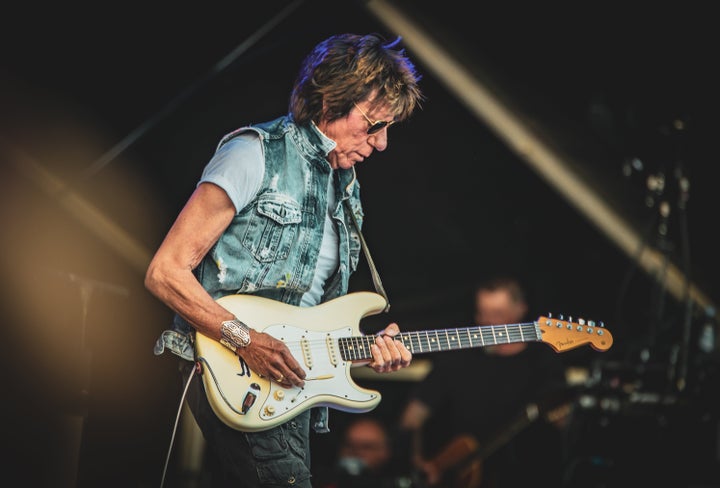 Pioneering guitarist Jeff Beck has died aged 78, his family has announced.
The Grammy-winning guitarist, whose biggest hit was Hi Ho Silver Lining, rose to prominence with rock band The Yardbirds and went on to have a successful solo career and fronted the Jeff Beck Group and Beck, Bogert & Appice.
A statement posted to Twitter and Instagram read: "On behalf of his family, it is with deep and profound sadness that we share the news of Jeff Beck's passing.
"After suddenly contracting bacterial meningitis, he peacefully passed away yesterday.
"His family ask for privacy while they process this tremendous loss."
Trailblazing guitarist Beck was born Geoffrey Arnold Beck in Wallington, England to parents Arnold and Ethel Beck and developed a passion for music as a child.
Beck made headlines last year when he announced a collaborative album with Johnny Depp shortly after the Hollywood actor's defamation battle with ex-wife Amber Heard drew to a close.
The pair first met in 2016 and began recording the album in 2019 while Depp was also playing with Alice Cooper's supergroup Hollywood Vampires.
Beck was inducted into the Rock & Roll Hall of Fame twice – first as a member of The Yardbirds in 1992 and later as a solo artist in 2009.
During the course of his career, he won a total of eight Grammy awards.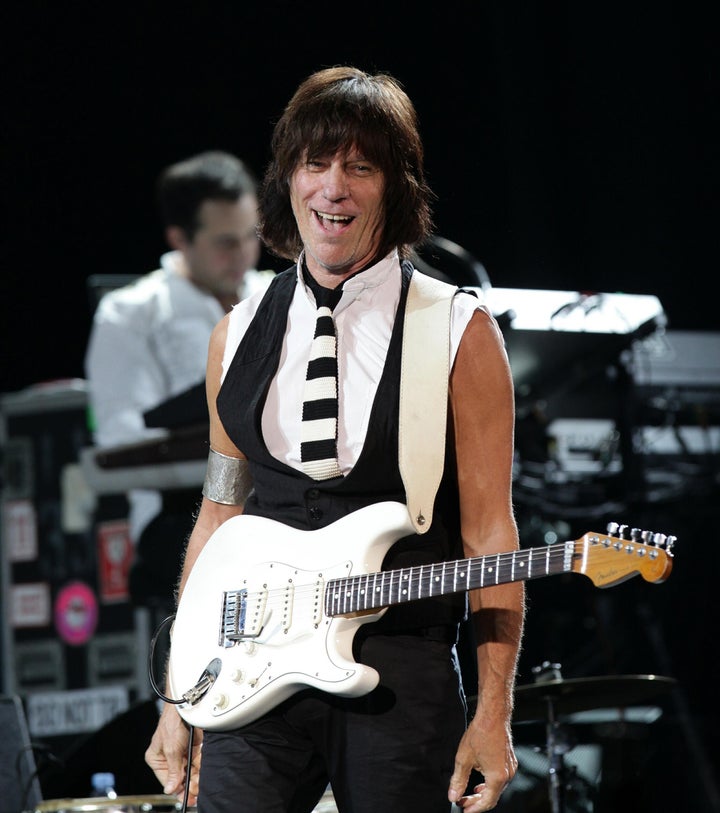 Following the news of Beck's death, the Rolling Stones guitarist, Ronnie Wood, who also played in The Jeff Beck Group, recalled the "groundbreaking" music they had played together during their time spent "conquering America".
Sharing pictures of them, along with other famous faces including Johnny Depp and Slash, Wood said he would "dearly miss" the musician.
"Now Jeff has gone, I feel like one of my band of brothers has left this world, and I'm going to dearly miss him," he wrote.
"I'm sending much sympathy to Sandra, his family, and all who loved him. I want to thank him for all our early days together in Jeff Beck Group, conquering America.
"Musically, we were breaking all the rules, it was fantastic, groundbreaking rock 'n' roll! Listen to the incredible track 'Plynth' in his honour.
"Jeff, I will always love you. God bless."
Led Zeppelin's Jimmy Page paid tribute to Beck as "the six-stringed warrior" and praised his "apparently limitless" musical imagination.
A chance meeting between the pair led Beck to join The Yardbirds in 1965 – replacing the band's former guitarist Eric Clapton.
"The six stringed Warrior is no longer here for us to admire the spell he could weave around our mortal emotions," Page wrote online.
"Jeff could channel music from the ethereal. His technique unique. His imaginations apparently limitless.
"Jeff I will miss you along with your millions of fans. Jeff Beck Rest in Peace."
Throughout his career, Beck played with many big names including Nile Rodgers with whom he collaborated on the album Flash, which contained hit single People Get Ready – a cover of the Curtis Mayfield song with Rod Stewart on lead vocals.
He also played on Mick Jagger's 1987 album Primitive Cool and later worked with the likes of Roger Waters and Jon Bon Jovi.
Beck also contributed to Hans Zimmer's score for film Days Of Thunder, starring Tom Cruise.
Beck's career continued as he spent the 2010s touring extensively, including with former Beach Boys member Brian Wilson.
In 2022 Beck released a full length album, titled 18, with Depp and the pair played a number of live gigs together.