If you thought you noticed something strange about Joe Wicks' live workout on Monday, it turns out your ears were not deceiving you.
The Body Coach has owned up to farting during his PE With Joe class, after fans speculated they'd heard him let one go live on air.
Joe admitted to letting out "the longest ripper I've ever let out in my life" after not realising he'd already gone live on camera.
The fitness guru addressed the matter on Mark Wright's Heart radio show on Wednesday, after the DJ was determined to get to the bottom of it.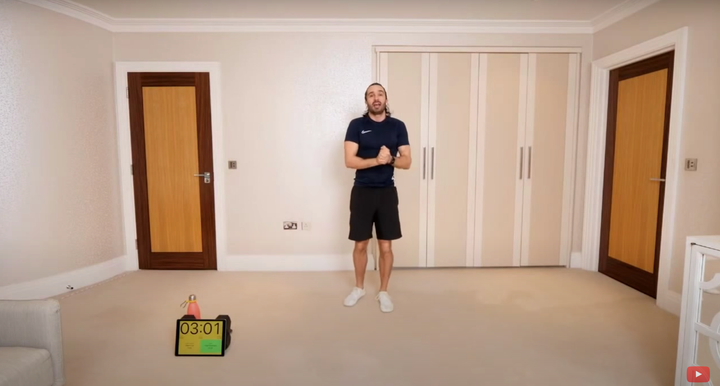 "I'm so embarrassed by what's happened," Joe said. "I pressed the live button on my YouTube stream, and just before, I'm talking 20 seconds before, something slipped out, Mark… and you can guess what it will be."
He continued: "Listen, 800,000 people have seen that video. When you go live, you press live and there's about a 20-second delay, but for some reason, the link had opened and it was buffering and it basically got the sound.
"So I've let out this giant – honestly, the longest ripper I've ever let out in my life. I didn't realise it was live, so I've done the ripper-oo, [counted] five, four, three, two, one, I jumped in and I only found out today when the Daily Mail shared a link 'Did The Body Coach just let an almighty ripper off before his P.E with Joe Workout?'."
While Joe said he'd found people's reactions "hilarious", he did admit to having the offending sound taken out of the YouTube video if people go to watch it again.
"I've got to be honest, I've gone back to the video and got my mate to edit it out because I can't have that living on there forever," he said.
Joe restarted his PE With Joe classes earlier this week, following the introduction of the latest lockdown in England.
The fitness coach began hosting daily workouts live online during the first national lockdown in March, as a way of helping kids exercise while schools were closed.