Since binge-watching television shows is practically a national pastime, we're always on the lookout for a series that's smart, stylish and totally addictive. And it helps if the show stars Josh Hartnett.
Multiple award-winning Penny Dreadful, which hits UK screens for its third series this May, is the type of programme you can really sink your teeth - make that fangs - into.
The psychological thriller set in Victorian London revisits Gothic horror tropes and your favourite literary characters as you've never seen them before.
Couple that with an incredible cast of actors and gorgeous cinematography for edge-of-your-seat thrills episode after episode, as you delve into the supernatural demi-monde and become entangled in the lives of Ethan Chandler (Josh Hartnett), Vanessa Ives (Eva Green) and Sir Malcolm Murray (Timothy Dalton).
Huffington Post UK chatted to Josh Hartnett about reasons we really need to be watching the show, from on-set antics with naked cadavers to watching the characters and plot develop in unexpected ways...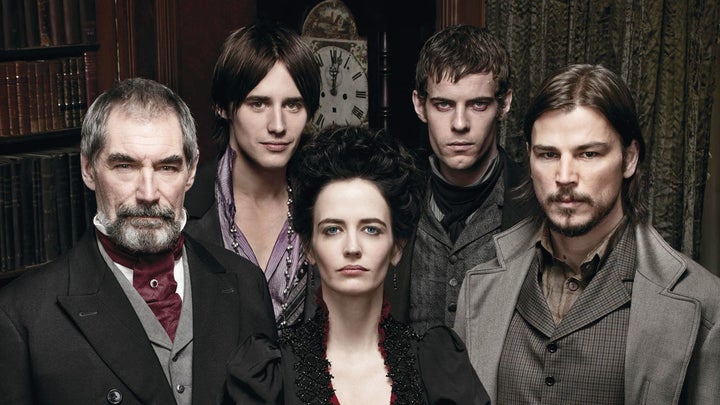 It has your favourite literary characters in it
If you're a fan of Mary Shelley, Bram Stoker, Oscar Wilde and Robert Louis Stevenson, Penny Dreadful will immediately pique your interest: many of their infamous protagonists appear in the show.
"It's characters from Victorian literature, more in the horror genre, all living together in one place as real people and as their sort-of fantasy element creatures as well," explains Hartnett.
"Dr. Frankenstein is there, Dorian Grey is there, the Wolf Man is there. We've got Dracula… the whole lexicon of those stories, characters, it's all mixed together. There's a lot of mystery to the show as well."
In the first episode of the series, Hartnett's Penny Dreadful alter-ego, gun-slinging sharpshooter Ethan Chandler, gets enlisted by the explorer Sir Malcolm and the medium Vanessa Ives, to help recover Sir Malcolm's daughter from a vampiric creature.
There's lots of blood, gore and cadavers
Since Penny Dreadful is a show about monsters, demons, Satan and literary freaks, suffice it to say that there are lots of terrfiying things that go bump in the night around every corner. The main characters are plagued by their own demons (psychological and otherwise) and gruesome murders and grisly rotting corpses abound... Good thing the cast and crew have a great sense of humour about it all.
"We try to have as much fun as possible because the show's quite dark in tone. So we try to keep it light on set," says Hartnett.
"The first season we had a lot more blood and gore than the second and third seasons have - it's more psychological - but in the first season I think they wanted to hook people with some bloody scenes.
"There was one sequence especially that was set in an abattoir that had just an enormous amount of fake dead bodies in it. And, they're mostly fake, naked dead bodies, so there was a lot of fun to be had there.
"The bodies ended up in pretty bizarre situations… but it wasn't the actors that did it, it was the crew. The crew was trying to mess with us, so when we were looking off-screen, we were seeing some pretty ridiculous stuff."
Which makes it a horror fiend's dream come true
"If you're interested at all in Gothic literature and horror, this would be a show you kind of have to watch. It's just so well done. And I think it's incredibly literate too. It elevates the genre as they say," says Hartnett.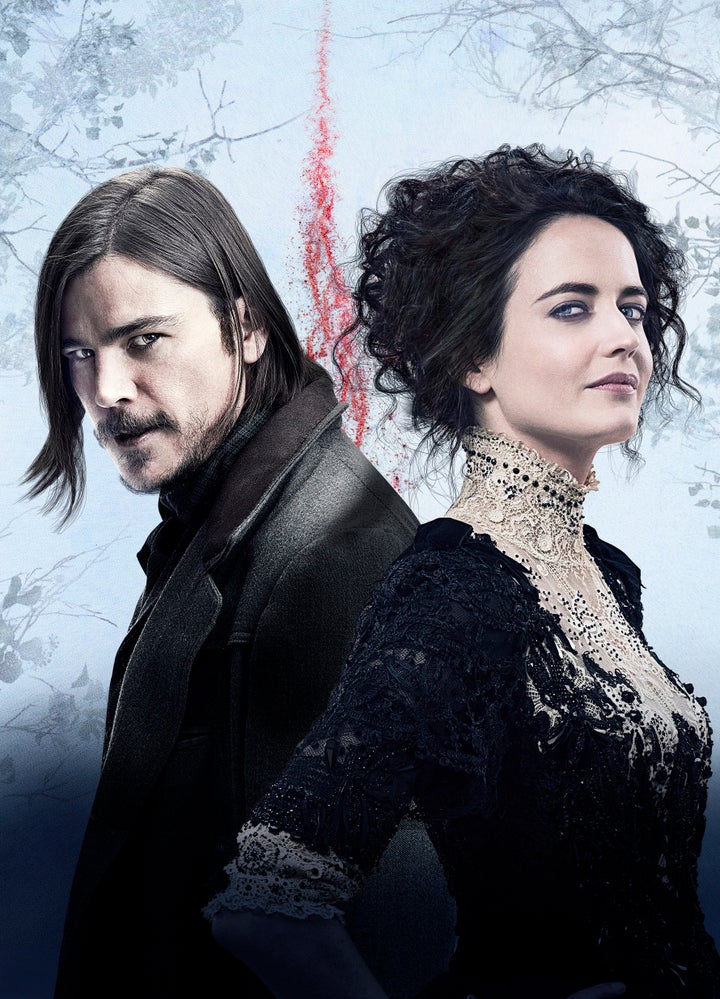 The cast and crew
Penny Dreadful is an American-British drama series that was made with Showtime and Sky Atlantic and features an impressive international cast with serious acting chops including Eva Green, Timothy Dalton, Rory Kinnear, Helen McCrory, Billie Piper, Simon Russell Beale, Sarah Greene, Patti LuPone, Samuel Barnett and Shazad Latif - not to mention Josh Hartnett.
"Working with the English and the Irish actors has been fantastic. People here just get on with it a bit more. It's not as precious I don't think. People aren't as navel-gazing at times," says Hartnett.
"It's refreshing because a lot of the guys that are working on our show also come from a fantastic theatre pedigree and are people that I admire deeply as artists. It's just nice to be able to share the screen with them and just spend a day working out these scenes and having fun with them."
The show has also been praised by reviewers for its gripping writing, which continues to keep audiences riveted and deliver the unexpected, as well as its production design (for which the show won a BAFTA in 2015). It's also a visually arresting show, which is one of Josh Hartnett's favourite things about it.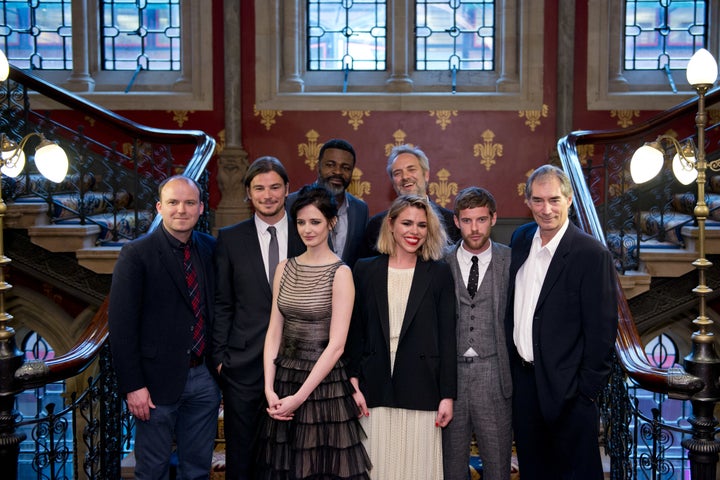 "In my opinion, it's some of the best writing on TV. It's one of the best shot shows on TV and - I don't think it's because of anything I've contributed – but the other actors have contributed fantastic performances.
(Side note: Turns out Josh Hartnett is humble, too.)
"From all of the technical sides, it's one of the best shows out there, in my opinion. And I think the reviews have kind of proven that as well.
"One of our DPs, John Conroy, is a really fantastic DP and he has created some really amazing shots and things you don't really see very often on television. It's highly cinematic."
Don't expect your typical romance, either
Fans of the show hoping that season 3 would be all fireworks between Ethan and Vanessa will return to find that the two main characters are worlds apart.
"My character and Vanessa's character have been separated by an ocean so we have a lot of room now to literally cover a lot of ground in order to reach each other. And room to grow and to learn more about these people without having this 'Will they, won't they' love plot in the middle of it. It was very clever of them to decide to separate us for this season."
In season 3, the show also starts to focus on the American West - which takes us back to Ethan's past - as well as Victorian London. It also means cowboys, bandits and a beautiful - albeit barren - landscape.
"You're going to see both worlds become more rich and deepen. It's also just really nice to see the juxtaposition of the American West against the Victorian London stuff that we've already seen," says Hartnett.
We don't really know what's coming next...
With cliffhangers aplenty, this is one of those shows that keeps you guessing about what will happen next... and what's happened in the past.
"I play the only American character and he comes to London at the very beginning of the series to escape an unknown past, a mysterious past," Hartnett explains.
"In season 3, you'll find out a lot more about what his past was and why he decided he had to leave, but for the first two seasons you don't really know that much about Ethan, which is nice, for me anyway. It makes it easier to expand the character without coming into roadblocks."
Hartnett says the experience of watching his character evolve and change over time - something that can't happen in the same way with films - has been one of his favourite things about the project.

"It's been interesting to be a part of something that's kind of organic in the way that it progresses. Having it start with one concept, especially for my character, and seeing it develop in a different direction then it was originally intended to has been fun because that doesn't happen in film and stage. You have a set and finite character arc in most of those things."
Penny Dreadful is on Tuesdays at 10pm on Sky Atlantic and NOW TV