A newly single woman, sick of seeing pals getting engaged on Facebook, has married herself.
Kate Simpson was left feeling "bitter" following a tough break-up, which ended with a revelation that she needed to love herself a bit more.
On New Year's Eve, 2015, she got down on one knee and proposed to herself. She married herself four months later, on her 28th birthday, in April.
Kate played the blushing bride in a floor-length, emerald green gown.
She wed in front of 100 friends and family, some of whom had travelled 2,590 miles and taken multiple plane journeys to be there.
Kate's wedding day coincided with her 28th birthday and proud dad, Mike Simpson, 64, walked her down the aisle.
Kate had flowers, a best man, Dave Eby, 28, and bridesmaid, best friend Natalie Alcorn, 33, for the $200 ceremony in Heartwood, Ontario, Canada.
Her flower girl was friend and colleague Andrea Croft, 33 whilst the ring bearer was next-door neighbour Zak Linthorne Shaw, 20.
Photographer, decorations, food, music and cupcakes had been donated, and her dad paid for the rest.
Mother-of-the-bride, Glenda Kerr, 60, also attended and close friend Bri Dubowski, 30, officiated.
"My mum said if she'd known about it when she was younger she would have married herself, not my dad," Kate, who works as a therapist, joked.
Kate had been in a long-term relationship, which ended in 2015, when she decided to marry herself.
"I had gone through a terrible relationship/breakup and was bitter," she recalled.
"Around Christmas time, I was scrolling through Facebook and I swear everyone was getting engaged – I am at that age. My resentment and bitter monster grew.
"I had a slight moment of weakness and thought to myself, I could make a fun drinking game; scroll through Facebook and every time I see picture of a stupid happy mushy engagement, I could have a sip of wine."
Realising this was unhelpful and negative, she started to explore why seeing her peers getting engaged made her sad and made a startling discovery.
"My emotions of bitterness, loneliness, and resentment underlined a need for self compassion," she explained. "I was obviously hurting and tender, in need of love. But that love was not from another person. It was from myself."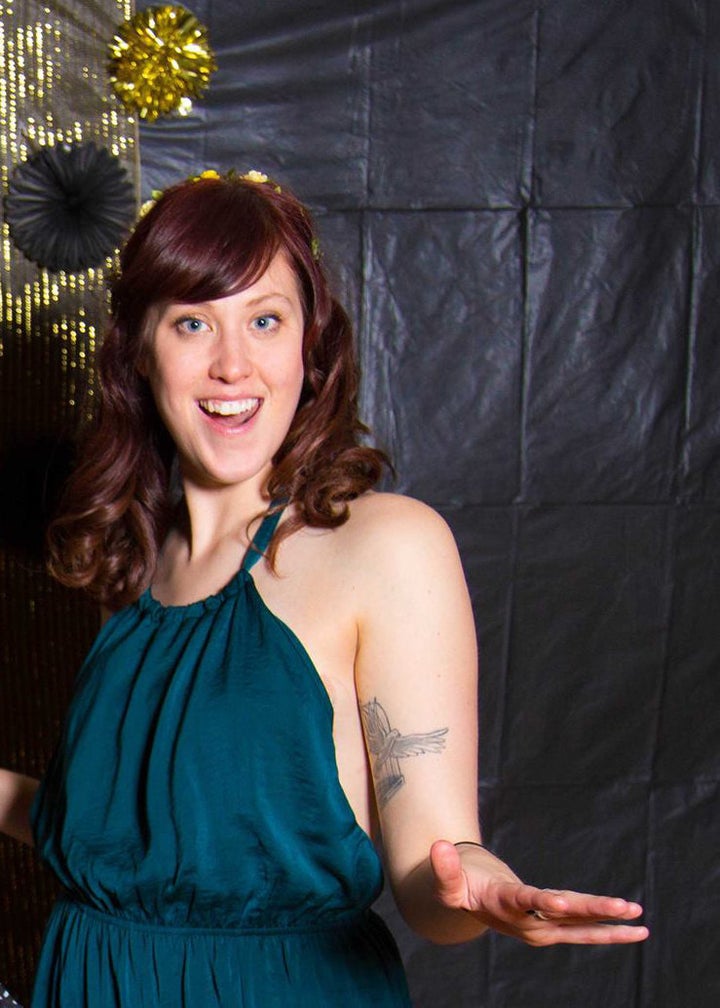 Kate read about a self-marriage course on the internet, which suggested taking yourself on dates before marrying.
She went for dinner and only ordered desserts, got a pedicure, enjoyed bubble baths and wine and embarked on a snowshoe hike.
Over the next 10 weeks she entered into a relationship with herself.
On New Year's Eve, in front of friends, she proposed – and said 'yes'.
"It was a big deal because I never splurge on nice jewellery for myself," she said. "But I bought a black wedding ring, to wear on my left hand middle finger."
The next step was writing vows, in which she promised to always love and show compassion for herself.
Telling friends she was marrying herself was a proud moment.
"They loved the idea and started planning a huge celebration," she laughed. "I called my parents and told them, 'Mom and Dad, I am getting married'
"I have never made them so proud.
"My dad insisted he should pay for the marriage and my mother responded with, 'Oh honey, if I knew about that at your age you probably wouldn't be here'."
Over the next few weeks wedding preparations ramped up a notch.
"Just a few months later my parents were flying across the country for my wedding," she said. "They helped with the venue and photographer and more than 100 people showed up dressed to the nines.
"After the ceremony we danced all night long."
Now Kate has vowed never to embark on a traditional marriage, despite the fact that best man Dave - who organised the honeymoon, a trip to Belize in Central America - is now her boyfriend.
"People might think I am crazy, but as well as being fun, my self marriage taught me so much," she laughed. "Now I too can boast about my wedding on social media."
Dave said: "I think the people who showed up to support Kate are great. It was so nice. It blew up bigger than people thought.
"Still, I don't mind dating a married woman."