A Labour MP has proudly sported his Leicester City scarf in the House of Commons - while calling for a cheese to be re-named in honour of the Premier League champions.
Keith Vaz, who represents Leicester East, used Business Questions in Parliament to ask Government ministers than rather "than call it Red Leicester anymore" that "it's actually Blue Leicester".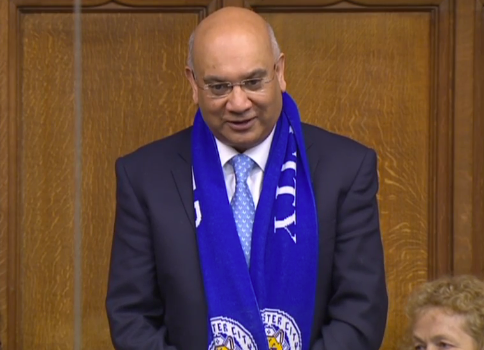 The MP, known for his canny knack of attracting media attention, was last night pictured celebrating his local team's triumph after Chelsea drew with Tottenham, handing City an historic triumph.
And the prominent backbencher, who chairs the powerful Home Affairs Select Committee, was also resplendent in his Leicester colours when a guest on the BBC's Daily Politics earlier today.
In the Commons, he asked Business Secretary Sajid Javid: "Could I ask the Secretary of State if he'd like to join me and other Leicestershire MPs and many throughout the world in congratulating Leicester City Football Club on winning the Premier League yesterday?
"Does he agree that this will boost jobs in not just Leicester but also the Midlands region – not just those interested in football but also in tourism?
"And does he accept that, rather than call it Red Leicester anymore, it's actually Blue Leicester."
Javid initially sounded enthusiastic - but suggested the East Midlands' team's success will be short-lived.
He told MPs: "I like the sound of Blue Leicester, I like it very much. Let me congratulate him and most of all his constituents on their stunning victory last night. I think the whole nation celebrates that and I suggest he makes the most of it while he can."
9 things more likely than Leicester's Premier League win