Keith Vaz has quit as the chairman of the Home Affairs Select Committee after becoming embroiled in a scandal involving male escorts.
The Labour MP today announced he was standing down as chairman of the influential committee, which is currently investigating the laws around prostitution, and it was later confirmed he would stop being member entirely.
In a statement, the Labour MP said: "It is in the best interest of the Home Affairs Select Committee that its important work can be conducted without any distractions whatsoever.
"I am genuinely sorry that recent events make it impossible for this to happen if I remain Chair. I have always been passionate about Select Committees, having served as either Chair or Member for half of my time in Parliament.
"The integrity of the Select Committee system matters to me. Those who hold others to account, must themselves be accountable."
The statement was embargoed until after a 2pm meeting by members of the Home Affairs Select Committee, but BBC journalist Ross Hawkins tweeted a screenshot at just after 12.30pm.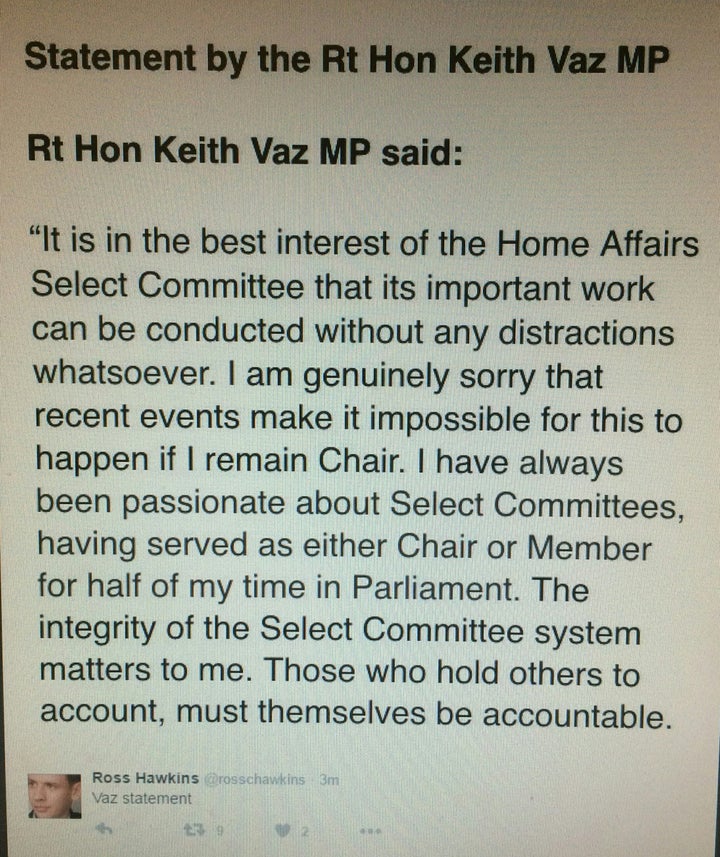 The statement went on: "I am immeasurably proud of the work the Committee has undertaken over the last 9 years, and I am privileged to have been the longest serving Chair of this Committee. This work has included the publication of 120 reports, hearing evidence from Ministers 113 times, and hearing from a total of 1379 witnesses. I am very pleased that so many Members of the Committee have gone onto high office and Ministerial positions.
"I told the Committee today of my decision to stand aside immediately from Committee business, and my intention to resign. This is my decision, and mine alone, and my first consideration has been the effect of recent events on my family."
It is believed that allegations that Vaz offered to pay for cocaine for the prostitutes was the decisive factor for some members of the Committee who wanted Vaz to go.
One unnamed Committee member told The Sun: "It's all rather sordid, but taken in isolation the offering to buy cocaine thing makes his position untenable.
"Could he really ever chair another session on drugs again?
Journalists gathered outside a room in Parliament's Portcullis House this afternoon waiting for a statement from the other members of the Home Affairs Committee.
After an evacuation because of a fire alarm, Tory MP Tim Loughton - who has taken over as Committee Chairman on an interim basis - gave a press conference.
Loughton said Vaz provided a "very frank account" of what had happened, and added: "The committee listened, I think in sadness, to what Keith had to say and with a good deal of respect. Keith has clearly acted in the best interests of the Home Affairs Select Committee and the important work that we do.
"With sadness we all accepted that that was the appropriate course of action that he has taken and we also appreciate the many challenges facing him personally and his family."
Lougton also paid tribute to Vaz for his work leading the Committee, and said: |I think he has a reputation for getting the best out of witnesses, for being a robust chair, but also being a fair chair as well.
"I don't think it is an underestimate to say the work of the committee under his chairmanship has had a direct and big impact on Government policy, on law and also on public opinion at times as well."
A new chairman will be elected by October, and according to Commons rules will have to be a Labour MP.
Chuka Umunna, who is already on the Committee, is favourite to take over as chairman. One source close to the Committee said Umunna had cross-party support from MPs to be the next permanent chairman.
Umunna this afternoon refused to be drawn on whether he would stand, and said: "I don't think now is the appropriate time to start talking about who is going to become the new chair of the Select Committee, given the current one is still in place until his resignation is effective."
Speaking at a press conference with UB40 in London, Labour leader Jeremy Corbyn stopped shot of agreeing it was right for Vaz to resign as chairman of the Commons Home Affairs Committee but said it was important voters had "confidence in the democratic process".
"Keith has made that decision to resign, we should respect that decision and thank him for his work as chair of the HASC and move on," he said. "He has made his decision because he felt to carry on in the circumstances would detract for the work of the HASC."
"He has made that decision himself. I think we should leave it at that."
Asked whether Vaz would be suspended from the Labour Party while the allegations were investigated - just as Ken Livingstone had been - Corbyn said: "Can we look at the allegations first?"
Corbyn added Labour's NEC "will be discussing" Vaz's position on Labour's ruling body when it next met.
The high-profile Leicester East MP returned to work in the House of Commons on Monday and remained composed as he asked questions in the chamber about terror suspects who have fled Britain to join IS (Islamic State) as well as the war in Yemen, where he was born.
Vaz met the escorts at a flat he owns near his family home in north London last month, according to reports in the Sunday Mirror.