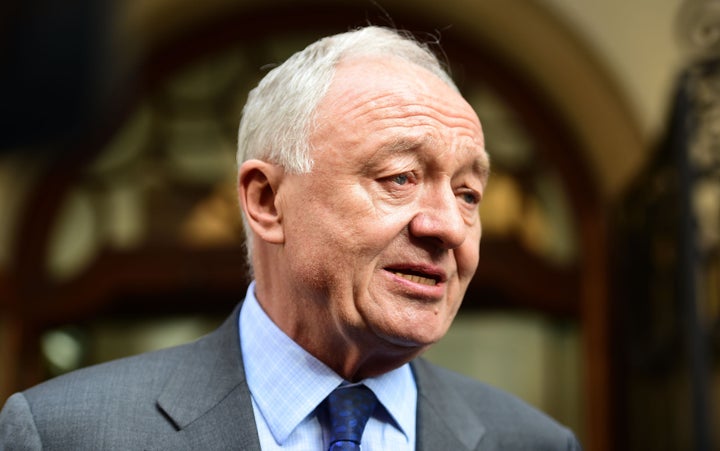 A Sky News journalist has been left red-faced after admitting he quoted satirical website 'The Daily Mash' when falsely claiming Ken Livingstone has a pet newt called 'Adolf'.
The left-winger had two years ago linked Jews to Hitler and Nazism, but said on Monday he was quitting as the issue was becoming a "distraction".
Reporting hours after the news broke, Craig said of whether Livingstone would return: "He is 72 years old, he spends most of his time walking his dog Coco and famously looking after his pet newts. And guess what one of them is called? Yep, Adolf."
But a day later, Craig made a correction. He wrote on Twitter: "Very disappointed to learn reports that Ken Livingstone has or had a pet newt called Adolf, which I referred to y'day on TV & online, may not be correct.
"Am now told original source of this claim was satirical website 'The Daily Mash'. Shame!"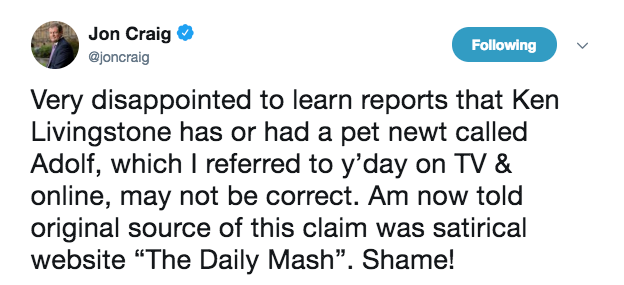 In 2016, Livingstone was suspended for bringing the party into disrepute after declaring that Adolf Hitler had a policy in the early 1930s of wanting to move German Jews to Israel.
"He [Hitler] was supporting Zionism - before he went mad and ended up killing six million Jews," he told BBC Radio London at the time.
The Daily Mash is a satirical site that pokes fun at a variety of subjects with its made-up headlines and stories.
"They are his best friends. He says 'Jeremy newt' is very loyal and would never seek to have him suspended from the British Newt-Keepers Association."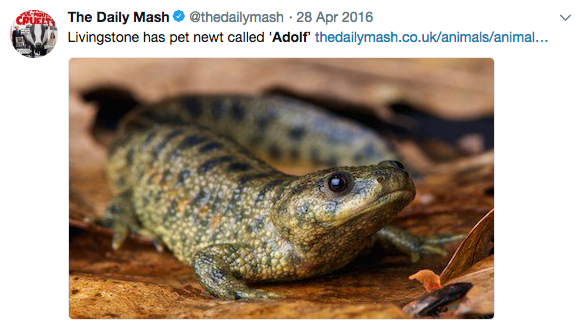 The real Jeremy Corbyn reacted to the news of Livingstone quitting by saying: "Ken Livingstone's resignation is sad after such a long and vital contribution to London and progressive politics, but was the right thing to do."