A former head of the civil service has claimed that some ministers believed Theresa May's 'hostile environment' immigration crackdown was "reminiscent of Nazi Germany".
In an extraordinary revelation, Lord Kerslake made clear the unease among politicians and civil servants at the set of policies implemented when May was Home Secretary that have come under scrutiny amid the Windrush scandal.
The phrase 'hostile environment' was used by May in a 2012 interview, when she was Home Secretary.
It involved legislation and regulation to tackle illegal immigration and help bring the net number of people coming to the UK down to tens of thousands a year - a key Tory promise.
Appearing on BBC 2's Newsnight, Lord Kerslake, head of the civil service between 2012 and 2015, told presenter Evan Davies about how the civil service gave advice on "some of the challenges of the policies", especially over taking action against people who are "acting lawfully".
Asked whether May, then Home Secretary, was challenged, Lord Kerslake responded: "It was not just a question of the Home Secretary being told that, the Prime Minister was as well, and this was a very contested piece of legislation across government departments.
"Now, I can't say, and shouldn't say, who gave what advice to whom, but what I can tell you is that it was highly contested, and there were some, I shall not name them, saying it was reminiscent of Nazi Germany."
Davies: "In the civil service?"

Kerslake: "Ministers were deeply unhappy."

Davies: "Deeply unhappy at the policy?"

Kerslake: "Yes."
It is not clear whether either Conservative or Liberal Democrat ministers - or both - raised the alarm.
The plan involves migrants having to prove their immigration status when accessing NHS services and housing. Landlords and employers are also expected to enforce new policies or risk fines.
Emblematic was the much-criticised 'go home' vans dispatched by the Home Office in 2013 that displayed billboards with the message: "In the UK illegally? Go home or face arrest."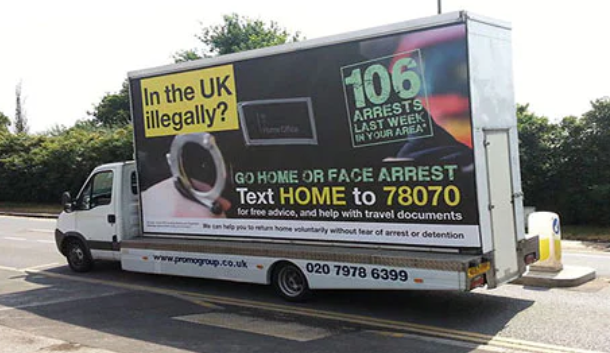 May continued the policy as Prime Minister. She committed to decrease net immigration to the same figure - despite the Conservative Party repeatedly failing to meet it - in the 2017 manifesto.
At Prime Minister's Questions on Wednesday, Jeremy Corbyn blamed the policy for the risk of deportation being faced by Windrush migrants, who are in the UK legally but sometimes without the paperwork to prove it.
In the House of Commons this week, David Lammy, Labour MP for Tottenham, linked the Home Office's push towards a "hostile environment" to the crisis.
Lammy said: "This is a day of national shame, and it has come about because of a 'hostile environment' and a policy that was begun under (Theresa May).
"Let us call it as it is: if you lay down with dogs, you get fleas, and that is what has happened with the far-right rhetoric in this country."
The problems affect those arriving in the years up to 1973 – often as schoolchildren – who automatically received the right to live in the UK but who never acquired documents such as a passport, which could prove their status.
A total of 113 people have called a Government hotline with concerns about their migration status.